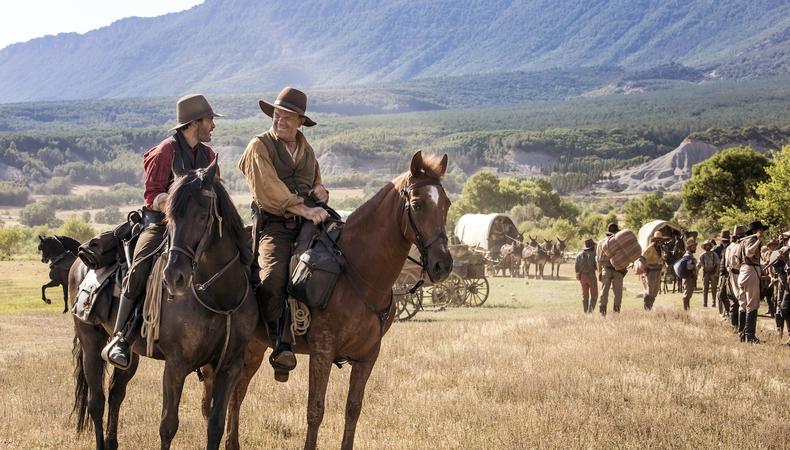 The journey to Jacques Audiard's "The Sisters Brothers" began at the Toronto Film Festival in 2012, when John C. Reilly and Alison Dickey, producers on the film, brought the 2011 Patrick deWitt novel to the French auteur's attention.
"They wished to entrust me with making the movie adaptation," Audiard recalls, and it's no secret why—he's a BAFTA-winning filmmaker best known for his deeply humanist works like "Rust and Bone," "A Prophet," and "Dheepan," which won Cannes' Palme d'Or in 2015. "The Sisters Brothers" marks his first English-language film, and it's rooted in American history and culture. "I saw it as a sort of renewal of the Western, a genre I actually don't know well," Audiard continues.
But he was up for the challenge. Audiard says directing American actors is something he has always wanted to do. "In making this film, I achieved my desire to work with them. For a European director, what was striking right away is how much work they do before filming begins: research on the character, finding how someone would speak, deciding how they would move. It's then startling when you call 'action!' [and] the characters are there in front of you in force and full of things you would never have thought of. Once you see what you have with them, you can dig in and work on something as needed."
The titular brothers, Eli and Charlie Sisters, played by Reilly and Joaquin Phoenix, are an infamous pair of outlaws and assassins in 1850s Oregon at the dawn of the gold rush. Their targets, Warm and Morris—played by Riz Ahmed and Jake Gyllenhaal—are prospectors headed to Northern California with a new invention that puts a high price on their head. To cast this gang of Western figures, Audiard says the process went rather quickly. Reilly was a shoo-in for Eli; as for Phoenix, he was on everyone's wish list. Warm and Morris took a bit longer because the characters changed during rewrites.
"I met with Jake Gyllenhaal in Los Angeles, and he had expressed a desire to work with me," recalls Audiard. "I liked the idea of working with him, but no project had been the right one until 'The Sisters Brothers.' With regard to Riz Ahmed, I was looking in a totally different direction until I saw Riz in 'The Night Of.' He brought perhaps even more originality and personality to Warm than what was in the script."
When casting actors, Audiard says it's all about digging into not only what's true about the character but also in the actor's own life. "Their talent gets exercised by going from one to the other," he says. "For me, a good actor is one who plays continuously and consciously with that which is true. An actor who knows how to process the exchanges between themselves and the character wins something more: becoming the master of the scene's pace, which throws me for a loop each time."
The Sisters brothers are a complicated duo, villains and killers who are at the same time passionate, and it's those traits that drew Audiard in. "For me to get passionate about telling a story, it must contain contrary feelings, antagonisms and characters both saintly and bastardly. A lot of the characters I write are composed of contradictions, and often at the outset are engaged in unacceptable behavior. It's an interesting challenge, sympathizing with the unhappiness of a person doing bad things; there needs to be the promise of something else behind them." The Western is indeed the perfect genre to find such contrasts.