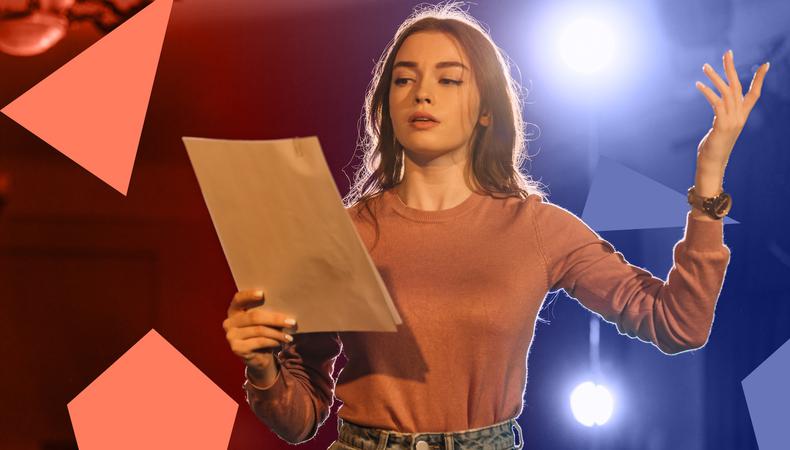 Q: If I use a stage name, should I enter it in place of my real name in an online casting profile like Backstage? Or should I use my real name and mention my stage name somewhere else? If so, where?—@hello123, Backstage Community Forums*
This is a great question! As someone who both runs a professional acting studio and uses a stage name, I can speak from direct experience. Ross is not my actual last name. Mae is my real first name, but I chose to use the last name Ross because I have an identical twin sister who also works in the business, and when we started to work more separately, it made sense for me to change my name. I use "Mae Ross" across all of my online platforms. Otherwise, I could potentially confuse my audience.
Once you decide on a stage name, use it on all of your casting profiles and marketing materials. You definitely want to be consistent in your branding. Otherwise, you could confuse your buyers (e.g., casting directors) if they're trying to look you up to book you for a role. The last thing you want is to miss out on a part because a casting director isn't sure which name to look up to find you!
Now, if you want to keep a personal social media account for friends and family only, I would not advise you to use a stage name there, for the sake of privacy. Many actors choose to use neither their birth names nor their stage names on private social media accounts so as to protect their identity and keep fans from finding their personal accounts. But on all public-facing sites and in social media accounts, definitely use the same stage name.
One more thing that you may need to look into: If and when you join SAG-AFTRA (if you're not already a member), you cannot have the same registered name as another actor who is already in the union. So make sure that you select a stage name that you will be able to keep for the long haul. I hope this helps. Best of luck!
This story originally appeared in the July 29 issue of Backstage Magazine. Subscribe here.
Looking for remote work? Backstage has got you covered! Click here for auditions you can do from home!
The views expressed in this article are solely that of the individual(s) providing them,
and do not necessarily reflect the opinions of Backstage or its staff.