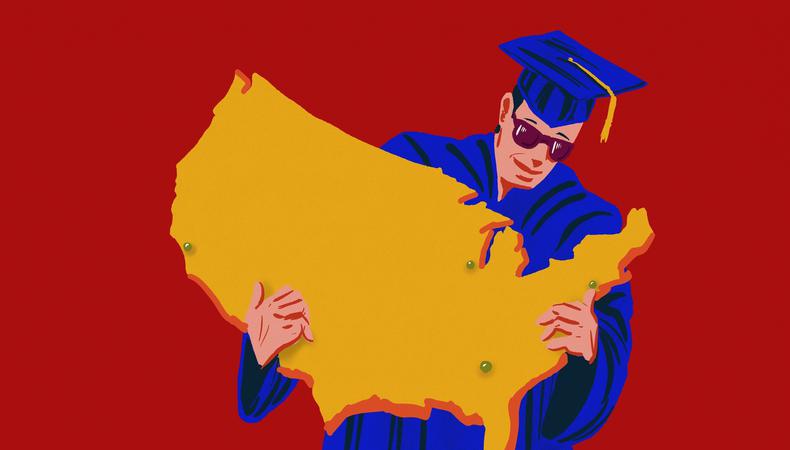 I've been spending way too much time on Zoom, and quite a few of these meetings have been with the hordes of actors who are about to graduate from college. Talk about timing, right? These kids are entering an uncertain world, and I've been trying my best to provide them with a little guidance.
What's interesting is that I'm getting the same questions from different actors who live in different cities. Their concerns are largely the same—and right now, I find that reassuring.
Here's the one question that keeps coming up:
"I'm not sure what city I should start my career in. Any suggestions about deciding where to go and what I should do once I'm there?"
Unfortunately, questions like this don't have one pat answer. It all depends on the individual.
Actors need to consider a number of things when deciding where to move for work, but chief among them is where they will be the most comfortable. Nothing's worse than being alone in a big city. When I made the move west to Los Angeles, I did it with a buddy who became my roommate. Having him there made all the difference, because I didn't know a lot of people in L.A. just yet. Where do you have friends or family or some kind of support system? Are any of your fellow grads moving to the same city? Can you team up? Since acting is based on life experience, you really have to pick a spot where you have a chance at being happy. Nothing's worse than living alone in a city you can't stand while you're pursuing something as challenging as an acting career.
That said, you also have to consider your goals. If you have the specific dream of working in the world of musical theater, for instance, I think New York City is the obvious choice. But if that's a difficult option, there are quite a few agencies here in L.A. that have excellent theater departments. They can get you auditions for Broadway shows, regional productions, national tours, puppet shows—whatever. There are also a number of strong choices in Chicago.
Personally, if I were an actor just starting out today, I would definitely plant my flag in Atlanta. There is so much work there, and that's not going to change. I would try to book a few jobs there that would provide material for my reel, and then a few years down the line, I would start thinking about moving to the larger markets like L.A. or NYC.
I hope this helps you choose your home base for the early days of your career—and you should definitely think of it as home, because that's exactly what it needs to be.
Looking for remote work? Backstage has got you covered! Click here for auditions you can do from home!