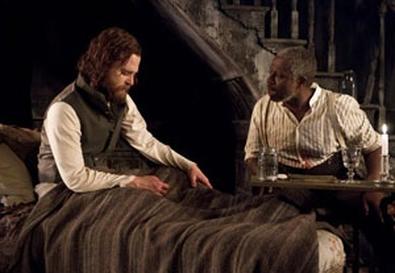 At first Matthew Lopez's "The Whipping Man," now at Manhattan Theatre Club's City Center space after regional productions at New Jersey's Luna Stage and Massachusetts' Barrington Stage, seems like a horror movie. We're in a spooky deserted mansion in Richmond, Va., at the end of the Civil War. The air is thick with tension as floorboards creak, figures crouch in the darkness, and, at the end of the first scene, a grisly amputation gets under way. John Lee Beatty's haunted-house set, Ben Stanton's creepy lighting, and Jill BC DuBoff's eerie sound design combine to create a properly scary atmosphere.

But once the Stephen King theatrics are out of the way, the play settles down for a serious and powerful examination of race, faith, and history. Jewish Confederate officer Caleb has come back to his estate to find it empty except for two of the family's former slaves, Simon and John, both of whom share the family's Judaism and are waiting for Caleb's father to return and fulfill a promise to finance their new lives as free men. It's soon revealed that Caleb and John have hidden reasons for returning to the homestead, and Lopez occasionally indulges in melodrama while setting up and springing these plot contrivances. For instance, in Act 1, John makes a big deal of stating the date—April 14, 1865—letting all the history buffs in the audience know that President Lincoln is about to be assassinated and a monkey wrench will be thrown into the works in Act 2. And, of course, there's a big family secret you can see a mile off unveiled at the final curtain.

But these minor complaints are more than offset by Lopez's insightful character development and grasp of social and political influences. He offers a fascinating view of how each of the three men experiences his Jewish faith and place in American society, as well as how slavery has affected them. In a particularly moving Seder scene, the passages in the Haggadah referring to escaping the bonds of Egypt and reaching liberation in Jerusalem gain an immediate meaning for newly freed Simon and John.

Director Doug Hughes delivers his usual rock-solid staging, successfully commanding his troops to defeat the forces of cliché and achieve a victory for veracity. As the faithful Simon, André Braugher is a wonder to watch. It's not a showy performance, but it's a masterful characterization. He inhabits Simon so fully that you would swear he's not acting at all—and that's the best kind. André Holland combines cockiness and callowness as the much younger John, revealing the scared little boy inside the boastful young man. Jay Wilkison handily avoids the Southern-gentleman stereotypes and delivers a multifaceted Caleb who is both a free thinker and a prisoner of his Confederate upbringing.

In addition to the top-notch designers already mentioned, Catherine Zuber created the detailed period costumes for this gripping examination of a little-known corner of our dark national history.



Presented by Manhattan Theatre Club at New York City Center Stage I, 131 W. 55th St., NYC. Feb. 1–April 10. Tue., 7 p.m.; Wed.–Sat., 8 p.m.; Wed., Sat., and Sun., 2 p.m. (Additional performance Sun., Feb. 6, 7 p.m.) (212) 581-1212 or www.nycitycenter.org. Casting by Nancy Piccione.