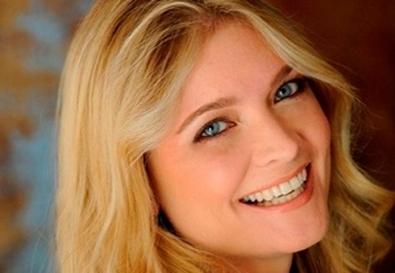 When Shana Farr made her entrance from the house while offering a lusty rendition of "Star!," James Van Heusen and Sammy Cahn's title tune to the Gertrude Lawrence biopic starring Julie Andrews, my heart sank a bit. There was a forced quality to the showbiz heartiness, not to mention just enough lyric mistakes to give me pause. But then she turned around and offered a meltingly simple "Once Upon a Long Ago," a gorgeous ballad from the 1956 TV musical "High Tor" with a yearning Arthur Schwartz melody perfectly married to one of those conversational yet haunting lyrics only Maxwell Anderson could write. Farr's interpretation was considerably better than the admittedly rather bland one a very young Andrews offered, really making a case for this unknown gem. My heart shot back above sea level.
A lovely, slim blonde in a beautiful gray dress with hints of pink, Farr hails from Missouri and has the Midwest stamped all over her (I'm from Ohio and have relatives in Missouri, so I can say that). Her personality is a far cry from her idol, the very English Andrews, and her show was at its best when director Eric Michael Gillet allowed her to be herself. "Wouldn't It Be Loverly?" (Alan Jay Lerner–Frederick Loewe) and "Burlington Bertie From Bow" (William Hargreaves) were undone by a badly off-the-mark cockney accent, as well as too much Midwestern perkiness. "In My Own Little Corner" (Richard Rodgers–Oscar Hammerstein II), from the TV musical "Cinderella," was marred by unconvincing, effortful acting choices, while the material from "The Boy Friend" (Sandy Wilson) suffered from not being English enough.
But now let's get to the good stuff. Farr excels at direct, unaffected expression of emotion, offering touching accounts of "Stay Awake" and "Feed the Birds" (both Richard M. Sherman–Robert B. Sherman). She navigated Leslie Bricusse's knotty lyric to "Living in the Shadows" (music by Frank Wildhorn), from the stage version of "Victor/Victoria," with remarkable clarity, landing the number with real emotional force. Her "I Have Confidence" (Richard Rodgers, as cannily edited to be less character-specific by musical director and arranger Fred Barton) was appealingly warmhearted, and her imaginative use of "Before I Gaze at You Again" (Lerner-Loewe) to express her feelings about leaving Missouri for New York City worked very well.
Best of all were a thoroughly satisfying, soaring "I Could Have Danced All Night" and a romp with Barton through "You're So London" (Mike Nichols–Ken Welch, as cannily retooled by Barton for himself and Farr). In this witty piece of special material from the 1962 TV special "Julie and Carol at Carnegie Hall," Farr demonstrated a suddenly surprising flair for comedy.
Barton provided excellent support at the piano and in his elegant arrangements for piano, bass (Dick Sarpola), and cello (Robert Burkhardt). Though Farr missed the melancholy underpinnings of Henry Mancini and Johnny Mercer's wonderful "Darling Lili" ballad "Whistling Away the Dark" (when Andrews sings it, she doesn't believe "dreams really come true," but Farr did), Burkhardt's plangent cello solo caught the darkness splendidly.
I wished that Farr was more successful explaining why Andrews matters so much to her as a performer. For example, she told us that her childhood love of Andrews led her to learn all of the star's songs by heart. Then she launched into the aria "Je suis Titania" from Ambroise Thomas' comic opera "Mignon," which Andrews was trotted out to sing at age 12 in British music hall as a moneymaking parlor trick to show off her freak voice. Farr sang it well, if a bit coyly, but all the time I was wondering how on earth this Missouri kid knew about Andrews singing it. That would be an interesting—and revelatory—story.
Presented by and at Feinstein's at Loews Regency, 540 Park Ave
.,
NYC. Aug. 10 and 11. 8:30 p.m
. (
212
)
339-4095 or www.feinsteinsattheregency.com
.