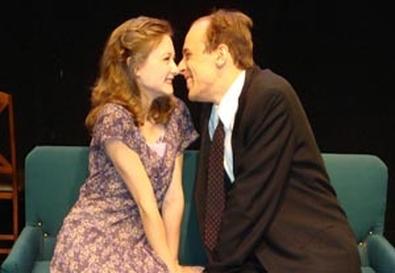 Dorothy Parker and her wonderful way with words continue to fascinate, and Maureen Van Trease is clearly in her thrall. Van Trease has not only adapted the Parker short stories and poems for this intermittently effective entertainment; she also plays Dottie, never leaving the stage and serving either as a narrator commenting on the action or a direct participant in it.
The material selected zeroes in on relationships between men and women, often using Parker's fiction to demonstrate her factual love life. Thus we meet several of the real whistling lads of the title: her first husband, Edwin Parker; her colleague Robert Benchley; the playwright Charles MacArthur; Harold Ross of The New Yorker; and lesser-known paramours as well. This steady stream of whistling lads is best summed up by Parker's remark: "I'm putting all my eggs in one bastard!"
While the focus Van Trease has chosen is certainly legitimate given Parker's life and writings, on stage it appears too narrow, with most of the stories presenting a similar theme: the dependent, jealous woman and the feckless man. The woman as victim, even one of her own making, is a subject that does not gain appeal with repetition. Dottie here appears to have lived a life written by Jean Rhys on a bad day.
The adaptation is at its most impressive when it is creatively played with, as in "A Telephone Call," in which the dialogue is delivered by three women from three different time periods. The Parker wit is best delivered as throwaway, as in describing a hand that's "steady as a hummingbird" or her excuse for missing a deadline: "Someone was using the pencil."
Bricken Sparacino's able direction guides a strong and versatile supporting cast. Ethan Angelica and Glenn B. Stoops play all whistling lads and men in Dottie's life, while Nicole Greevy and Annalyse McCoy are her female friends and enemies. Van Trease's Dottie is the most persuasive seen in recent years but would still gain by being less mannered and more straightforward, especially when narrating.
In this version of Parker's story, we're left with Dottie's sighing wish that her relationships with men "could have been successful rather than successive." Unfortunately, there's more to her than that.
Presented by Third Eye Company in association with Timespace Theatre Company, Anne Baxter, and the Planet Connections Theatre Festivityat the Robert Moss Theatre, 440 Lafayette St
.,
3rd floor, NYC
.
June 16
–
28. Remaining performances
:
Sun
.,
June 21, 6:30 p.m
.;
Wed
.,
June 24, 8:30 p.m
.;
Fri
.,
June 26, 9 p.m
.;
Sun
.,
June 28 11 a.m
.(
212
)
352-3101
, (
866
)
811-4111, www.theatermania.com, or www.planetconnectionsfestivity.com
.