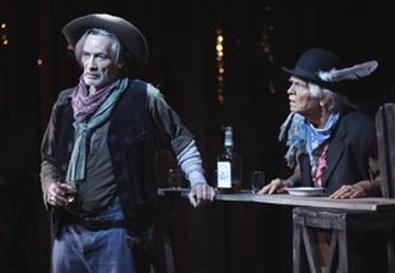 Sebastian Barry's dramas are often long on poetry and short on action. His 1992 play "White Woman Street" now at the Irish Repertory Theatre, falls into this category, feeling flat at first, but there is drama later on. Set in 1916 Ohio, it meanders through its introduction of five desperadoes, including Trooper (Stephen Payne), originally from the Irish county of Sligo. The others are Blakely (Greg Mullavey), an Englishman; the gentle Amish Mo Mason (Gordon Stanley); and the younger ones, Brooklyn-born Nathaniel (Evan Zes), and African-American Jim (Charlie Hudson, III). Trooper wants to bring the gang to a town called White Woman Street, named for the only white woman, a prostitute, in 500 miles. He coaxes them there with promises of a "gold train" ready to be robbed.
In a prologue, Trooper says he wants to get a good word from a ghost. The drama is really about redemption and absolution from one's own memories. That's a hard concept to stage. Zachary Williamson's Western-music sound design adds melancholy, as does the lonesome full moon of Hugh Landwehr's set. Director Charlotte Moore reaches for humor, unfortunately pushing too hard at times—Mullavey is particularly guilty of this overreaching for laughs.
But wait. Once the play shifts to the bar-whorehouse in White Woman Street, Trooper's mission suddenly comes into focus. Indian bartender Clarke (nicely understated Ron Crawford) tells gentle Mo about a murdered girl. Stanley is particularly fine here in depicting the Amish fellow's gentility. When Trooper says "Ghost" he means it—he's haunted by what he saw as a soldier hired to clear Indians during the Indian wars and by what happened to the girl he bedded in White Woman Street. It's likely to haunt you, too. Moore brings out the subtlety in Barry's language in these scenes, and Payne's quiet, craggy anguish breaks your heart.
It's worth the wait. The bloody Easter Rising insurrection of the Irish which is occurring at the same time is far away, barely even noticed. For Barry, America is a place where even natives are far from home.
Presented by and at Irish Repertory Theatre, 132 W. 22nd St
.,
NYC. May 16
–
June 27. Wed
. –
Sat
.,
8 p.m
.;
Wed, Sat
.,
and Sun
.,
3 p.m
. (
212
)
727-2737 or www.irishrep.org. Casting by Deborah Brown
.