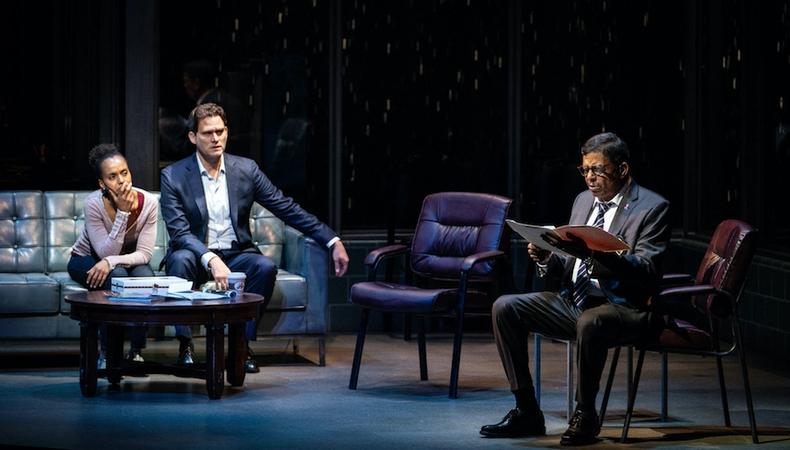 A veteran actor and playwright, Eugene Lee can currently be seen co-starring alongside Kerry Washington, Steven Pasquale, and Jeremy Jordan in "American Son," a ripped-from-the-headlines drama diving into some of today's timeliest of social issues: police brutality, racism, sexism, classism, and more. Lee plays Lt. John Stokes, a seasoned, by-the-book member of Miami's police force who's called in to tend to a mother (Washington) and father's (Pasquale) frantic search for their missing son. Lee spoke with Backstage about his decision to do the play, which comes courtesy of director Kenny Leon and playwright Christopher Demos-Brown, plus his best bit of audition advice, what he learned from working with August Wilson, and more.
You play Lieutenant John Stokes, a seasoned, by-the-book veteran of the police force. What especially interested you about bringing his perspective to the stage?
What's interesting and great about this play, and what I think causes such a visceral response to this play, is the fact that everybody's right. This play is the truth, and I think that that's why it resonates as well as it does. I've always believed that theater can be healing in a strange kind of way, and I think people leave this play with new information—and that's when people change. This play walks 360 degrees around the theater, and you get everybody's perspective on it. Everybody's right.
You're of course no stranger to tackling material that gets to the truth of social issues of the day, particularly in the varied August Wilson plays you've done.
Yes, I have a very close connection with August, and I actually worked with him in "Gem of the Ocean" and "Radio Golf."
What's something you learned about your craft while working with Wilson directly?
I learned about more than just acting. I'm also a playwright. What I learned as a playwright, I think, is wonderful in helping me as an actor in terms of analysis of the script. In watching playwrights like August doing editing, doing rewrites of the script, for example, even as an actor there's an education there in terms of building story, in terms of infusing style into a play. Working with masters like that, there's a wealth of things to learn every day in rehearsal as you watch the poetry, the music being made—the whole process of finding a play, that whole collaborative thing. It was getting in the trenches with the script, [and] you try to find the best way to tell the story. And my part in it as an actor is to try to make what he's written work—to find the truth in what he's written, or to find the lies in that rehearsal process. If it doesn't work, if it's not the truth, that's what we want to find out.
In terms of that script analysis, how did you find your way into this character, John Stokes?
There's some research, just in terms of what his position is and how long he's been doing it and what his possible past might be. I've done some research about Miami and the places that I talk about—Liberty City, for example. What my responsibilities as liaison officer might be, just getting some sense of that. But beyond that, I honestly believe that everything you really need to play a role in a good play is on the page. Ultimately, and I mean that, that's all you really get to use.
To rewind a bit, how did you first get your Equity card?
I got my Equity card, I guess the year had to have been 1978, maybe '79, as a part of the original company at Cross Roads Theatre Company in New Jersey.
You were offered "American Son," but when you do find yourself needing to audition, how do you typically prepare?
I read the play, and then I read the play again, and then I read the play again, and then I read the play again. A lot of contemporary characters, when you've done this as much as I have, there's a lot of stuff in the reserve, so to speak. But if there is any research, get that done, it's the old "an actor prepares"—so that I can be confident and walk into the room like the job is mine. People talk about stage fright and this, that, and the other. The only real causes of anything like that is a lack of preparation and unrealistic expectations. We all have our own methods, approaches, but that's how I approach whatever the audition is.
What's one piece of advice you would give your younger self?
It's the same thing that I told myself: to always bring 300 percent. Everything matters. That's been a work ethic that I've found works. You know, people see what we do and they say it looks easy, and everybody thinks they can do it. But there's a lot of preparation that goes into making it look easy. I just say continue to do the work; show up and be prepared.