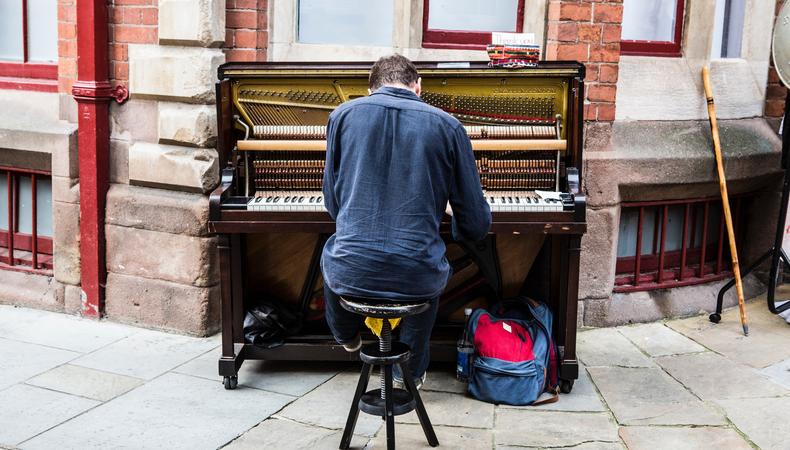 With the future of arts funding in question, it's more important than ever to develop your own income sources as an artist to ensure career longevity and overall personal survival.
Creating your own work is, of course, no easy task but with some proactive perseverance, it can be achieved. Just think how rewarding it'll be when you're making money on your own terms and still have the ability to participate in other projects.
In my case, my solo show (which I created through collaboration with other trusted arts colleagues) continues to supplement a good portion of my income and ensure a future of stability no matter where my other auditions might lead.
It also puts into the universe my strongest passions and talents, causing a trickle-down effect of other arts-related opportunities I never would have dreamed of, like collaborations, teaching, writing, coaching clients, recordings, social media followers, etc.
If you're ready to create your next entrepreneurial artistic endeavor, here are six tips for starting from the place.
1. Fulfill a need, not an ego.
Choose to create something that fulfills a need. Something that's historical in nature (personifying a person or event), focused on a special skill that would interest a large group of people (magic, puppets, etc.), recreates iconic ideas of the past with a modern twist, or create something new no one has ever seen before. These are great examples of how to fill a need and an inherent audience base that will grow as your artistic endeavor does.
2. Collaborate.
Collaborate and ask for help to account for skills you may be lacking and/or to help with accomplishing the creation of your project in a timely manner. Remember, creating an artistic endeavor of your own doesn't mean you have to do it alone! There is no shame if it takes a village.
3. Remember that slow and steady wins the race.
Slowly tread into the market/build blocks to success. Don't be afraid to aim big—but start small. Creative endeavors take time to percolate and grow in front of an audience. Once a project is created, showcase it in a small, supportive atmosphere, then make the changes necessary to move it forward. Use the people who saw that initial showcase as a springboard to your next opportunity and audience. If your product is strong and fills a niche, it won't need perfection to start to take on a life of its own with more opportunities.
READ: 5 Things an Actor Must Know as a Content Creator
4. Spread the word.
This is of utmost importance. There's no shame in publicizing your work and once you get that interest, people will do the talking for you. (Side note: The clearer you can be regarding what your project is about, the easier and quicker people will catch on.)
5. Reach out to those who came before you.
There are hundreds—if not thousands—of performers and creative artists out there who have been successful at creating their own opportunities. Find those similar to what you want to be doing/creating and study their work. Then reach out and ask for help and advice. The one thing we don't ever have in this business is a clear, proven path to get to where we need to go which is why it's imperative to ask for help to glean whatever information you can from where others have tread. Learn from their life lessons, save time, energy, and money by learning from their mistakes. Let their previous path help guide you on yours.
6. Take proactive actions every day.
Rome wasn't built in a day and neither is an artistic endeavor. Taking actions every day to achieve your goal will help avoid burnout, keep you on task, and stave off the tendency to throw something together as a deadline looms that won't serve you in the long run. Before you know it, your artistic endeavor will have moved from in-process to in performance.
Happy creating!