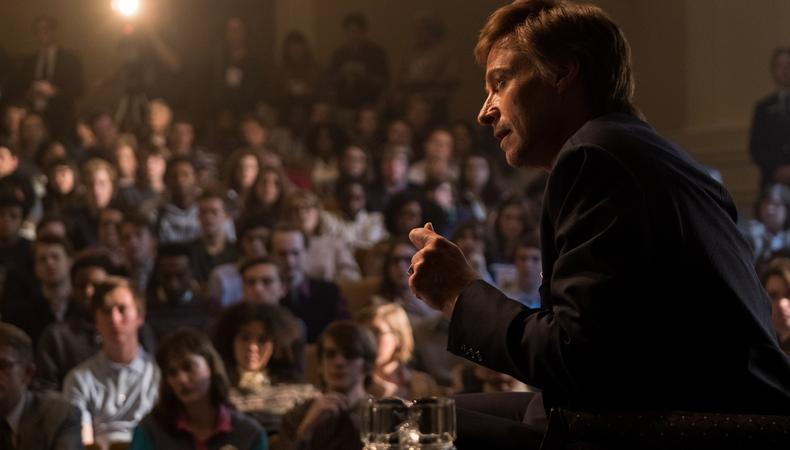 "The Front Runner" recounts how the promising politician Gary Hart dropped out of the 1988 presidential race over allegations of an extramarital affair. He's a character whose moral standards are in question, the type that isn't usually played by Hugh Jackman, Hollywood's virtuous and trustworthy hero of "Les Misérables," "The Greatest Showman," and the "X-Men" movies.
"Every director wants to work with Hugh Jackman—he's simultaneously the ultimate movie star and overwhelmingly decent and hardworking," enthuses Jason Reitman, who directed and co-wrote the Sony drama with Matt Bai and Jay Carson. "I'm making a movie about a flawed human being, and I think there's an underlying decency to Hugh Jackman that colors the role in a way that I liked."
Jackman's performance in the political thriller speaks volumes through its nuances. "Hugh is an emotionally expressive actor. He's had a career of playing characters whose hearts just beat out of their chest," explains the director. "But this is a movie where he's playing an enigma—a guy we desperately are trying to understand, but he won't let us in. I was excited for him to take on this challenge."
To do so, Jackman "did the kind of research I've never seen, where he knew complete speeches and talking points that weren't in the movie," recalls Reitman. "[When shooting] press conferences, we wouldn't tell him who was going to ask him questions. He could really just speak off the cuff in any situation."
Reitman's aim to accurately capture the chaos of the campaign trail often called for Jackman to assume his place in any given tableau of aides and journalists, played by J.K. Simmons, Alex Karpovsky, Alfred Molina, Steve Zissis, Bill Burr, Kevin Pollak, and Mamoudou Athie, among others.
"There came this understanding: Look, some days you're the lead, sometimes you're the background, but everything just has to feel real," says Reitman of directing Jackman in the naturalistic shoot. Even the extras were key parts of the puzzle; rather than switching roles often, each background actor played a specific part for the entire shoot (photographer, reporter, etc.). Every point of view in a situation is addressed, and everyone's dialogue overlapped with other simultaneous conversations. "I had multiple actors ask me at the end, 'Am I actually in this movie?,' because they're so used to traditional shooting, where they know when they're in the close-up or the wide shot. In this, there was none of that. The cameras were just always rolling."
Reitman also hopes "The Front Runner" highlights the women caught in the Hart hash: Vera Farmiga plays Gary's wife, Lee; Molly Ephraim plays his only female staffer; and Sara Paxton plays the infamous person of interest, Donna Rice. "Helen Estabrook, my producer since 'Up in the Air,' and I had lots of conversations about the specific burden that's placed on the shoulders of women in the midst of scandal. You simultaneously have to go through the trauma of the thing and do it while in the midst of a media storm," he recalls. Particularly with Rice, "people spoke about her as if she were an object, and when I thought about 30 years of living in that existence, it just broke my heart. She's a human being who had aspirations that were stolen from her."
It all makes for an incredibly timely story, with "connective tissue" to today's tumultuous political era. "The questions that came up in his story have never been more relevant than they are today, with the White House, the Supreme Court Justices, and anyone who's up for election," Reitman says. "We want to know who these people are and yet we don't quite know where to draw the line."
"The Front Runner" also marks the filmmaker's first movie depicting real-life figures. "Approach their stories with extra empathy," he advises. "These are real human beings, and their stories will have a larger impact if you show them the kind of sensitivity they deserve."