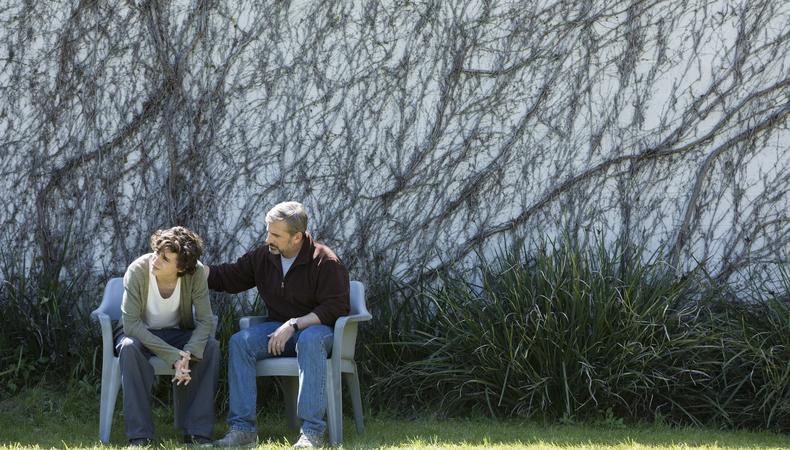 Felix Van Groeningen rode the train between Antwerp, Belgium, and Brussels, rereading the latest draft of "Beautiful Boy." The movie was still in development, no star was yet attached. Someone had mentioned Steve Carell.
Just the thought of that casting possibility made him cry.
"Most of the time, who actors are in real life doesn't necessarily have to coincide with their characters, but for this role, I really wanted it so the actor who played it could keep it very close to himself and not 'act' too much or go too far," says the Belgian director and co-screenwriter during a chat at Toronto's Omni King Edward Hotel, hours after the movie's world premiere at TIFF. "It had to be so authentic, not fake in any way. Steve is a wonderful actor, but more importantly, he's so honest and also a super dedicated family man."
"Beautiful Boy," which Amazon Studios will release in theaters on Oct. 12, explores the heartbreaking cycle of drug addiction as experienced by a California teenager (played by Timothée Chalamet) and the father who tries to save him (Carell). The screenplay, based on the pair of best-selling memoirs by father and son David and Nic Sheff, offers a balanced and blameless look at the inherent complexities of drug dependency. "Addiction can happen to anyone; it doesn't discriminate, and it's ruining a lot of beautiful lives, but there are just no clear answers," says Van Groeningen, who shares a writing credit with Luke Davies. "I think everybody knows somebody who is sadly somehow in a situation like this, and I hope the movie encourages people to have conversations from a place of empathy."
READ: 'Call Me by Your Name' Gave Timothée Chalamet the Confidence to Just Be
The drama is emotionally fueled by David's flashbacks to Nic's childhood, vivid memories that drift further and further from reality as Nic's deadly habit has ever-present consequences that not only jeopardize his life, but spill over into the lives of his immediate family (played by Amy Ryan and Maura Tierney).
Still, Carell's restrained take on David opts for visible worry and unwavering hope over showy shouts and loud outbursts. "Steve was so dedicated in getting it right, it was really crazy to see," recalls Van Groeningen. "The first readings, he read it very flat and just let it happen. He didn't jump in or try things; he wanted to understand the words, and slowly, he built the character."
Chalamet took the exact opposite approach to fully realize "ungraspable" Nic in all of his stages: clean, craving, high, in withdrawal and relapsing, over and over again. "He's incredibly talented and super fearless. He has an idea for every scene and he'll go all the way," the director explains. "Already, from his audition tape, it was clear that he had an incredible combination of this irresistible charm that makes you want to love him and care for him, and yet, two seconds later, this capability to very quickly shift to something very dark. And still, he had an awareness that he's trapped in it—the fact that he knew what was happening makes it even more tragic."
Though Chalamet and Carell contrasted greatly in their acting strategies, "their differences made sense for their characters, and I got a kick out of seeing them just going at it," says Van Groeningen, who opted for a wide range of takes. "What gave me the best performances were after we'd get to a place where I was happy, and I'd say, 'We have it, now have fun.' Giving people the option to try things makes you see things in a different light—sometimes a better one, because it's so unpredictable and full of life."
The actors' onscreen opposition is part of why Van Groeningen, who previously helmed the foreign films "Belgica," "The Broken Circle Breakdown," and "The Misfortunates," got into directing in the first place. "What I love about directing is [that] every day is another adventure," he says. "I don't know exactly where I need to get to, but I just know that I need to feel something that feels right. How are we gonna do this? Every actor is always very different, but figuring out how we're going to create the story, that's the fun of directing."