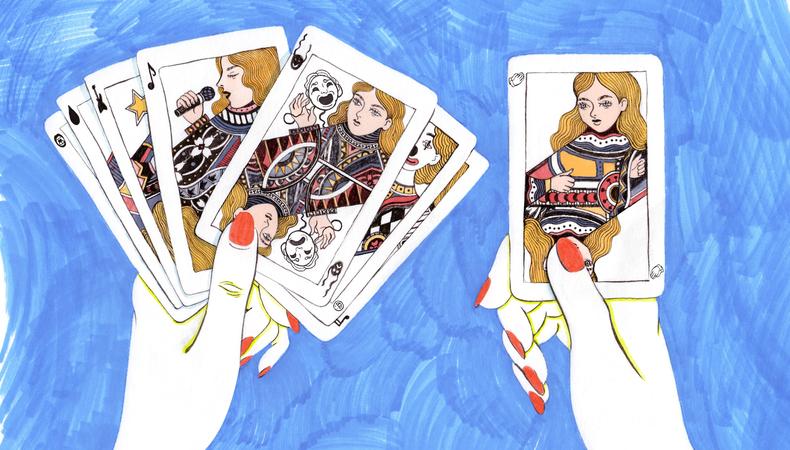 Franklyn Warfield is no stranger to performing. Before getting behind the table as a casting director, he had an acting career in musical theater. Now he oversees casting for RWS Entertainment Group's spectrum of shows, from cruise ship entertainment and theme park revues to corporate events and in-house productions. He travels around the world, finding singers, dancers, and more for work that's at times equally as international. Through his casting career, Warfield hasn't forgotten what it's like to be the one hoping to get cast, and he tries to structure auditions accordingly. Backstage caught up with him between male and female dance auditions for Holland America Line cruises to chat about how his work is different from other CDs you might audition for and what he expects from performers in the room.
What can someone expect when auditioning for you?
I know what it feels like to be nervous, to step into a room of the unknown, wondering, What are they going to ask me? What do I have to do to get this job? I always hope that I am clearly communicating to everybody, [and that] I'm managing expectations and trying to diffuse whatever nerves are present, because I feel like that's the environment in which people are going to do their best. We need so many types of talent; I just want to see your best. We'll find some place for you to perform for us no matter what you do, but if we're not seeing the best of what you can do, that makes our job harder. [Casting] is hopefully a light, efficient, and fun process.
What shouldn't someone do in your audition room?
My ears are a little worn down by the yelling of singers lately. Something else that matters to me is when people are rude to our accompanist in the room. He's there for you, [but] he doesn't work for you. He's here to make your job easier, so I think you'd want to be nice and thankful to that accompanist.
What are similarities and differences between auditioning for and performing in cruise and theme park shows versus a more traditional platform?
A lot of theme park and cruise ship [productions are] revue-based shows. They have a variety of different song styles or choreography styles, so we need people who can handle being versatile. Anything from classical to rock to pop to Broadway for vocalists and ballet, jazz, contemporary, Latin, ballroom, and hip-hop for dancers. It's not a different cast or a different group within a cast that comes in and does the hip-hop number or the ballet number—it's all the same person. We only have so many people. You might need to sing "Nessun Dorma" and turn around and sing something by Queen in the next couple of minutes. It's that versatility. In a Broadway show, it's choreographed by one person, so generally, it's one person's style. Plus, on a cruise ship, you're floating along with your audience for maybe two weeks, so you don't get to just check out when your show is done. If you do make those connections, they're liable to come back night after night to watch your shows, and they love you even more.
What special skills come in handy for performers auditioning for these types of shows?
Playing an instrument. Stage combat is a good thing. Past costume character work is a good thing to have. It's a free-for-all. Sometimes, speaking a foreign language—being fluent or proficient in that—is a good thing, depending on what we're doing.
READ: Should You Really Work on a Cruise Line?
What do you expect from the talent that comes into your audition room?
Unless you've talked to somebody who has worked for us or done this ship or this show, you're kind of coming in blind, so I'm big on transparency in our expectations. I would hope everyone brings the best that they can do, because that is all you can control in the room. You want to be right for everything or you want to please or feel validated with a callback or an offer, but I think the most successful people know what they do. They know what their strengths are, and they come in and all they can do is be the best version of themselves that they can be and let the CD do their jobs. In order for us as CDs to identify those special moments, you need to let go and allow yourself to be special.
What advice do you have for performers?
One that I've been preaching lately to everyone, vocalists and singers especially, is at an open call, everyone wants to go in and impress, right? I think a major pitfall of that is people sing louder. A lot of times, you're in a gigantic room with not much soft material to absorb any sound, and I think you sound really good in your head, but it becomes off-putting to the panel. It's so refreshing when somebody comes in and gives you a really nuanced 16-bar song that has a build to it, that has moments where you can bring us into you. You don't have to constantly be forcing material on us. That is the mark of a seasoned performer. We really can get a sense of you and what you can do. You want to pack as much as you can into that 16 bars, and if it's all one level, you didn't really make a big impact on us. It's so much easier to see and hear you when it has a build.
For dancers, we see the same thing. Most of our combos have peaks and valleys where you will make the larger items more explosive and impactful if you take the time to breathe in the moments that don't need to be hit as hard. In that same vein, though, especially the male dancers I see will only be concerned with the largest moment, [so] that they completely forget about the transitions or what leads up to the big moment. For me, dancing is the transitions. Most people can do a leap in second, show me many pirouettes—and that's great and impressive, but if you're not stringing that all together or you're hazing over the details of the transitions in order to get to the big move, then you're doing yourself a disservice.
What can performers do to make themselves memorable in an audition?
There's a certain warmth, just being a genuine person, regardless of the 16 bars or the choreography that's given. Being an open person who looks like they would be a great person to work with goes super far in my book, because a lot of what we do is for an outside client. Not only is the talent we are choosing representing us, we're also representing ourselves to a client who has paid us to provide them with a service. We try to put who we're going to identify as just nice people who would be good citizens on a contract or project.