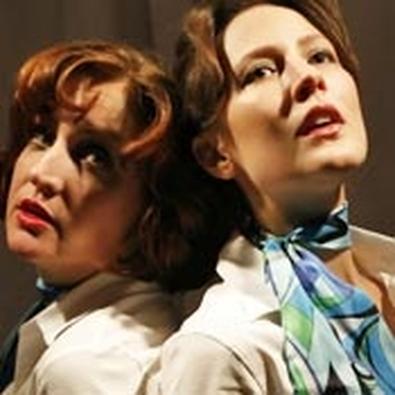 Clove Galilee and Jenny Rogers deserve high marks for their creativity in taking Maria Irene Fornes' Fefu and Her Friends and transforming it into the enjoyable if uneven Wickets. Fornes' original, set in a comfortable New England home in the 1930s, has one truly distinct feature: four scenes that unfold simultaneously in different rooms. In this environmental production of Wickets, which takes place in 1971 on a transatlantic flight (Rogers designed the clever cabin set in which the audience sits), the creators inventively surmount the challenge of Fornes' script by dropping curtains to divide the plane into classes when the action needs to be split.
Though Fornes' play is an ensemble piece, the domineering, conflicted Fefu (played movingly by Lee Eddy) is at its center. In Wickets, she's the head stewardess among eight women, and we learn about each of them as individuals and as a result glean something about them as a collective. Essentially, they, like their 1930s counterparts, are trying to define their own identities within the constraints of a patriarchal society.
Certain aspects of Fornes' play actually fit more comfortably in the time period of Wickets, particularly the failed love affair between Emma (Christianna Nelson) and Paula (a nuanced Elizabeth Wakehouse). Elsewhere, though, the new time frame and location are curiously at odds with the text, a notable example being a raucous croquet sequence into which text from Valerie Solanas' 1967 "SCUM Manifesto" has been inserted. Still, it's difficult to resist the incongruity of the moment given Jona Tuck's marvelously manic delivery.
Ultimately, such infectious exuberance is the hallmark of the production, directed by Rogers and Galilee. Thanks to the creators' flights of fancy, Wickets weathers its dramaturgical turbulence.
Presented by Trick Saddle
at 3LD Art & Technology Center, 80 Greenwich St., NYC.
Jan. 8–25. Thu.–Sun., 8 p.m.
(212) 352-3101, (866) 811-4111, www.theatermania.com, www.tricksaddle.com, or www.3ldnyc.org.