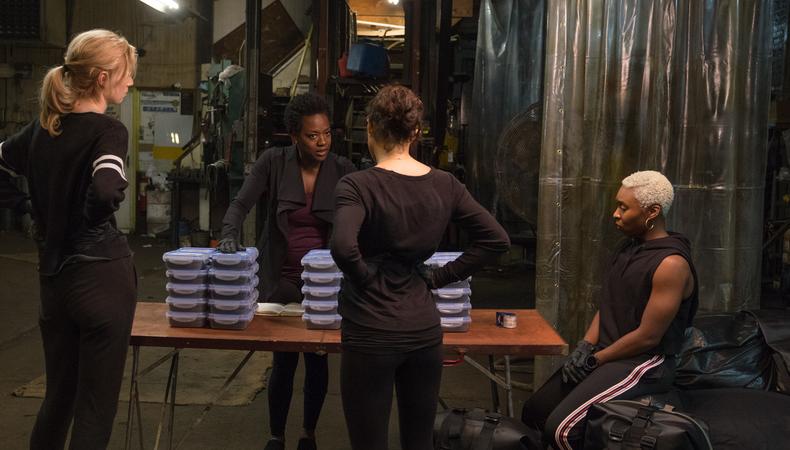 The following content has been sponsored by 20th Century Fox.
"Widows" is unlike any film of its kind: a heart-pounding thriller that's expertly crafted, led by a multiracial cast of women giving some of the best performances of their careers. Viola Davis, Michelle Rodriguez, Elizabeth Debicki, and Cynthia Erivo are the kind of leads who, individually, could each carry a movie of their own; alongside Liam Neeson, Colin Farrell, Robert Duvall, Brian Tyree Henry, Daniel Kaluuya, Jacki Weaver, and Carrie Coon, the cast is greater than the sum of its already great parts, a quintessential example of on-screen synergy. This is ensemble acting at its absolute best.
Directed by Academy Award winner Steve McQueen, who co-wrote the screenplay with Gillian Flynn, the 20th Century Fox film has been wowing audiences since its 2018 Toronto International Film Festival premiere and Nov. 16 U.S. release. Following a group of women who attempt to pull off a heist in the wake of their criminal husbands' deaths, "Widows" is based upon the 1983 British mini-series of the same name, with its story set in the streets of modern-day Chicago. That it manages to transcend genre as both an edge-of-your-seat caper and an ambitious political drama, tackling race, class, sexism, domestic violence, police brutality, and America's political system, is a testament to McQueen and the cohesion of his astonishing stars.
And the film's bold casting is the key to its success. As Davis points out in the exclusive video below, audiences aren't used to seeing a diverse group of women baring it all in a gritty thriller. "All of us came together feeling like, nobody would possibly see us in any of these roles," she says. "And here was Steve at the center of it all." McQueen was willing to not only challenge Davis, Rodriguez, and Debicki by casting them in intimately dramatic yet action-packed roles, but also to challenge moviegoers—and Hollywood—by presenting a thriller that puts authentic women front and center. In fact, "Widows" notably remains one of few films, thriller or no, with multiple female leads who look and feel like real women.
Check out this behind-the-scenes glimpse of "Widows," now in movie theaters nationwide. For more information, visit the official site.