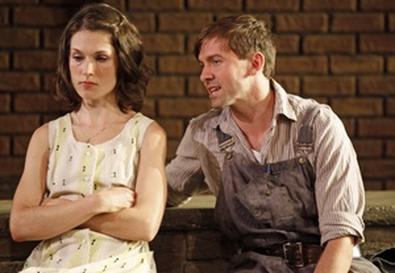 Jonathan Bank, artistic director of the Mint Theater Company, has found himself a real rarity in Teresa Deevy's "Wife to James Whelan." Deevy had a six-year vogue as a playwright in the 1930s at Dublin's Abbey Theatre. But a 1936 regime change brought that to an abrupt end; the new management rejected "Wife," causing a dashed Deevy to forsake the stage in favor of writing for the radio. The play finally received a production 20 years later, at Dublin's small Studio Theatre Club. Then it disappeared completely, rediscovered only in 1995, misfiled among Deevy's papers. This is its second production. Though not a long-lost masterpiece, "Wife to James Whelan" is a worthy addition to Ireland's dramatic literature and shows Deevy to have had a singular, perceptive ear for the dialogue of ordinary people.
This leisurely character study of the denizens of the small Irish town of Kilbeggan centers on 25-year-old James Whelan and the effect this cocky, aggressively self-assured young man has on his fellow townspeople. In Act 1, James is tapped for a sought-after job in Dublin over all the town's other eligible young men. His intention is to go for a year or so, make his fortune, then return and start a business. The young woman with whom he is keeping company, however, has other ideas. Nan Bowers uses James' departure as an excuse to throw him over in favor of Jack McClinsey, who is succeeding James in his job at a local establishment. She's had enough of being taken for granted. We then jump seven years, and the second and third acts concern themselves with who will become James' wife. Will it be bossy but kindly Kate Moran, who is also his best friend; rich and snooty Nora Keane, whose father James once toiled for as a laborer; or Nan, now a penniless widow with a young son?
You might think that James is just one more example of the standard strutting Irishman with a gift for blarney, but you'd be wrong. Deevy creates in James an original mixture of great emotional sensitivity and self-aggrandizing bluster, finished off with a surprising primness. Shawn Fagan is superlative in the role, capturing all its shadings and successfully negotiating some hairpin turns in temperament. He's particularly effective at showing the change that seven years works on James. Janie Brookshire is a good match as Nan, as adept at girlish willfulness as she is at stoic resignation. Rosie Benton gives Kate a warm, easygoing manner that mitigates her control issues, and Liv Rooth's shallow, flirtatious Nora knows her limitations and flashes tantalizing glimmers of substance.
The men of Kilbeggan aren't as front and center as the ladies, but Jeremy S. Holm glowers convincingly as the town malcontent; Thomas Matthew Kelley is instantly likable as Nan's sweet-natured husband-to-be; and Jon Fletcher is amusingly self-important as the callow Apollo Moran, Kate's younger brother and James' office clerk. Aidan Redmond gets the most to do as the kindhearted, unambitious Tom Carey, the anti-James, and he exudes the air of a wise and empathetic man content with his lot in life.
Bank's direction orchestrates it all subtly, carefully blending the varying colors in Deevy's writing. As is usual at the Mint, the physical production—set by Vicki R. Davis, costumes by Martha Hally, lights by Nicole Pearce—is handsomely executed and notably attentive to character and period. And though Irish accents aren't my forte, dialect coach Amy Stoller has certainly seen to a believable consistency among the company members.
"Wife to James Whelan" is exactly the kind of show for which the Mint was created. Here's to Bank and company for unearthing it and allowing Deevy's skillful, idiosyncratic voice to be heard once more.

Presented by and at the Mint Theater Company, 311 W. 43rd St., third floor, NYC. Aug. 23–Oct. 2. Tue.–Thu., 7 p.m.; Fri. and Sat., 8 p.m.; Sat. and Sun., 2 p.m. (No performance Tue., Aug. 24.) (212) 315-0231 or www.minttheater.org. Casting by Stuart Howard, Amy Schechter, and Paul Hardt.