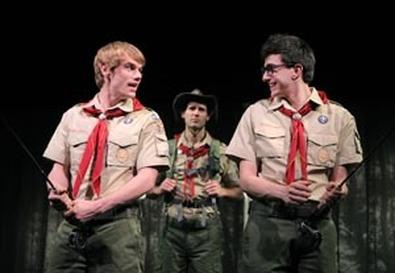 Playwright Thomas Higgins is making his Off-Broadway debut with "Wild Animals You Should Know," but this naive and glib comedy-drama about a sexually confused golden boy who hits on his closeted scoutmaster in order to destroy him suggests that Higgins would be more at home on the small screen than in a small theater. Despite the ministrations of the ubiquitous Trip Cullman as director and a six-person cast of theater stalwarts, the sound of canned laughter and the scent of easy sentimentality are never far away as the thin and generally unpersuasive story plays out.

"Animals" begins with a striptease that the ostensibly straight teenage Matthew is giving as a birthday present to his best friend, out teen Jacob, over the Internet. Then Matthew notices a man watching him from a window in a house across the street. It's Rodney, the boys' handsome, straight-arrow scoutmaster, whom Matthew somehow observes kissing another guy even though Rodney has closed his blinds. So when Rodney leads his troop on a weekend camping trip—on which Matthew's milquetoast intellectual father, Walter, is sent as a chaperone by his well-meaning mother, Marsha, for father-son bonding—the stage is set for a cat-and-mouse game of gotcha. Almost everybody pays a price for Matthew's shenanigans, of course, ending up older and wiser.

Higgins sets his play in "the suburbs," which is the first warning sign of unspecificity. (Suburban New York is not suburban Kansas is not suburban Alabama is not….) Too many elements ring false. Much is made about Jacob's geeky love of scouting without ever addressing how such a homophobic organization would allow this cheerfully gay kid to remain a member. The fastidious Walter would hardly let the beer-guzzling good ol' boy Larry, the trip's other chaperone, get him drunk while on duty. The self-accepting Rodney's reason for going back into the closet in order to be involved with scouting is a synthetic cliché. And then there is all the self-conscious animal imagery that reaches its wince-inducing peak in a roaring contest between father and son.

The talented cast struggles with the material. Jay Armstrong Johnson succeeds at Matthew's magnetism but not the emptiness that's supposed to exist underneath it. Gideon Glick is adept with a quip but can't turn Jacob into anything more than a passive plot facilitator and at 23 is getting a bit past playing a callow teenager. To suggest Walter's unease in the world, Patrick Breen adopts an awkward physical bearing that's entirely too self-conscious. Alice Ripley is confident and warm as Marsha but can't make believable her post-trip outburst suggesting that she is considering ending her marriage. John Behlmann conveys Rodney's love of the outdoors but leaves the rest of him blank. Larry is the thinnest character in the bunch, and Daniel Stewart Sherman can do little but play into the stereotype.

The show's press release says that Higgins' intention is to "take a magnifying glass to the sometimes blurry line between predator and prey." But for that line to blur, there must be two credible predators, something Rodney is decidedly not. As a result, Higgins' curtain image, of a chastened Matthew standing in his window and stripping as his now former scoutmaster watches, lands with a bewildering thud, as does the play.

Presented by MCC Theater, by special arrangement with the Lucille Lortel Foundation, at the Lucille Lortel Theatre, 121 Christopher St., NYC. Nov. 20–Dec. 11. Tue. and Wed., 7 p.m.; Thu. and Fri., 8 p.m.; Sat., 2 and 8 p.m.; Sun., 3 p.m. (No performances Wed. and Thu., Nov. 23 and 24.) (212) 352-3101, (866) 811-4111, www.theatermania.com, or www.mcctheater.org. Casting by Telsey + Company.