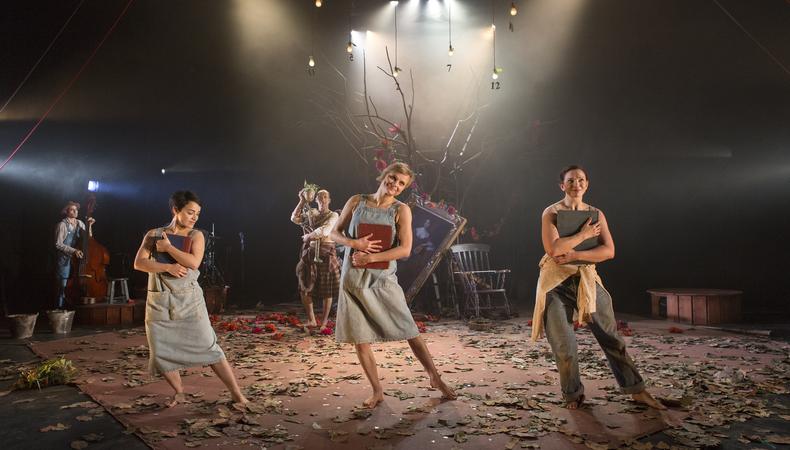 The final image in Kneehigh Theatre's new "The Wild Bride" is a dim light bulb glowing stubbornly on a stage covered with dirt and darkness. The play, adapted from the Brothers Grimm fairy tale "The Girl Without Hands," offers little in the way of redemption or easy sentiment and thus may seem unfriendly soil for a dying light. Across two hours we watch the devil con a loving father into butchering his only daughter and leaving her for dead. We see the amputated girl fight for her survival just long enough to fall in love—and for the devil to again kill her hopes for a happy ending. As adapted by Carl Grose and director Emma Rice, the plot is an ordeal in which both audience and protagonist are left wondering if the experience is going to be worth it.
Spoiler alert: It is. "The Wild Bride" tells an unflinching story with courage and heart, but one could not be blamed for giving up before it's over. As though to distract us from the maudlin proceedings, Rice's direction offers a gale-force theatrical storm. Her performers whirl, twist, and dance around the stage like inexhaustible wind-up toys, and when they're not performing their parts they're lending their voices or their instrumental talents to the show's small bluegrass band (composed of full-time members Ian Ross and Damon Daunno). Stu Barker's music is the motor that drives the evening; it's energetic and never boring.
Three actors play the hapless bride, each at a different stage of her life. All are spirited and offer a quiet intensity, but it falls to Patrycja Kujawska to perform the part's most virtuosic segment, during which she transforms first into a beast and then into a princess. There's little Kujawska can't do as she contorts herself like a Pina Bausch dancer, wordlessly conveys the emotional trajectory of a silent-movie superstar, and plays a mad violin to boot.
Andrew Durand brings a sexy ennui to the devil, who doubles as the narrator. Durand plays the wicked one like a charming bad boy who turns out to be Satan. Stuart Goodwin, who has Ray Bolger's loose limbs and clown spirit but lacks his capacity for melancholy, can't find a believable tone as the bride's father, but when he returns as her prince, he's the most consistently fun—and surprisingly the most touching—performer in the show.
I missed Kneehigh's recent "The Red Shoes," but I caught its well-received "Brief Encounter" and found it clever and vibrant but lacking in heart. "The Wild Bride" nearly deserves the same assessment, and a shorter runtime might have streamlined the fairy tale's delivery. Still, the final moments, deliberately unspectacular, are worth the wait. "We've changed," a well-worn bride says to her disheartened lover, and so they have. In a production that celebrates fluid mutability, change turns out to be the most enduring shape of hope.
Presented by and at St. Ann's Warehouse, 29 Jay St., Brooklyn, N.Y. Feb. 27–March 17. (212) 352-3101, (866) 811-4111, (718) 254-8779, www.theatermania.com, or www.stannswarehouse.org.
Critic's Score: B+