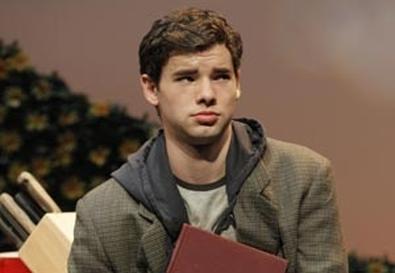 Lila Rose Kaplan's "Wildflower" is a wilted, stilted comedy. Its roots are submerged beneath a writing style lacking in nutrients. Its petals may please, but they die on the vine. Giovanna Sardelli's direction may orient the intertwined tales toward direct sunlight, but it's challenging to identify true beauty among so many weeds.
The play opens with mother Erica (Nadia Bowers) and son Randolph (Jake O'Connor) standing outside an inn in rural Crested Butte. She's recently separated from Randolph's father. Randolph is 16, extremely bright, and woefully socially awkward. Their innkeeper, Mitchell (Ron Cephas Jones), is an aging black drag queen who once lived in New York—in the Statue of Liberty, he flamboyantly claims, "atop the brows of justice." As "Wildflower" proceeds, Mitchell serves as a beneficent griot to the shy, almost anti-social Randolph, resisting any urges he may have to seduce the boy.
Erica, meanwhile, secures a job at a general store, where Astor (Renée Felice Smith), another 16-year-old of superior intelligence, is her boss (Astor's unseen grandmother owns the store). A cocky, smoldering forest ranger, James (Quincy Dunn-Baker), initiates a romance with Erica. Angst-ridden during her final summer before college, Astor aims to lose her virginity; Randolph will do.
A quick check of "The Clichéd Play Handbook" tells us how these tales chug along. Erica overprotects her son, who may or may not be a high-functioning autistic. James, usually a love-'em-and-leave-'em dude, views Randolph as a distraction yet realizes he has growing feelings for Erica, who considers him but a summer fling. Astor's approach to flirting with Randolph is classic: meet cute and slather on the snark. Unfortunately, it's hard to believe these two teens could be so smart yet so naive about sex. Oh, and there's the requisite symbolism: Like his father, Randolph is mad for botany. His days are largely spent caring for a plant that grows with each scene. The plant may be wolfsbane, which is deadly when consumed. It's foreshadowing well-seeded.
As Kaplan's play unfolds episodically, its more prosaic qualities can be endured. O'Connor and Jones deliver fine performances, for example, their "ABC Afterschool Special" dialogue aside. Bowers, unfortunately, has a harder job. The general-store scenes are simply implausible, especially when Erica is offering phone advice to tourists about plants in Crested Butte. Worse, Kaplan makes Erica as frenetic as a sitcom mom. In fact, she's as deep as Dunn-Baker's smooth, swaggering purveyor of Rocky Mountain love. The fling may earn laughter, but the range of these characters finds plenty of tumbleweeds rolling by. The fates of Mitchell, Randolph, and Astor are no less clumsily revealed.
The problems of "Wildflower" can be summed up by Astor's name: a homonym for another genus of flowering plant. Just what we didn't need: a symbolic sledgehammer to bog down the bathos.
Presented by Second Stage Theatre Uptownat the McGinn/Cazale Theatre, 2162 Broadway, NYC
.
July 27
–
Aug. 8. Mon
.–
Sat
.,
7:30 p.m
.;
Wed. and Sat
.,
2 p.m
.(
212
)
246-4422
.
Casting by MelCap Casting
.