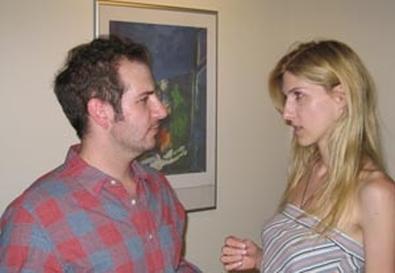 You don't have to read the program bios for "Wilhelmstrasse" to intuit one actor's training. Giordona Aviv, who plays a German lawyer in Stuart Caldwell's dated, schematic play, studied Stanislavsky, Artaud, and Brecht techniques, taking the worst from each. Monotonous and barely audible, her underplaying creates a terrible burden for actor Nick Masson, her more accomplished partner in this two-hander.
Not that there's much going on beyond an initial idea in Caldwell's diatribe that contrasts opposing views about World War II and the Holocaust. Masson is Samuel, a New York Jew who falls in love with Aviv's Rica. In schematic scenes that switch between New York and Berlin, Samuel becomes increasingly agitated about the Nazis while Rica maintains that the past is past. Caldwell's static direction doesn't help what might have been a probing work about guilt and redemption. At least the projected views of the two cities are attractive.
Presented by Goldart Productions as part of the New York International Fringe Festival at La MaMa ETC's First Floor Theatre, 74A E. Fourth St., NYC. Aug. 13–26. Remaining performances: Thu., Aug. 18, 8:15 p.m.; Wed., Aug. 24, 4:15 p.m.; Fri., Aug. 26, 2 p.m. (866) 468-7619 or www.fringenyc.org.