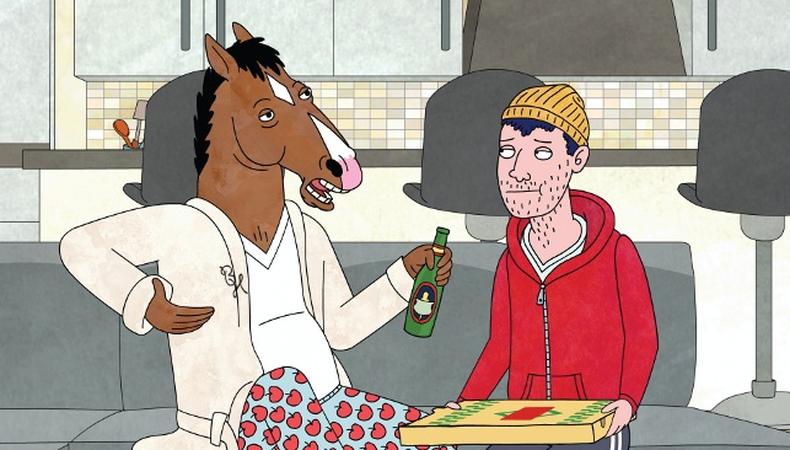 "I'm basically writing a spec script of 'Full House' every time," Raphael Bob-Waksberg, creator of new Netflix animated series "BoJack Horseman," says. A decidedly adult cartoon, "BoJack" is the story of whiskey-drenched, middle-aged has-been BoJack Horseman, a humanoid horse who found fame as the star of a cheesy '90s sitcom called "Horsin' Around," about a talking horse who becomes caretaker to three human children.
"I got this idea that a lot of cartoons are about happy-go-lucky characters and thought it would be funny to do a show about a sad, depressed protagonist in a bright cartoon world," says Bob-Waksberg. "And then there was, 'Well, why would a talking horse be depressed?' And from there it was like, 'Obviously he was the star of a '90s family sitcom and now he's a washed-up misanthrope and he has a lot of conflicting ideas about society and how seriously society should take him.' "
Every episode includes plenty of bad behavior on the part of BoJack (voiced by Will Arnett)—but there are also extended sequences from episodes of "Horsin' Around," which BoJack watches so frequently he recites the dialogue along with the other actors. (A sample catch phrase: "Neigh way, Jose!") And just as "BoJack Horseman" is unmistakably a 21st-century project, "Horsin' Around" is a nostalgic shout-out to the sitcoms on which today's television creators grew up.
"A lot of people of my generation, we have this weird relationship with those shows," says Bob-Waksberg. "We kind of know they're bad, but we also love them and they're at the heart of where we come from. The same way someone in your family can be obnoxious and annoying, but you still love them. There's something kind of nice about being able to go home, and the idea is that these shows are not at all sophisticated or challenging but are going to make you feel at home and [remember] how great it is to love each other."
Bringing life to the characters—all of whom are, to varying degrees, as off-putting as BoJack—is a cast high on name actors, including Amy Sedaris as BoJack's on-again, off-again feline girlfriend and agent; Aaron Paul as his human roommate; Alison Brie as his ghostwriter; and Paul F. Tompkins as a former sitcom rival, a dog named Mr. Peanutbutter. And just how did this very dark animated series get such a high-profile cast?
"I'm scratching my head over that, as well!" Bob-Waksberg says with a laugh. "The main thing is we asked them. [Casting director] Linda Lamontagne knows who to ask and when to ask them. We're writing a character and she'll say, 'What do you think if we got, like, Anjelica Huston to play this part?' "
Part of the allure for the actors was being able to complete their work in a few hours, as opposed to the long days on most television sets. But Bob-Waksberg is just thankful to have lured the cast that he did.
"We were just trying to write jokes we thought were funny," he says. "And then casting was like, 'Who do you hear doing this?' And I was like, 'I dunno! You tell me.' Now when I write, I definitely think of all of them. We had a character in Episode 2 described as a Keith Olbermann type with a whale's head. And our casting director said, 'What if we asked Keith Olbermann?' And we did, and he's great! And we got to make him make whale noises!"
Like this story? See more of our Now Streaming articles here!