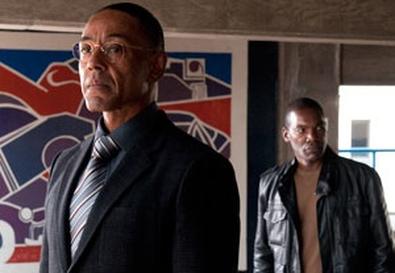 You hear a lot about a lack of diversity on television, and during Emmy season, the awards tend to reflect this issue. African-American performers are consistently underrepresented in acting categories. That is likely to change this year with front-runner for Supporting Actor in a Drama Series
Giancarlo Esposito
. Believe it or not, in the 63-year history of the Emmy Awards, no African-American male has ever won in the category. The most recent nominee is Andre Braugher in 2010 and 2011 for "Men of a Certain Age." Women have fared better. Four African-American females have won Supporting Actress in a Drama, but it's been awhile. The last to win was Mary Alice for "I'll Fly Away" in 1993.
As if we needed another reason to root for Esposito. The journeyman actor landed the role of a lifetime with Gus Fring on "Breaking Bad," a character that started off rather inauspicious in Season Two and ended up becoming the driving force behind Season Four. (Spoiler alert: If you aren't caught up yet, don't read any further.) Esposito's chances are excellent not only because he's a respected veteran of the arts, but also because his character was killed off in one of the most memorable onscreen deaths in recent years. In other words, he won't be eligible next year for the show so voters know this is his last shot. (See also: Margo Martindale, last year's winner of Supporting Actress in a Drama for "Justified.") He also deserves it, having delivered a powerhouse performance. Though his character was a violent druglord, Esposito rarely raised his voice, preferring to terrorize with very few words and his swift, decisive actions. And after all that, he somehow managed to make audiences sympathize with his brutal character.
So Esposito might just make history this year. If not, he has another unique honor: AMC has recently launched the "
Go Fring Yourself
" application, in which you can take over for Esposito in his final scene by uploading your photo and taking his place. Esposito will be sorely missed when "Breaking Bad" returns for its fifth and final season on Sunday, though Bryan Cranston and company will surely continue to provide great television.