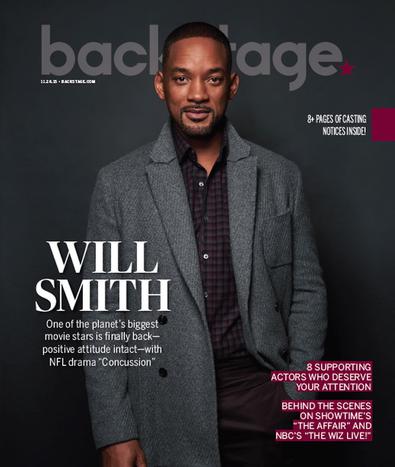 No one can be around Will Smith and not feel great. Sitting in a conference room in West Hollywood, Calif., as his latest film, "Concussion," screens for one of the first times to an audience in a nearby theater, he radiates confidence and good cheer—the kind that simply cannot be faked. The Smith who shakes your hand, wants to make a connection, looks you in the eye, chuckles warmly, and offers you bottled water while he grabs one for himself is the one we've seen on dozens of talk shows and plenty of red carpets. Some people simply vibrate on a brighter frequency than the rest of us—it's one definition of a star—and to be in Smith's presence is to wonder how any person can be so vivid at every second. Maybe he turns it off when people aren't around. But for 30 minutes, it never dips once.
"I love people, you know?" Smith says. "I love being famous. I love how easy it is to make somebody smile. I have fun in crowds—I'm built emotionally for this life." Referring to his wife of almost 18 years, the more reserved Jada Pinkett Smith, he adds, "She's 5 feet tall and 112 pounds, so a crowd to her is a lot different than a crowd is to me."
For a few years recently, though, he opted to stay away from those crowds. After more than a decade of steady work, which landed him two Oscar nominations and a string of blockbuster smashes that cemented his position as one of Hollywood's biggest superstars, Smith released two films in 2008, "Hancock" and "Seven Pounds," and then decided it was time to apply the brakes. Now that he's back, the enthusiasm remains, tempered with a thoughtful mindset.
"I didn't know how long it was going to be," Smith admits about that self-imposed hiatus that ended when he returned for a third "Men in Black" in 2012. "But I knew I had hit the ceiling for my skill level. I knew that I had done the best work that I was going to do without seriously growing. I took a couple of years off to dive into my family, dive into my relationships, and to study. I knew I could keep doing what I was doing, but it was going to be all lateral moves, you know? And in order to create on the level that I really wanted to create, I had to travel. I've been on six continents in the last two years. I've read 100 books. I've done marriage counseling, parenting counseling." It wasn't until his work on this year's twisty romantic thriller "Focus" that, according to Smith, "I felt really good about where I could go as an actor."
And now comes "Concussion," based on the true story of Nigerian-born doctor Bennet Omalu, who, in the early 2000s while working in the coroner's office in Pittsburgh, discovered the chronic brain traumas that were devastating former NFL players, bringing to light the long-term dangers of playing the country's most popular sport.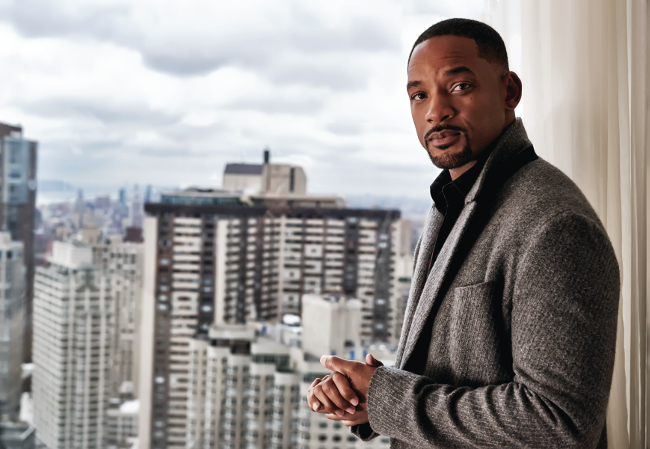 Peter Landesman, the writer-director of "Concussion," can attest to Smith's seemingly inexhaustible ebullience. "What's remarkable about Will, and maybe unique about Will, is the pure joy he brings to whatever he does," Landesman says in a separate interview. "And when I say 'joy,' I don't mean naiveté or innocence—what I mean is the kind of almost impetuously positive spirit and determination to seek and quest and deliver. For a director, he's a fantastic partner to have because it's never about negativity, it's never about pushback—it's only about how to make it better."
To portray the mild-mannered Omalu, Smith met with the man, but he didn't worry about perfectly capturing his thick accent. "That would have definitely been the wrong focus," says Smith, whose two Academy Award nominations, for his work in "Ali" and "The Pursuit of Happyness," both involved him playing real people. "It's more of an interpretation than an imitation. I'm trying to deliver the essence and the emotional truth rather than the technical truth of Dr. Bennet Omalu."
Unraveling that essence of the person he's playing involves answering three questions about the character: "What do they want? Why do they want it? What's going to happen if they don't get it?" And although Smith doesn't think someone like Omalu can be reduced to one simple "want," he notes that after an early conversation with the doctor, "I landed on how much he wanted to be accepted as an American. That's different than wanting to be an American, right? His look, his house, everything was about the American dream that he pictured in his mind. So to be the person who discovers a brain disease that [affects] the players of America's favorite game—that is such a beautiful artistic conflict."
Stopping himself, Smith laughs with mocking self-awareness of his verbal flourish, no doubt thinking of the real-life misery Omalu's findings brought the doctor once the NFL forcefully tried to renounce him and his opinions. Clarifying, Smith adds, "It sucks in life, but it's beautiful afterward."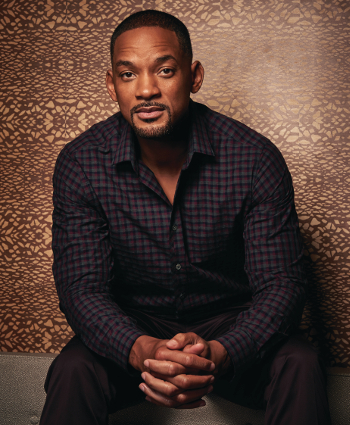 His unstoppable charisma, potent in person as well as in his film work, is brought to bear in "Concussion," Omalu's determination to expose the truth articulated through the actor's simple decency. Omalu didn't want to bring down the NFL so much as he just wanted to help players and their families who had suffered in silence, and Smith makes humility and principled behavior feel heroic. Smith may have believed that he needed to step away from movies to re-energize himself, but the depth and humanity seen in "Concussion" were very much evident in his performances before the hiatus.
Still, Smith says he sees his career differently since returning to the limelight. "I'm open to all possibilities now," he declares. "I don't have to plan as rigorously—I'm going to take what comes." In the past, he got caught up in overplanning his slate of films. Speaking in the voice of his old thought process, he says sternly, "They need to go in this order: It needs to be a July movie, and then the next one's at Christmas." Now, he says, he concentrates on asking himself, "What is the right thing to do at the right time? I'm trusting when things don't feel right, and I never did that before."
What did he do in the past?
"I made the movie that needed to be out on the day that it needed to be out to be No. 1 [at the box office]," he responds flatly. "And I didn't care how it felt. I didn't care how difficult it was—I was going to find a way to win."
It's suggested that such perspective is a gift of getting older. "Yup, develop your jump shot," he replies with a laugh. "I've been dunking for a lot of years—[I've got] old knees. So let's work on the jump shot."
Describing the positivity that Smith exudes runs the risk of provoking cynicism in whomever you're telling. C'mon, he can't be that magnetic, can he? Surely there must be a dark side to the guy, right? Asked if he's always been so welcoming and exuberant, he says, "Yeah, from 4 years old, I've always been that." Yes, but life has a way of beating that sunniness out of lots of people. Hasn't he ever lost that spark?
"There was a brief period when I first started in the music industry," he acknowledges, referring to his time as part of DJ Jazzy Jeff & the Fresh Prince. "Based on my grandmother's upbringing, I decided I was going to be the rapper who didn't curse." He laughs at the memory, adding with comic understatement, "That didn't go over too well in the hip-hop community in the beginning. I felt attacked, I felt disrespected. And there was a brief period when I was less than receptive to people. I was feeling like everyone was an enemy, so I needed to strike before they hit me. Three or four years [I was] in that space, but I found myself again pretty quickly."
In a few minutes, he'll be participating in a postscreening Q&A for "Concussion." There's no point inquiring if he's nervous—Smith has been famous more than half his life now, and the man lives for these moments.
"We just came back from Amman, Jordan," he says, "and it is a strange thing to be that far from home and everybody knows who you are. My son was looking around, and he's, like, 'Dad, literally everybody knows who you are—that's scary!' "
Smith laughs while recalling the story. Funny, he didn't feel scared at all. "It makes me feel safe," he says. "I feel like, anywhere I go, there's at least one person who likes something I made. I feel like I'll always get help, you know?" He laughs again. "Somebody may not like 'Wild Wild West,' but it's hard not to like the first 'Men in Black.' "
---
A Real Cutup
Talking about playing Dr. Bennet Omalu in the true-life drama "Concussion," Smith mentions the importance of being well-read and well-rounded, citing his hiatus from acting a few years ago in which he absorbed everything from American history to the philosophies of John Locke and René Descartes.
"Your characters can never be deeper than you," he says. "They can't be wiser than you."
But for "Concussion," that ongoing education extended to watching Omalu do his work as a forensic pathologist, which meant observing how autopsies are conducted.
"I went and saw five autopsies," Smith recalls. "I watched Bennet perform the first autopsy that I ever saw. It was actually a deeply spiritual thing to watch the complete dismantling of a human body. They take it completely apart."
Admitting that the "first 90 seconds were really rough," Smith says that soon what happened for him was that the cadaver "stops being a human body. Those first couple of cuts are excruciating to watch, but what was really powerful is the realization that the thing that makes a person a person is not in the room when a body is dead. I don't know what that is and I'm not saying what it is, but the thing that we are—whatever is communicating and interacting right now [between us]—when a human body is dead, everything is still there, except the 'battery,' the thing that makes a person a person."
He still sounds rather awed by the experience. "Watching an autopsy completely separated people from their body for me. People are not their body. It really is the vehicle for the thing, you know? It was powerful."
Want to read more? Check out our Backstage covers here!