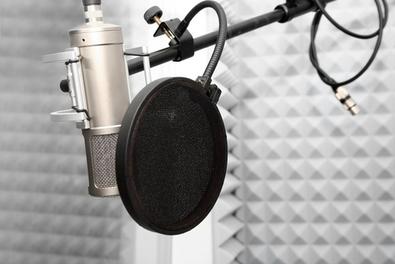 In today's global market, borders are quickly becoming a thing of the past, at least in terms of voice-over work. Many organizations and productions are casting online; hiring actors from locations across the Nation to across the globe. Most voice actors are equipped with their own home recording studios, allowing creative directors to patch in for live direction.
Grant Thomas, Senior Account Manager at Voices.com, says "On rare occasions a client can get hung up on geography in an effort to corner regional authenticity. This might make sense at the onset however, when it comes down to the finished product it's all about talent. The beauty of the global marketplace is you automatically break the local talent pool limitations in exchange for a much higher success ratio."
English speakers with neutral accents are needed world-wide for language translation projects, especially in e-learning and instructional videos, but it doesn't stop there. Voice talent can expand their reach greatly by learning to convincingly perform other accents and dialects. This skill translates well into other areas of acting as well, so if you dabble in theater and on-screen acting as well you may want to consider hiring a voice-over coach to help you nail the nuances of another dialect.
There are a number of ways to practice perfecting an accent at home on your own as well. Watch television programs or YouTube videos featuring actors speaking in other accents and mimic them until you've got it down. Make friends with people from other regions, offer to treat them to a cuppa' and practice mimicking them – though you'll want to tell them why you're doing it. Don't offend your pals!
Voice Over Performer, Howard Ellison, says that he can do a range of UK accents "from Devon, where I'm a 'blow-in', to Liverpool which I visited once" but that he has "little doubt that most of my simulations cause pain to real locals. Black Country is a nightmare, as one easily slips into pantomime Brummie or Enoch Powell MP. Funny, but insulting." Ellison is much more comfortable doing "snooty English gent" or "suburban London cockney" which he absorbed from school days. He says that, "the true-Brit tones find their niche in animation – inevitably as evil-wizard types. But what fun!"
For Voice Actor, Brian Rollins, performing a variety of accents are his "proverbial bread and butter for narrating audiobooks and video game characters." He spends a lot of time listening to other accents and practicing them.
As a linguist, Rajiv Hasan, has always been fascinated by accents – be they regional, national or international. "I have been fortunate enough to voice numerous projects in a variety of them."
On the flip side, some casting directors feel the land is overrun with people who say they can perform the accent but fail on delivery, so it's easier to go straight to the source.
Roger King, Agent and owner of Voice Over Canada, says, "I've found [that] because of Ethnicvoicetalent.com, we're asked for authentic accents rather than a talent putting on an accent." Voice Talent, Steve McDaniel can relate to the sentiment. He said, "I can do several dialects but I have found that most clients will hire an actual voice talent from the country of which accent they desire."
And in case you're thinking about ridding yourself of your natural accent you may want to think twice. Voice Actor, Joey Maxwell, says, "as a native North Carolinian, the southern accent I worked so hard to train out of me is now my most requested!"
Ultimately if you do accents well, then it will serve you well as an actor. When you adopt a new accent, and take the time to perfect it, it will strengthen your skills as an actor forcing you to be good enough to to give a convincingly emotional performance while carrying the accent through to the end of the script.
Lin Parkin is a writer and editor for Voice Over Times and Voices.com. She covers all things related to the voice-over industry including arts, entertainment, technology, business, and marketing.
Source: Voice Over Times
For more, visit www.voiceovertimes.com.