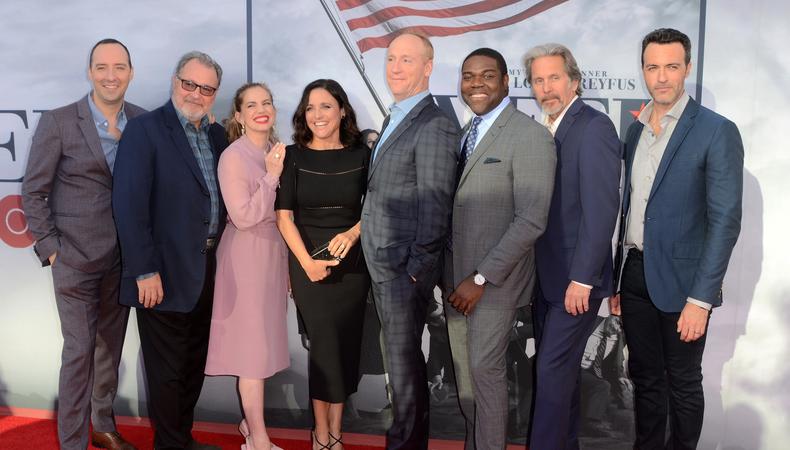 Fall in Hollywood is all about television due to, or at least in part because of, the medium's biggest awards: the Primetime Emmys. One of the most prestigious and recognizable of prizes available in TV, the Television Academy's awards hold both industry significance and household recognition. And as the golden age of the small screen continues to evolve, we must look to the casting component of TV to see what patterns emerge—what it means for the industry as a whole and for this year's nominees. The Primetime Emmy Awards honor the art of casting in four categories: Casting for a Comedy Series (introduced in 2000), Casting for a Drama Series (introduced in 1994), Casting for a Limited Series, Movie, or Special (introduced in 1989), and Casting for a Reality Program, which launched last year.
READ: Inside the Drama Casting Emmy—Plus Who Could Win This Year
The Emmy for Best Casting for a Comedy Series demonstrates an almost outright preference among voters for premium channels and streaming networks. The last program airing on traditional network TV to win the award was NBC's "30 Rock" back in 2013, and other than ABC's "Modern Family" and Fox's "New Girl," network comedies have not appeared in the last six years. The individual reigning supreme in this category is "Sex and the City" and "30 Rock" casting director Jennifer McNamara, with five wins.
For the last three years, HBO awards juggernaut "Veep" has dominated this category in addition to winning the top Outstanding Comedy Series award (with star Julia Louis-Dreyfus taking home Best Actress in a Comedy for a record-breaking six years in a row). Surely to Emmy voters' dismay, "Veep" has taken a year off in the 2017–18 season, and won't return with Season 7 until 2019.
But this absence creates room for another show to perhaps start its own Emmy dynasty. This year's nominees include veterans to the casting comedy category, FX's "Atlanta" and HBO's "Silicon Valley," as well as newbies: Amazon's "The Marvelous Mrs. Maisel," Netflix's "GLOW," and HBO's "Barry." All of these are also nominated for the 2018 Outstanding Comedy Series Emmy. Because the shadow of "Veep" looms so large over the comedy categories at the Emmys, it means Casting for a Comedy Series, Outstanding Comedy Series, and Outstanding Actress in a Comedy are all up for grabs this year.
Check out the list of recent winners and nominees below.
"Veep" (HBO, Season 6); Dorian Frankel, Sibby Kirchgessner
Year: 2017
Also nominated: "Atlanta" (FX), "Master of None" (Netflix), "Silicon Valley" (HBO), "Transparent" (Amazon)
Creator: Armando Iannucci
Cast: Julia Louis-Dreyfus, Anna Chlumsky, Tony Hale, Reid Scott, Timothy Simons, Matt Walsh, Kevin Dunn, Gary Cole, Sam Richardson
Other Emmys won: Outstanding Lead Actress in a Comedy Series (Julia Louis-Dreyfus); Outstanding Cinematography for a Single-Camera Series (Half-Hour); Outstanding Production Design for a Narrative Program (Half-Hour or Less); Outstanding Comedy Series
"Veep" (HBO, Season 5); Allison Jones, Beth Harris
Year: 2016
Also nominated: "Modern Family" (ABC), "Silicon Valley" (HBO), "Transparent" (Amazon), "Unbreakable Kimmy Schmidt" (Netflix)
Creator: Armando Iannucci
Cast: Julia Louis-Dreyfus, Anna Chlumsky, Tony Hale, Reid Scott, Timothy Simons, Matt Walsh, Sufe Bradshaw, Kevin Dunn, Gary Cole, Sam Richardson
Other Emmys won: Outstanding Lead Actress in a Comedy Series (Julia Louis-Dreyfus); Outstanding Comedy Series
"Veep" (HBO, Season 4); Allison Jones, Pat Moran, Meredith Tucker
Year: 2015
Also nominated: "Louie" (FX), "Modern Family" (ABC), "Transparent" (Amazon), "Unbreakable Kimmy Schmidt" (Netflix)
Creator: Armando Iannucci
Cast: Julia Louis-Dreyfus, Anna Chlumsky, Tony Hale, Reid Scott, Timothy Simons, Matt Walsh, Sufe Bradshaw, Kevin Dunn, Gary Cole, Sam Richardson
Other Emmys won: Outstanding Lead Actress in a Comedy Series (Julia Louis-Dreyfus); Outstanding Supporting Actor in a Comedy Series (Tony Hale); Outstanding Writing for a Comedy Series; Outstanding Comedy Series
"Orange Is The New Black" (Netflix, Season 1); Jennifer Euston
Year: 2014
Also nominated: "Louie" (HBO), "Modern Family" (ABC), "Nurse Jackie" (Showtime), "Veep" (HBO)
Creator: Jenji Kohan
Cast: Taylor Schilling, Laura Prepon, Michael Harney, Michelle Hurst, Kate Mulgrew, Jason Biggs, Uzo Aduba, Danielle Brooks, Natasha Lyonne, Taryn Manning, Selenis Leyva, Adrienne C. Moore
Other Emmys won: Outstanding Guest Actress in a Comedy Series (Uzo Aduba); Outstanding Single-Camera Picture Editing for a Comedy Series
"30 Rock" (NBC, Season 7); Jennifer McNamara, Katja Blichfeld, Jessica Daniels
Year: 2013
Also nominated: "Girls" (HBO), "Modern Family" (ABC), "Nurse Jackie" (Showtime), "Veep" (HBO)
Creator: Tina Fey
Cast: Tina Fey, Tracy Morgan, Jane Krakowski, Jack McBrayer, Scott Adsit, Judah Friedlander, Alec Baldwin
Other Emmys won: Outstanding Writing in a Comedy Series
"Girls" (HBO, Season 1); Jennifer Euston
Year: 2012
Also nominated: "The Big C" (HBO), "Modern Family" (PBS), "New Girl" (Fox), "Nurse Jackie" (Showtime), "Veep" (HBO)
Creator: Lena Dunham
Cast: Lena Dunham, Allison Williams, Jemima Kirke, Zosia Mamet, Adam Driver
Other Emmys won: none