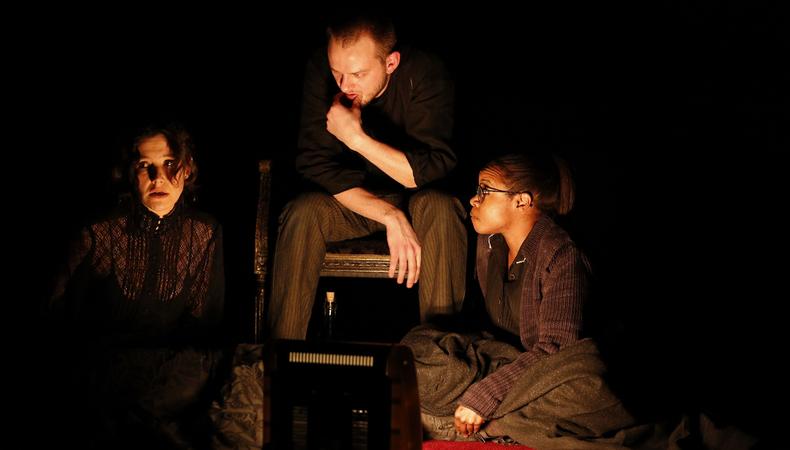 Anton Chekhov is a popular subject to parody and re-imagine these days. With Christopher Durang's "Vanya and Sonia and Masha and Spike" on Broadway and Annie Baker's much lauded adaptation of "Uncle Vanya" at Soho Rep this past summer, the Russian dramatist is very much in the zeitgeist. However, writer-director Guillermo Calderón may not be intentionally satirizing the playwright in "Neva," which has been translated by Andrea Thome. Though this monologue-heavy reflection on Chekhov's death and the political turmoil that surrounded it possesses more humor than sadness, Calderón's concept has so much darkness—there's not even a lighting designer credited, as the show is illuminated by one massive instrument visible onstage, and the also uncredited set is depressingly moody—that the somewhat lighthearted commentary doesn't always jibe.
When the audience enters, Olga Knipper, played suitably by Bianca Amato, is wandering around the small platform in the middle of the stage. Knipper, who is Chekhov's widow, is at a small theater ready to rehearse "The Cherry Orchard." She speaks to the audience in an enticing though long opening monologue as she attempts to process her husband's death and grieve the loss of him and his plays, many of which were written for her. Fellow actors Aleko and Masha join Olga for this pontification fest in which the conversation winds and winds around Chekhov's work and political unrest. Olga attempts to use Aleko in a scene to re-create her husband's death and complete her mourning, while Masha competes for affirmation from Olga, who has clout with the esteemed Moscow Art Theater.
The reason to see "Neva" is Quincy Tyler Bernstine's hilarious and moving performance as Masha. Though these characters are little more than foils of Chekhov, Bernstine infuses her Masha with a biting wit, and her final rambling monologue almost makes the show's leaden 75 minutes worth it. Luke Robertson is serviceable as Aleko, though the fault rests more in the one-dimensional character than in him. Susan Hilferty's costumes are appropriately modest and black.
Chekhov fans may find more to glean from "Neva" than the standard audience member, and Calderón does possess a rich knowledge of the playwright's work. Ultimately, though, these windy contemplations of Chekhov and art don't add up to a show.
Presented by and at the Public Theater, 425 Lafayette St., NYC. March 11–31. (212) 967-7555 or www.publictheater.org. Casting by Jordan Thaler and Heidi Griffiths.
Critic's Score: C-