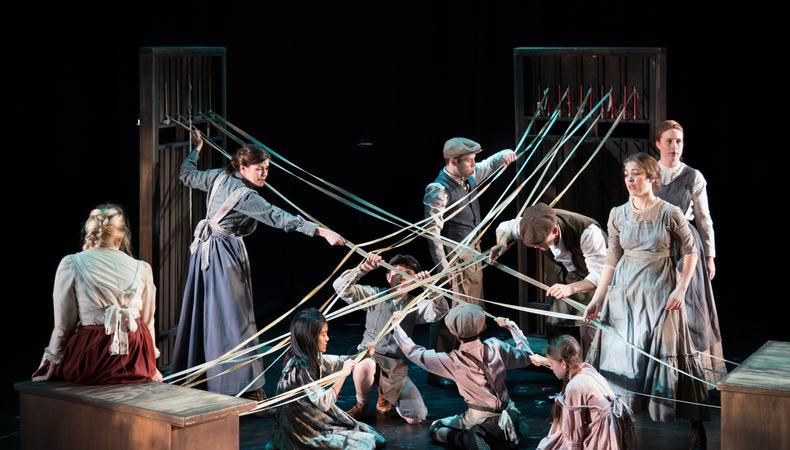 The winners for the 11th annual New York Musical Theatre Festival have been announced. "The Gig"—about a used car salesman, a dentist, a real estate agent, a financial advisor, a deli owner, and a teacher who drop their careers and families to pursue playing jazz in the Catskills—came out on top with four wins out of the 11 major categories. The production won for best writing for music and lyrics, best orchestration, and best musical direction, and landed an outstanding performance nod for Larry Cahn.
Jennifer Simard and Alyse Alan Louis from "Academia Nuts," and J. Robert Spencer and Brian Charles Rooney from "Bayonets of Angst" also received performance nods; in addition, "Bayonets" also took the best book award. Other actor mentions included Rachel Dunham ("Oprahfication"), Kenita Miller ("Propaganda! The Musical"), Alexis Fishman ("Der Gelbe Stern (The Yellow Star)"), Erin Leigh Peck ("Mr. Confidential"), and Lynne Wintersteller ("Mother Jones and the Children's Crusade"). The outstanding ensemble performance award went to the cast of "Bayonets of Angst," which included Michael Abbott Jr., Ryan Andes, Herndon Lackey, and others. The original musical comedy was "set to a bluegrass soundtrack and narrated by the last remaining veterans of the American Civil War."
Excellence in direction went to Thomas Caruso for "Academia Nuts"; Caruso has served in the past as associate director for Broadway's "Matilda," "Follies," and "Ghost," and was resident director for "Mamma Mia!"
There was a tie in the excellence in choreography category between Jason Sparks' "Propaganda! The Musical" and Staś Kmieć's "The Mapmaker's Opera," based on the book by Spanish-Canadian author and lecturer Béa Gonzalez with music and lyrics by Victor Kazan and Kevin Purcell. The best of the fest audience award went to "Cloned!" a show set in 1993 that follows Wally Waterman as he teeters on the brink of inventing the ability to teleport and ends up cloning himself instead. Runner-ups for the audience award were "Deployed," which centers on a female soldier living and fighting in Iraq, and "Mother Jones and the Children's Crusade."
This year's NYMF featured 25 different shows with topics ranging from the Clintons and Bob Harrison's Confidential Magazine to Wikileaks and Berlin burlesque houses. The festival ran from July 7–27 and awards were presented at the closing night celebration on July 27 at Area Events Space.
NYMF seeks to provide a platform for new and emerging musical theater artists, producers, and projects to showcase their work. Since its inception it has premiered over 350 shows, featured more than 8,000 artists, and has had over 300,000 audience members. It is the largest event of its kind in America and its alumni have gone on to put their shows both on and off Broadway, win Tony Awards, and a Pulitzer Prize went "Next to Normal," a show that premiered at the fest. In addition to the festival, NYMF also offers educational programs for writers, panel discussions, and master classes.
For advice on how to nail your musical theater auditions, check out "3 Things to Mark (and 1 to Remove) from Your Sheet Music."