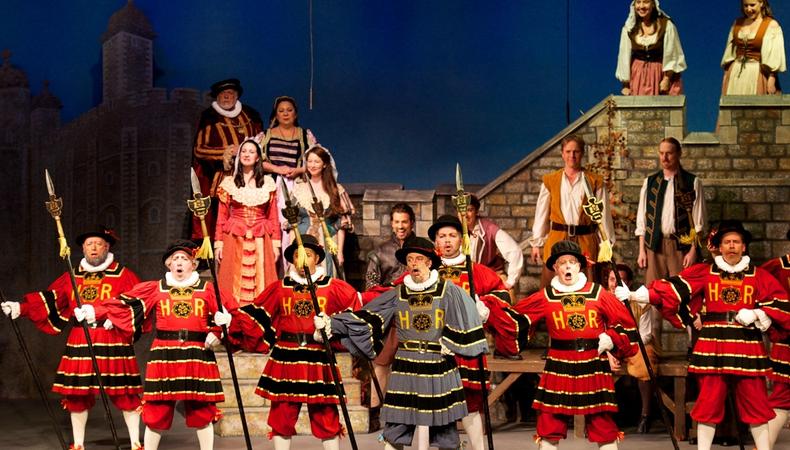 For some time before writing "The Yeomen of the Guard or, The Merry Man and His Maid," composer Arthur Sullivan was chaffing at the bit to quit his collaboration with William S. Gilbert and turn to grander musical compositions such as opera and oratorio. So after rejecting yet more of the same old magical plot lines, Sullivan was pleased when Gilbert presented his outline sketch for "The Yeomen of the Guard," with a realistic setting of the Tower of London in the time of King Henry VIII. In his diary he wrote, "Pretty story, no topsy-turvydom, very human." Sullivan immediately envisioned the opportunities of a more ambitious score and the expression of genuine sentiment. Albert Bergeret—who has led the New York Gilbert and Sullivan Players for many years and is one of New York's lesser-known treasures—still bounces with energy as he pilots his company through this more demanding undertaking. Although some may miss the engaging silliness of the writers' other works, they are compensated with a raft of lovely songs, winningly sung by a strong cast.
Although there is no "topsy-turvydom," Gilbert has still concocted a plot that can best be described as twisty-turny. It begins with Phoebe Meryll (Amy Maude Helfer) at her spinning wheel singing and sighing about love. Enter Wilfred Shadbolt (Quinto Ott), head jailer and assistant torturer of the Tower of London and in love with Phoebe, to announce that one of the prisoners, Colonel Fairfax (Daniel Greenwood), is to be beheaded for sorcery this very day. The plot line includes Phoebe's father, Sergeant Meryll (Richard Alan Holmes); her brave brother Leonard (Paul Betz); the housekeeper of the Tower, Dame Carruthers (Angela Christine Smith); switched identities; stolen keys; and a necessary immediate marriage. Next we meet two strolling players: a jester, Jack Point (Stephen Quint), and Elsie Maynard (Laurelyn Watson Chase). Jack hopes to marry Elsie one day, and their story involves an unruly crowd, Elsie's very ill mother, a marriage bribe of a hundred crowns, a jester's audition, and an escaped prisoner. And we're just at intermission.
Things settle down a bit in the second act, allowing charm and humor to enter the scene. They come on the wings of some of Sullivan's most appealing melodies. In the first act is the show's best-known number, Jack Point's winsome "I have a song to sing, O!" Then in Act 2 comes the haunting theme "Night has spread her pall once more," followed by the charming quartet "Strange adventure!" and the fetching trio "A man who would woo a fair maid."
Greenwood's Fairfax is well sung, and the actor also has a talent for pointing up Gilbert's humor in the nimble lyrics. The same goes for Ott, as Shadbolt, another strong singer able to find the role's humor. Chase is an attractive Elsie, and there is sturdy support—and fun—from Helfer, Smith, and Holmes. Quint is a light-voiced Jack Point and might be more youthfully robust, although the "Pagliacci" ending is nicely done.
Presented by the New York Gilbert and Sullivan Players at New York City Center, 131 W. 55th St., NYC. Jan. 18–20. (212) 581-1212 or www.nycitycenter.org.
Critic's Score: B+