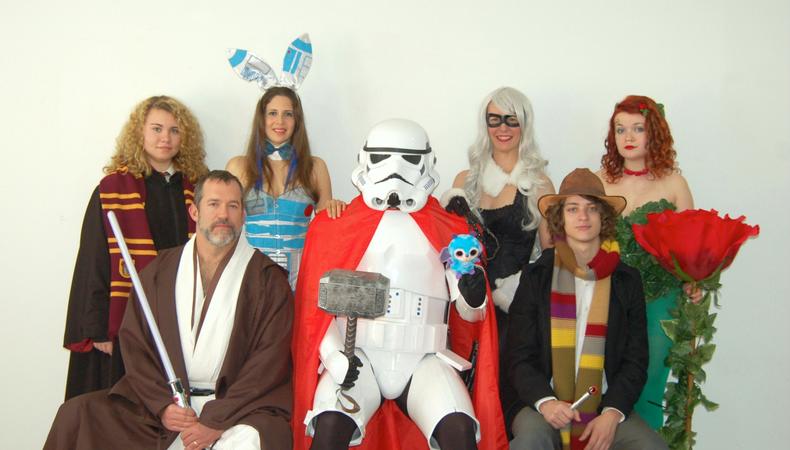 The temperature may have dropped, but Georgia's convention scene is as hot as ever. From gatherings dedicated to monsters and horror to celebrations of sci-fi, steampunk, action figures, and general geekdom, there's something for just about anybody at these upcoming events. Whether you're strapping on your Stormtrooper helmet or cowboy hat for some cosplay fun or looking to pick the brains of the actors portraying brain-eating zombies and vampires, here's what to expect when attending this winter's cons.
Ath-Con (Jan. 16–18)
Presented by the Rose of Athens Theater and taking place over the extended Martin Luther King, Jr. holiday weekend, Ath-Con offers three days of cosplay, gaming, and other geek culture. In addition to authors, special effects artists, prop makers, and musical acts, Ath-Con also features an impressive lineup of actors such as Moses Moseley, Michelle Helmeczy, Sonya Thompson, Greg Crews, and Michael Koske from "The Walking Dead," "The Originals," the "Hunger Games" films, and other local productions.
Days of the Dead (Feb. 5–7)
The Days of the Dead horror convention returns to Atlanta for its fifth year. With a focus on scary movies, the lineup of guests includes the likes of "Mistress of the Dark" Elvira, Tobin Bell from the "Saw" series, "A Nightmare on Elm Street's" Heather Langenkamp, Tony Todd from "Candyman" and the "Final Destination" movies, and a "Cabin Fever" reunion with Joey Kern, Jordan Ladd, Cerina Vincent, and James Debello. This year's event also features "Star Wars" favorites Billy Dee Williams, Jeremy Bulloch, and Tim Rose, as well pro wrestlers Ric Flair and Chyna, heavy metal singer Phil Anselmo, and more.
Super Sunday Collectors Con (Feb. 7)
While many people are settling in for the Super Bowl, collectors of comic books, movies, toys, and cartoons can assemble for the Super Sunday Collectors Con. Featured artists include Robert Pope, artist for DC Comics' "Scooby-Doo," and Roberto Yun Rodriguez, animator for "Family Guy" and "Ultimate Spider-Man," with numerous other artists and vendors including Mark Wright, Jason Flowers, and Fanboy Glass. Each paid admission received a free Deadpool or Yoda Lego figure, and you can take a photo with a Mystery Machine van just like the one in "Scooby-Doo" cartoons and movies.
AnachroCon (Feb. 26–28)
With movies like "The Hateful Eight" and "The Revenant" creating so much box office buzz, it's only appropriate that Atlanta's steampunk and alternate history convention takes on a Weird Wild West theme this year. With tracks dedicated to prop fabrication, costuming, history, science, "Dr. Who," and other playacting topics, AnachroCon is all about portraying your favorite historical figure, literary character, or persona of your own creation. A vintage car show, Red Queen's Mad Tea Party, historical reenactments by Zholdak Kozaky, and other time travel-themed festivities are part of this year's event.
Joelanta & The Great Atlanta Toy Convention (March 11–13)
Toy collecting and film fandom have been closely linked for several decades. Atlanta's annual toy convention features dozens of toy vendors, panels with industry experts, and appearances by artists, actors, and other entertainers. Though many details have yet to be announced, this year's event features appearances by "The Walking Dead" actor Steven "Skip" Bartlett, costume and prop maker Bob Bean and his Tactical Field Response Unit: Zombie Hunter truck, and local cult film star Sass Parilla The Singing Gorilla. As has become tradition, the event begins with a G.I. Joe parachute drop in the hotel lobby.
Inspired by this post? Check out our Atlanta audition listings!