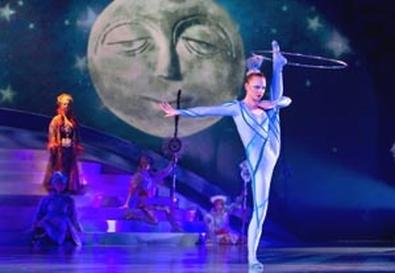 Just as the city's temperature turns brisk, Cirque du Soleil returns to New York with its seasonal spectacle "Wintuk." The family-friendly show is making its fourth and reportedly final appearance in the Big Apple. If you can pony up some extra cash for these pricey tickets, I'd strongly advise you to catch a performance of this dazzling work.
Like many Cirque shows, "Wintuk" offers amazing spectacle: jaw-dropping acrobatics, elaborate dance numbers, and offbeat clowns mixed with a driving score, vivid set design, and inventive staging. To call it theatrical would undersell what it does. Where else will you see a pair of 20-foot herons (played by performers on stilts) flapping wings behind a single acrobat's performance? Or three ice giants fighting an army of aboriginal natives with long spears?
It's not just theatricality. Writer (and original director) Richard Blackburn created a vaguely mythical story line on which to hang the spectacle: A teenage boy, Jamie (Christopher Jones), lives in a city without snow. Determined to find it, Jamie travels north to the mythical Wintuk with a shaman (Laur Fugère), a strawberry-haired young girl (Charlotte "Charlie K." Martin), and Wimpy (Facundo Gimenez), a timid boy who wears a trash can to hide himself. Along the way, they meet a quartet of dogs (Terrance Harrison, Lurian Duarte, Derek Stangel, and Alexandre Tessier) as well as two nefarious thieves (Vincent Dubé and Sébastien Tardif) being chased by a daredevil policeman (Keigol Arizono) before reaching the frozen wasteland.
Within the framework of a circus performance, director Fernand Rainville maintains a surprisingly strong emphasis on character, adding distinct gestures and actions—especially with the acrobats—that reinforce each performer's place within the storytelling. While sometimes lost in the mayhem, these little details create a richer theatrical experience.
Still, the main thrill of "Wintuk" is in the acrobatic performers, of whom a few stand out. The four who play the dogs are incredible. Besides showing dazzling athleticism in elaborate costumes, each creates a unique personality for his or her character. In addition, Audrone Pavloviciene offers a bravura comic performance as a rag doll tossed hither and yon.
Presented by Cirque du Soleil at the Theater at Madison Square Garden, 4 Pennsylvania Plaza., NYC. Nov. 19–Jan. 2. Schedule varies. (866) 858-0007 or www.ticketmaster.com.