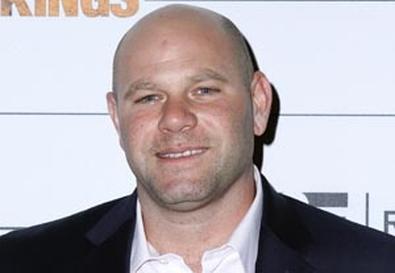 Domenick Lombardozzi is best known for his role as Detective (later Sgt.) Thomas "Herc" Hauk on HBO's "The Wire." But he's been deploying his thick Bronx patois on both the large and small screen since age 16, when he landed the part of Nicky Zero in Robert De Niro's directorial debut, "A Bronx Tale." Since then, he's made his career playing small to medium-sized parts in indie films and TV shows, most often on one side of the law or the other, with colorful character names that seem to fall into two main categories: either nicknames like Cueball, GQ, and Joey Chips, or Italian names that often seem to be making a conscious effort to one-up his real name in terms of pure, unadulterated Italian-ness.
It's not like he's trying to be typecast. It's just that he's so believable in his approach to his roles that it becomes difficult to find fault with the casting directors who seem doggedly determined to keep him in this niche. In a show bursting with memorable characters and talented actors, Lombardozzi's Herc stood out. This spring, he debuted in his first lead role, playing U.S. Marshal Ray Zancanelli on A&E's new hit drama "Breakout Kings," created by Matt Olmstead and Nick Santora.
Lombardozzi sat down with Back Stage to discuss the pressure of a starring role, why it sucks being typecast, and what he'd like to say to the Emmy voters who snubbed "Wire" creator–executive producer David Simon and co-executive producer–writer Ed Burns.
Back Stage: So your first acting gig was when you were 16 and it was "A Bronx Tale"?
Domenick Lombardozzi: Yeah, it was an open call, and it later became my understanding that De Niro didn't want actors; he wanted kids off the street, wanted to give them an opportunity. And I remember going and the line was around the block, because all five boroughs of New York had come out to read for this thing.
It was 1991. Right after "Goodfellas." But as an Italian-American, everybody knew who De Niro was. So I was well aware of how prestigious this was. So it was just, like, a process of elimination. First, they had you write down your information, and I guess if they saw people knew how to read and write, they would call them back. [Laughs.] It was, like, a month-long process, and I eventually made it to Tribeca, where De Niro had his office. Walked in the room, and there was Chazz Palminteri, and there was De Niro, and Chazz goes to me, "Do you need a couple minutes to look at the stuff?" I'm like, "No. I'm ready. Let's go." And boom boom, we did the scene, and by the time I got home, they had already called, and my mother gave them permission for me to be in the movie.
Back Stage: You seem to hear these stories where someone's first shot is an open casting call: They go, they nail it, they get the part. Was this a case of you had wanted to be an actor, or was it more "My friend needed a ride, so I agreed to go with him"?
Lombardozzi: Actually, it was a goof. I wanted to be a ballplayer. If you're from the Bronx, you're from this little world within a big world. And when you're from these little communities, it's very hard to see beyond the fence. So it was a goof. But then I was like, "Wow, I really like this." And then a lot of my friends started getting eliminated, so they were all rooting for me to make it. And three of us from our neighborhood, actually, got parts in the movie. I got the smallest part [of the three]. I actually had blond hair when I was a kid, so I didn't really fit that
Italian profile
.
Back Stage: So after that it was—
Lombardozzi: After that it was back to school, and being a kid, and then I get a really important phone call from Tony Vitale, who was the location manager on "A Bronx Tale," and he was writing this script called "Kiss Me, Guido." It was really that movie that made me fall in love with acting. These small independent movies—which I come from—that's where you see a person doing three or four different jobs. That's where the actor is picking up equipment and f---ing moving it, you know? I come from a family that has a really strong work ethic, immigrant parents, and I was like, well, I like this a lot. I'm around creative people. I was able to see beyond the fence of where I grew up. Some people felt uncomfortable [leaving the Bronx]. I welcomed it. I wanted to leave. I wanted to see how other people interacted with each other, where everything wasn't the same, where it was cool to disagree.
My neighborhood was Italian, Irish, black, Puerto Rican—I grew up with everybody. And usually in those little communities, the mindset is always the same. And if everyone hates the color blue, chances are everyone is going to hate the color blue.
Back Stage: Looking at your IMDb, looking at some of the guest-starring roles you did after "Kiss Me, Guido," and just reading down the list it's like: cop, cop, tough guy, cop….
Lombardozzi: Well, here's the deal. You can only really play what you're given the opportunity to play. It's very hard for [casting directors and producers] to say, "Oh, maybe he could play a lawyer. Maybe he could play a doctor." So yes, I play the cop. I play the good cop, I play the bad cop. I play the good friend, I play the bad friend. That's what my career has been. On the other side, it's the same thing. Those guys that play lawyers and doctors are not believable playing what I play. It's got to be hard for them too.
Back Stage: Does being typecast bother you?
Lombardozzi: Of course it bothers me, because I'm an actor. I've been able to make a living, but it's a real struggle sometimes. If you're not given the opportunity, how can you show people [that you're capable]? But I've been blessed enough to work, and do what I do well, and who's to say that [the other roles] won't come?
Back Stage: I want to touch on "The Wire," obviously. Working with all those great writers and actors, is there anything that stands out about that experience?
Lombardozzi: Here's the moment I knew I was doing a different kind of television show. You'll get a kick out of this. Do you remember the
scene where we steal money
? When me and—fantastic actor—Seth Gilliam [Detective Ellis Carver], we flip over the mattress, and we take the money and we're stuffing it in our vests. I remember going home—for the first season me and Seth were living in the same apartment to build up camaraderie and chemistry for the on-camera stuff—and I remember [telling him], "That's it. I think we're done. Maybe the next episode." Because you didn't know.
The first thing when you opened up a script, you wanted to see if you were in it, then you wanted to see if you died, then you read the content, and then you were itching to see the next script because the writing [for that show] was so on point. So I said [to Seth], "Maybe we should go talk to David [Simon] and see if we should be looking for other jobs." So we get on the phone with Dave, and we were like, you know, "We're taking money, here. Should we expect something?" and he goes "Expect what?" "Well, you know, what's next for us?" He goes, "Nothing! Happens every day in this city!" And that was when I was like, Okay, now I know what kind of show I'm doing. Any other show, you're off. You've got to remember this is 2001, 2002. A lot of these serialized shows now are taking that kind of formula, but at the time, no. But David had a clear understanding that this is the kind of world we live in. You can't sugarcoat it.
Back Stage: "The Wire" has a lot of big fans out there.
Lombardozzi: Now there are. I remember reading for movies, reading for guest spots, during the hiatuses, when we didn't know whether we were coming back or not. During the third season of "The Wire" — I shit you not — the third season, some casting directors didn't even know what "The Wire" was. And it sucks because you look at the people you work with, how f---ing talented they are, and three seasons in people don't know about it?
And then, here we are three years, four years after the fact, and people are watching the DVDs now, and so it's getting the recognition that it deserves. Better late than never, right? You look at it in retrospect, and that just gives the show so much more credibility. How could a show that was top five every year on every critic's list never get nominated [for a best drama Emmy]? Let's forget about the acting, because there were so many actors. Let's forget about that. How do you not give David Simon [an Emmy]? How do you not give Ed Burns [an Emmy]? I have so many words to describe it, but I don't want to say them. They're not nice.
I'd rather do a show that's critically acclaimed, that gets the respect of my peers, and has a really strong and faithful audience, than put on a tux and get a statue.
Back Stage: I want to get to "Breakout Kings" now. I know Matt Olmstead worked on "NYPD Blue" and Nick Santora worked on "Law & Order," both of which you guested on. Did they create the role of Ray with you in mind?
Lombardozzi: No, not at all. I was the second-to-last cast. A lot of New York actors, they go to L.A. during pilot season because it's easier to get in the room and hopefully get a show. I'd just gotten to L.A. I was crashing at a friend's place, and I read the ["Breakout Kings"] script, and I was like, Wow, this is pretty cool. The character I was reading for is very flawed; I could see this character going in a lot of different directions, so there was a lot to work from. So I just went through the normal procedures of getting the part. I remember going in for the audition and it was probably one of the nicest, most creative auditions I've ever been to. And you know, obviously they took a liking to me, and next thing you know I got the part.
Back Stage: So this is your first lead role, right?
Lombardozzi: I mean, I've done independent films where I was a lead, but this was the biggest responsibility I had as an actor. It's a lot of pressure. I've always given 120 percent to everything I've ever done, whether it was two lines or 15 pages. But this was something I knew that I would be in the forefront. This [pilot] was originally set up at Fox, but [the producers] stood behind the show, and wouldn't let it go to the graveyard, and started shopping it around. So it's sort of like a Cinderella story for the show, because usually when pilots don't get picked up, they're done. A lot of people sacrificed a lot of things for this show to be on A&E, so along with the role and what it was personally for me, a lot of pressure was added [due to the nature of the show].
Back Stage: So as an actor, when your show premieres, when you see those good ratings and good reviews, how does that feel?
Lombardozzi: Well I'm more interested in reading the bad reviews. For me, [at that point] it's out of my control. Once I've shot the show, once I've done all the publicity for it, it's really out of my hands. So I can't really care too much about that. It's really the only attitude you can have.
Back Stage: Anything we can expect from the rest of the season?
Lombardozzi: As much as the show is set up like a procedural, it has a serial aspect to it when it comes to the characters. And I say that because, as the season goes on, you'll realize a lot of stuff comes out. Every show is set up as a fugitive escaping and us catching them, which is always going to be the A storyline. But it's the B and C storylines that [initially] intrigued me, and I personally think they're the heartbeat of the show. Because all these characters, they're all running away from something, looking for redemption. And as each episode goes on, you learn a little bit more about what makes them tick