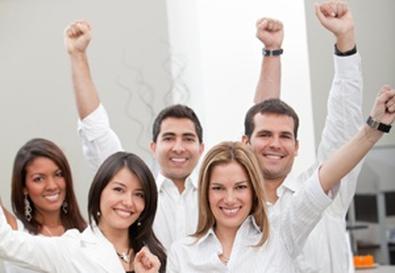 When actors think of investments, visions of dollar signs tend to flash before their eyes. But true investments take many different forms. Some of the best career moves you can make are less about money and more about critical thinking, savvy strategy, and a willingness to take chances. Below, a few ideas….
1. Build the right team.
It's an exciting day when you land representation for the first time. But don't get hung up on merely nabbing an agent. You want to nab the agent who's right for you. "I think you're looking for an agent that's going to be proactive, that's going to have an overall commitment to you and what you bring to the table," says agent Pam Sparks of SBV Talent. Don't forget to thoroughly research an agent and his or her company before you sign, and don't be afraid to ask your own questions if you're called in for a meeting.
In addition to an agent, you may also decide you want a manager. Typically, agents pursue and procure jobs for their clients, while managers oversee the overall scope of the actor's career. The configuration of representation you ultimately decide on is up to you, but you're looking for similar things in all reps: passion, honesty, and a genuine connection. This person should understand who you are as an actor.
"Passion will translate to energy, which will translate to actiwvity for the actor," says manager Andrew Edwards of Global Creative. "You have to have that. And you have to be able to trust the people that you work with."

2. Don't say no to work.

When you're just starting out, a lot of the opportunities that come your way may not sound all that scintillating. But don't be so quick to dismiss them outright. Student films, indie shorts, and low-budget theater offer you the chance to practice your craft and build your list of credits.
Actor Maggie Kiley, whose credits include the upcoming Ryan Gosling feature "All Good Things," says there's nothing wrong with taking jobs that pay in experience rather than cash. "Don't wait by the phone," she advises. "Take any opportunity you get to hone your skills and expand on your industry contacts." The American Film Institute director "who casts you in their three-minute short may be the next Kathryn Bigelow. Doing a run of a play in a 99-seat house in L.A. or Off-Off-Broadway in New York is a great opportunity to keep developing your actor muscles. It may also be a great chance to spread your wings in a role you may not normally be cast in—something with great depth, maybe even a little kooky."
3. Have skills at the ready.

Most proactive thespians spend a lot of time chasing down opportunities: meetings with reps, casting calls, or that one shining audition that's bound to make you a star. But you have to make sure you're ready when such opportunities arise. You might have an excess of natural talent, but there's no substitute for training, including finely honed audition technique and specific skills like improv and voiceover.
"The development and expansion of your skill set is your top priority," says manager Robert Glennon of Authentic Talent & Literary Management. "Focus on what you can control. Taking classes, taping and analyzing yourself, and working with a coach are all ways that will not only improve your performance but will also build up your confidence."
And once you've started to land work, it's important to continue to study and polish your various abilities. You want to keep your skill set fresh. "Regardless of how talented you are," says Glennon, "you can always get better."
4. Watch TV!
Actors go out of their way to be off-book and to suss out character motivation before an audition. But sometimes they neglect the most simple of prep steps: watching the TV show they're reading for. Or better yet, you should keep on top of all media—television, film, theater, commercials—so you have a vast knowledge base to draw from.
"TV series all have different tones, styles, voices, humor, and rhythms. Watching at least one episode will educate you on the type of show and the type of roles for guest-cast actors," says casting director Lisa Miller Katz, whose credits include "Everybody Loves Raymond" and "Accidentally on Purpose." "Do they go for big jokes or are they hiring actors who can keep it very real and subtle? And you never want to be the person in the room who, if asked if you've seen their show, responds that you don't watch TV."
Think of it as an essential piece of your actor homework. The more you know about the pop-cultural landscape, the better prepared you'll be when you walk into an audition room. "Watching TV episodes is easier than ever now—you can find them anywhere online," says Katz. "It's part of an actor's preparation, just like working on your audition scene or reading the script."
5. Have a support system.
Acting is one of the most mercurial and oft-torturous professions a person can take on. Having a group of solid individuals in place who will support you no matter what—in both acting and life—is key if you want to stay sane.
"One of the first things I discovered after I moved to Los Angeles is that a good day in L.A. can be absolutely amazing, and a bad day in L.A. can be utterly awful," says actor Janet Varney, who has appeared on "Bones" and "Entourage." "You can really live in extremes in this city if you're not mindful and if you don't seek balance in your life. Having a good support system of friends and loved ones can make all the difference."
And just as important, notes Varney, is being part of others' support systems as well. After all, you probably understand what your fellow actors are going through better than anyone. "When you make yourself available to brighten someone's day, show them encouragement, or endeavor to aid them through a tough moment, you're getting back the incredible gift of being reminded that you matter in a way that is so much more valuable than whether you booked a job or had a good audition," she says. "That's instantly life-balancing."
6. Do it yourself.
In this day and age, you don't have to count on someone else to cast you in your dream role. Technology is more accessible than ever, from digital video cameras to editing software such as Final Cut Pro, so why not take your acting fate into your own hands and show the industry what you're capable of?
Actor-writer-director Lena Dunham, whose "Tiny Furniture" was screened at the 2010 Los Angeles Film Festival, says she's at her best when playing a part she created for herself. Additionally, coming up with your own part means you can defy others' expectations and cast yourself in a role you might not normally be seen for.
"I'm a pretty normal-looking girl," says Dunham. "It became apparent to me early on in my life that the parts that I was going to get are, like, a sassy best friend who loves to eat cheese or something, and those aren't the parts I would necessarily want to play. It's important to me to write parts for myself and to write parts for other women that don't feed into those stereotypes."

7. Invest in Your Brand
Actors often fear typecasting, but if they want to work in film, TV, or commercials, they need to embrace the notion that they will, whether they like it or not, be typed by casting directors, agents, and the public. So rather than fight it, embrace it. Focus on one or two—three at most—types of roles that you feel you have the best chance to get cast in and market yourself with that in mind.
Mark Atteberry, a Los Angeles–based actor and photographer who teaches seminars around the country about knowing your type, says that specificity is the key to effectively marketing yourself. For example, rather than promoting yourself as just the "nice guy," add a twist that is unique to your personality. " 'Darkly sarcastic nice guy'—that's a nice way to brand yourself," notes Atteberry. "So focus on something specific and go at it. Target that audience that you know that your brand will appeal to, and then also target marketing items in a way that will convey that message. That specificity really does help you get noticed." That includes producing your own work—Web series, YouTube videos, and short films—that maximizes your ability to play up your type.
While agents that Atteberry works with as a photographer have different takes on this, he is of the opinion that you don't need to dress the part of the doctor, for example, in your headshots. So leave the stethoscope at home. Instead, concentrate on making sure your personality and charisma shine through in your photos.
And if you're still itching to stretch yourself and try out types that you normally would not be considered for, "that's what theater is for," he says. "It's such a great place to experiment and try things that aren't normally you."

8. Go to network.
Because of the uncertainty in an actor's life—and the intense competitiveness involved in finding your big break—it's easy to slip into the mindset that you're completely on your own in a heartless business. But, just maybe, you can squint at the situation from a somewhat different angle and not feel so isolated.
Remember those "beers with peers" times after acting class when you talked into the night about Meisner and Strasberg and Hagen? Or that evening you and hundreds of your colleagues attended an Actors Fund performance of a Broadway show and felt big warm waves of camaraderie splashing over the orchestra pit and lapping at the performers' toes during curtain call? By a few simple, thoughtful actions, you can keep that spirit of interconnectedness pulsing, day in and day out.
For the actor, networking doesn't necessarily mean spending hours updating Facebook or LinkedIn accounts, though that's not necessarily a bad idea. It can mean taking the time to catch the new showcase of a colleague you bonded with in a production six months ago. Or emailing a classmate from college days when you notice an audition for the musical she once told you featured her dream role.
There's something karmic about old-fashioned courtesy: Some wonderful opportunity might just wind up rapping at your own door—if you keep it slightly ajar.
9. Be aware of the world around you.
In the midst of training, auditioning, and trying your darnedest to land a rep, sometimes it's tough to take a step back and simply live. But actors should remember that having a life outside of acting—one that includes culture, current events, and other non-thespian-type activities—feeds your craft.
Manager Andy Corren of Generate is a strong believer in actors cultivating well-rounded lives, and he cites legendary actor-teacher Uta Hagen as a prime example. "When we met, she was of course doing eight shows a week Off-Broadway," he recalls. "Yet she gardened. She read widely, daily, and with great joy. She did the New York Times crossword, every day, in pencil. She cooked—herself or with friends—and entertained, often. Any conversation was subject to hijacking into a game of Scrabble or, more likely, a spirited debate."
The more interests you have, the more interesting you are as a person, and ultimately as an actor. "Uta believed—as do I—that an incurious actor was a boring one, and a boring actor was a waste of valuable time," says Corren. "She lived her life as though she were exploring it, which made her one of the most thrilling live stage performers who ever lived. For the actor as artist, there is no greater, more practical, more important lesson: You're never done learning new things."
10. Read on!
Check out the rest of our List Issue for other advice on furthering your career.
—Jamie Painter Young and Mark Dundas Wood
contributed to this article