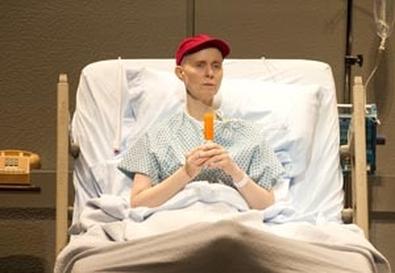 It's hard to imagine anyone but Kathleen Chalfant as the overbearing but brilliant Dr. Vivian Bearing, the frosty classical scholar finding her humanity as she faces ovarian cancer in Margaret Edson's Pulitzer Prize–winning "Wit." I saw the original 1998 Manhattan Class Company production of this incisive and moving play in a tiny Off-Broadway space, before it moved to a commercial run at the Union Square Theatre. The venue was so intimate, it was as if Chalfant's Bearing was talking directly to me, hectoring and lecturing on the intricacies of John Donne one minute and crying in agony from the effects of chemotherapy the next. It was an amazing performance, and Chalfant justly won several awards for it.
Now Manhattan Theatre Club has taken up the challenge of remounting "Wit," and the production runs several risks. The lead is being played by Cynthia Nixon, an actor with an admirable stage track record who nonetheless has never tackled anything as difficult as Bearing. The role requires an actor to seamlessly switch from addressing the audience to interacting with other characters, to never leave the stage, and to run the proverbial gamut of emotions, from imperious disdain to shattering despair. In addition, Nixon's up against the memory of Chalfant's iconic liming, and director Lynne Meadow must recalibrate the original intensity to fill the Broadway-size Samuel J. Friedman Theatre.
I'm happy to report that Nixon successfully banishes thoughts of her best-known credit, the TV series "Sex and the City," with a blazing and heartfelt portrayal, and Meadow's production reaches to the back of the theater without sacrificing the necessary immediate connection between performer and theatergoer. (The director is greatly aided by Santo Loquasto's mobile hospital-lecture-hall set and Peter Kaczorowski's unsparing lighting.) There are traces of Nixon's controlling and borderline-bitchy Miranda, from the salacious and saucy HBO series, in her Vivian. But there are also a keener intellect and a sharper—you'll excuse the expression—wit. In the first half of this unflinching intermissionless journey toward death, the actor skillfully conveys Vivian's ruthless search for knowledge by fiercely pursuing the objective of understanding the disease. Then, when Vivian realizes she has "run out of options," Nixon lets the scholar's armor fall away, leaving the uncertain inner child exposed and scared.
Michael Countryman appropriately endows Dr. Kelekian, Vivian's oncologist, with a brusque air and offers hints of compassion for the patient that are hidden by the doctor's prime motive of learning about her cancer. Greg Keller humorously captures the awkward eagerness and unemotional analytical nature of Dr. Posner, Kelekian's young associate. Carra Patterson is so natural and soothing as Vivian's nurse that I almost believed Meadow had hired an actual caregiver rather than an actor to play the part. Suzanne Bertish makes the most of her two brief scenes as Dr. E.M. Ashford, Vivian's strict academic mentor. She first appears in flashback, steely and unyielding as Ashford harshly criticizes her protégé's critical work, and then re-enters toward the end of the play, entirely believable as a much older and softer woman. These are all subtle and strong supporting performances, surrounding a stellar leading one. "Wit" is worth the visit even if you remember the original. Be sure to bring your handkerchiefs.
Presented by Manhattan Theatre Club at the Samuel J. Friedman Theatre, 261 W. 47th St., NYC. Jan. 26–March 17. Tue. and Wed., 7 p.m.; Thu.–Sat., 8 p.m.; Wed., Sat., and Sun., 2 p.m. (212) 239-6200, (800) 432-7250, or www.telecharge.com. Casting by Nancy Piccione.