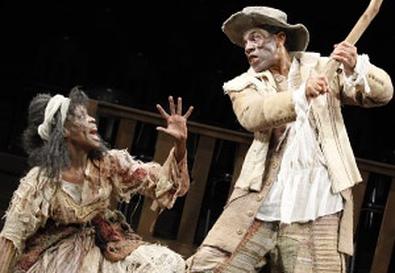 Theatergoers with an affinity for Jacobean tragedy are in for a treat at Red Bull Theater's remarkable production of a real rarity: "The Witch of Edmonton," written in 1621 by Thomas Dekker, John Ford, William Rowley, and possibly others. Under Jesse Berger's muscular direction, this two-hour-and-40-minute production flies by while telling a juicy tale of witchcraft, sex, and murder that's based on a true story. The uniformly excellent 15-person cast, which includes such names as Charlayne Woodard, André De Shields, and Everett Quinton, disproves the tired adage that the Brits do this kind of thing better.

"Witch" is unusual because, as Columbia University professor Jean Howard puts it in a program note, "it is one of a handful of early modern plays...where the protagonists are not elite members of society but ordinary men and women." There are two main plots. In the first, a young servant named Frank Thorney secretly marries fellow servant Winifred, who is pregnant. Frank thinks it's his, but she's also been taken advantage of by her employer, Sir Arthur Clarington, so Winifred is unsure. The marriage is secret because Frank's father, a gentleman embroiled in financial woes, wants his son to solve them by marrying Susan, the daughter of a rich yeoman. Frank allows himself to be bullied into the union, then abandons Susan to run away with Winifred, who is disguised as a male page. Susan, however, is not so easily trifled with.

The second story involves an old woman, Elizabeth Sawyer, who ekes out a poverty-stricken existence and is abused by her neighbors. She makes a pact with the devil—who appears to her in the form of a talking dog who sucks her blood—to wreak revenge for her. Though the dog is enjoined from taking life himself, his actions lead to murder, wrongful imprisonment, paranoia, and suicide, until no one in the community is left unscathed.

Smoldering at the center of the production are Woodard, as Sawyer, and the extraordinary Derek Smith, as the devil dog. Decked out in designer Cait O'Connor's masterfully detailed rags and sporting what must be the entire wig budget on her head, Woodard is a boiling cauldron of anger and hate, which turn on a dime to lustful desire when her dog appears. Smith scrambles and slithers, lopes awkwardly with the aid of staffs, and speaks in a haughty upper-class accent whose contrast with his character's appearance only enhances the evil he projects. When the two couple sexually, it's a seriously disturbing but wonderfully evocative moment.

Other standouts include Justin Blanchard's properly ambiguous, determined Frank; Christina Pumariega's bright-eyed, confident Susan; Miriam Silverman's demure yet forceful Winifred; and Christopher Innvar's effete and shallow Sir Arthur. De Shields is grandly obsessed as a farmer who is Sawyer's most implacable enemy, while Adam Green provides expert comic relief as that farmer's nerdy son, who is the only other person to see the dog and tries to use him in an attempt to woo Susan's betrothed sister, Katherine. Quinton, doubling as an old farmer and his addled wife, contributes a delicious dash of both humor and terror.

Anka Lupes' simple set of wooden planks and scaffolds, with a center rectangle of dirt sloping down beneath, is placed in the middle of the Theatre at St. Clement's, with the audience seated on either side. It concentrates Berger's agile staging admirably and is lit strikingly by Peter West. Special mention must go to Diego Daniel Pardo's voice and speech direction, as everyone in the cast speaks the period verse with confidence, clarity, and resonance.

How often do you get a chance in NYC to see any Jacobean tragedy, much less one served so successfully? Actors in particular should avail themselves of the opportunity to sample this particular palette.



Presented by Red Bull Theater at the Theatre at St. Clement's, 423 W. 46th St., NYC. Feb. 3–20. Tue. and Wed., 7 p.m.; Thu. and Fri., 8 p.m.; Sat., 2 and 8 p.m.; Sun., 3 p.m. (212) 352-3101, (866) 811-4111, www.theatermania.com, or www.redbulltheater.com. Casting by Stuart Howard, Amy Schecter, and Paul Hardt.