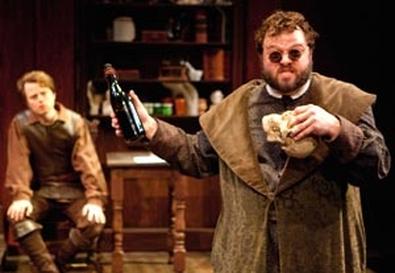 "Your brain is sprained, and your time is out of joint," professor John Faustus tells star pupil Hamlet early on in "Wittenberg." And the line, with its playful verbiage and Shakespeare sampling, illustrates the modus operandi of this exceptionally smart comedy by David Davalos. The play is an invigorating invention that mixes up Shakespeare's Prince of Denmark, Christopher Marlowe's Dr. Faustus, and the real-life Martin Luther in a fateful week at the German university of the title.

As Hamlet's teachers, Faustus, with his unquenchable search for rational truth, and Luther, with his unshakeable theological beliefs, battle vociferously for the young prince's heart and mind. It's an animated debate with serious resonance, around which details of classic literature and religious history get imaginatively skewed. Faustus spends Friday nights as a singer at a campus bar; more important, it's Faustus who prods Luther to detail his arguments with the Catholic Church. When a reluctant Luther finally does so, it's Faustus who—unbeknownst to Luther—nails them famously to the church door. And as Shakespeare's familiar words skip through the script, we see how Hamlet's Wittenberg experience shaped his responses to his later dilemma at Elsinore.

Some jokes are obvious, but nothing falls flat in director J.R. Sullivan's buoyant production. The Pearl's artistic director, Sullivan mounted the play's premiere in 2008 in Philadelphia, and the current rendering, sporting a pitch-perfect cast and physical values, evinces a wonderfully sure hand with the material. Scott Greer created the role of Faustus in Philadelphia and totally inhabits it, creating a robust and rotund philosopher and the kind of empathetic teacher who has students rushing to sign up for his classes. Greer makes philosophical conundrums sound like delectable comic banter. As Luther, Chris Mixon is the ideal foil, a deeply reverent man stirred to passionate anger by the Church's hypocrisies.

Sean McNall, who played Shakespeare's melancholy Dane for the Pearl in 2007, this time around makes the student prince an appealingly sunny figure who's only beginning to feel darker thoughts. His tennis match with an unseen Laertes (from Paris U.) is a joyous demonstration of physical acting. Joey Parsons completes the company as "the Eternal Feminine," giving distinctively convincing portrayals of four women, from an otherworldly Virgin Mary to a very worldly Helen of Troy, the love of Faustus' life.

With its cascading ideas and sideways take on a Shakespeare masterpiece, "Wittenberg" can certainly put one in mind of Tom Stoppard. Stoppard may get more complex, more oblique, and deeper, but Davalos' work doesn't require a tutorial to be deeply enjoyed, calling only for a passing familiarity with Elizabethan drama and religious history. "Wittenberg" may be Stoppard lite, but it dazzles nevertheless.

Presented by the Pearl Theatre Company at New York City Center Stage II, 131 W. 55th St., NYC. March 20–April 17. Tue., Thu.–Sat., 7:30 p.m.; Wed., Sat., and Sun., 2:30 p.m. (Additional performance Thu., March 24, 2:30 p.m.) (212) 581-1212 or www.nycitycenter.org.