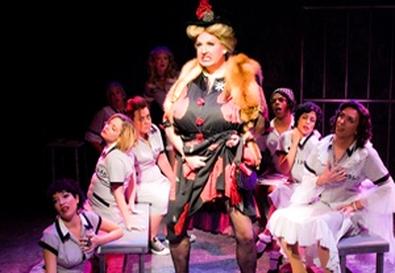 Anyone recalling those B-movie potboilers about hardened women raising hell in prison—drive-in staples during the 1950s—will get a kick out of this wildly campy send-up. Yet delicious over-the-top performances and director Kurt Koehler's electric staging generate plenty of zany fun for other viewers, as well. This play, by Tom Eyen (librettist for "Dreamgirls"), was a long-running hit in New York (starring drag diva Divine) and in L.A. (starring Lu Leonard) during the 1980s. Oozing with lesbian sensibility, yet filled with enough melodramatic clichés to provide a wide range of satirical barbs, it seems a perfect fit for the gay-focused Celebration Theatre.
Following the renewed success of "Chicago" on stage and screen, this spoof evokes added resonance. Into the harrowing environment of the Women's House of Detention in Greenwich Village, USA, presided over by the sadistic diesel-dyke Matron (played with glorious deadpan gusto by male-drag performer Momma), comes demure and terrified Mary-Eleanor (the pricelessly funny Jessica Goldapple), framed for a crime she didn't commit. How can a pure and vulnerable maiden survive in this hellish den of lechery and vice?
Momma's performance is a wondrous force of nature. Towering over the inmates like a Sherman tank, barking out orders in an intimidating baritone, and fitted into a outrageous wig that looks like a rocket-launching pad, this actor gives new meaning to the expression "if looks could kill." Joan Crawford and Bette Davis, eat your hearts out. There's also high-flying hilarity in the portrayals of Arianna Ortiz as the fiery Puerto Rican spitfire; Kimberly Lewis as the Gestapoesque henchwoman, particularly in an uproarious curtain speech; Tara Karsian as a super-butch lifer; Mary K. DeVault as a pea-brained floozy; Randi Pareira as a murderous octogenarian; Pip Lilly, in cross-dress, as a tough African-American broad; Dudley Beene, in cross-dress, as delusional Southern belle Blanche; and Dawnmarie Ferrara as a lunatic arsonist. Ted Monte scores in several funny male roles.
Design elements are sublimely evocative, highlighted by a sensational pre-show collage of vintage B-movie trailers. This delightfully deranged show seems certain to please SRO crowds for months to come.
Presented by and at the Celebration Theatre, 7051-B Santa Monica Blvd., Hollywood. Nov. 20–Dec. 20. Thu.–Sat., 8 p.m.; Sun., 3 p.m. (323) 957-1884. www.celebrationtheatre.com.