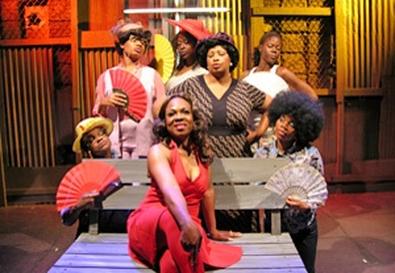 Composer-librettist Tim Acito, who came into prominence with his charming gay-friendly musical fantasy "Zanna, Don't!," switches gears in this stirring seriocomic ensemble piece for African-American women. Based on Gloria Naylor's 1982 novel, which producer Oprah Winfrey parlayed into a TV miniseries, Acito's musical adaptation premiered in 2007 at the Arena Stage in Washington, D.C. It makes its West Coast debut under the expert direction of Michael Matthews, who pulls off a gangbusters entertainment that's driven by warmhearted comedy and a touch of tragedy.
Set in 1975, in a rundown housing project in an unspecified city, the episodic story introduces us to eight black women who reside there. They comprise a diverse cross-section of characters coping with various life challenges but sharing a desire for dignity, faith, love, and a chance at happiness. Acito's fine score incorporates 1970s pop, R&B, and other styles, boasting lyrics that illuminate the narrative and the characters' wide-ranging emotions. Music director Gregory Nabours and his five-member combo serve the score beautifully, and Ameenah Kaplan's spry choreography is a major plus.
Playing the focal character of Mattie, serving as an earth mother of sorts to the residents while dealing with heartbreak in her past, is the superb Kim Yarbrough. She sings soulful numbers such as "Can You Hear Me?" with power and passion. Cheridah Best elicits belly laughs as the brassy Etta Mae, constantly hunting down husbands—usually someone else's. Also offering boffo comic relief are Lisa Tharps and Charlene Modeste as two homophobic biddies. As the lesbian couple receiving the brunt of the pressure from these bigots, Christine Horn and Erica Ash offer sublime portrayals. Horn, whose character is a schoolteacher, has a sidesplitting comic turn in the song "Smile," in which she bravely tries to handle an unruly class. Julanne Chidi Hill is excellent as a single mother overwhelmed by raising children alone. As Kiswana, a fiery social activist from a wealthy family, Kelly M. Jenrette is forceful and compelling.
A first-rate design effort adds to the production's success: Kurt Boetcher's set, Cameron Zetty's lighting, and Cricket S. Myers' sound. The Celebration is in high-flying form in this lovely rendition of an outstanding new musical.
Presented by and at the Celebration Theatre, 7051-B Santa Monica Blvd., Hollywood. April 23–June 6. Thu.–Sat., 8 p.m.; Sun., 3 p.m. (323) 957-1884. www.celebrationtheatre.com.