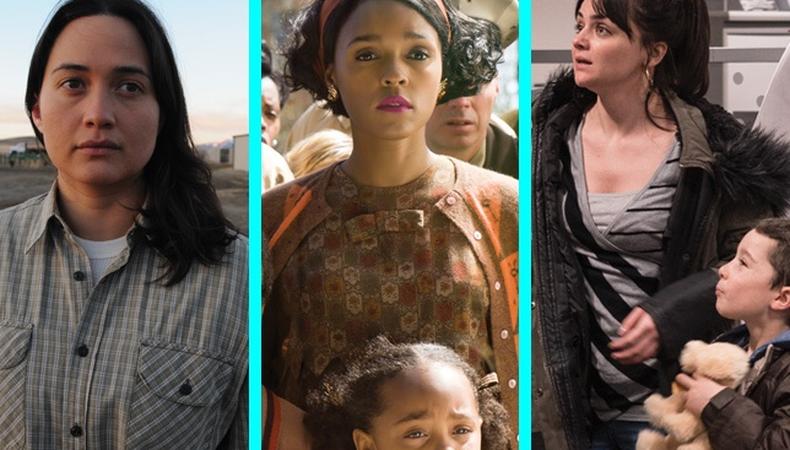 What makes a great supporting film performance? As the women below prove, it takes grace and clarity, a willingness to both flourish under the spotlight and let others shine. Backstage has singled out these performers in part because they have never received Oscar nominations. Here are our six favorites—presented with fingers crossed that SAG members, the Academy, and other awards voters agree!
Greta Gerwig, "20th Century Women" (A24)
Gerwig's candid, almost earthy style of honesty is off-putting to some, but proves perfectly suited for Mike Mills' gorgeous, meandering dramedy about a boy (Lucas Jade Zumann) in 1979 Santa Barbara, California, and the three women banding together to raise him through adolescence. As Abbie, a photographer well-versed in punk rock and a boarder in Dorothea's (Annette Bening) house, Gerwig wields her vulnerability like a surgeon's scalpel; she plays uproarious speeches as dryly as possible (inviting dinner party guests to recite the word "menstruation," for example), then brings gut feeling to moments with real dramatic heft. Her heartbreaking scene following a doctor's diagnosis may finally put her in Oscar contention. Abbie contains multitudes—much like the actor playing her. —Jack Smart
Lily Gladstone, "Certain Women" (IFC Films)
Academy voters who tend to fall for huge, flashy performances should study Gladstone's work in "Certain Women." It's the kind of acting that demands close study, a magnetic minimalism that allows audiences to project their own emotions onto the character yet also be kept guessing. A relative newcomer to the big screen, she and indie auteur Kelly Reichardt are a match made in heaven; the writer-director builds a canvas upon which Gladstone paints an impressionistic masterpiece, her every shy smile a new splash of color in the portrait of a desperately lonely rancher drawn to a law teacher (Kristen Stewart). We are in turn drawn to Gladstone, now an Independent Spirit Award nominee, in her bona fide breakthrough role. —JS
Margo Martindale, "The Hollars" (Sony Pictures Classics)
Isn't it about time the Academy recognized Martindale, a veteran character actor turning in compelling performance after compelling performance? Steadily gathering steam in transformative TV roles and an Emmy-winning turn on "The Americans," Martindale is no longer one of Hollywood's best-kept secrets. Her talent is unimpeachable, and her work as a dying wife and mother in John Krasinski's "The Hollars" proves it. Her portrayal of Sally, a woman fond of both gallows humor and her hair, comes alive with every retort to doctors' bad news and in those aching, fleeting moments of fear. —JS
READ: "Emmy Nom Margo Martindale's Private Detective Past"
Janelle Monáe, "Hidden Figures" (20th Century Fox)
Finally, the black women who launched NASA into the Space Race get the Hollywood treatment they deserve! Playing mathematicians Katherine Johnson, Dorothy Vaughan, and Mary Jackson, respectively, Taraji P. Henson, Octavia Spencer, and Monáe shed light on a little-known piece of history that is nothing short of inspiring. The standout is Monáe—perhaps unexpectedly, given her reputation as a musician and model rather than actor—playing Mary as a fierce warrior against racism and sexism, calculating both flight trajectories for Project Mercury and how to pick her battles. Watching Monáe provide glimpses of that inner life is a sight to behold. (On a related note, she turned in another, more quietly brilliant performance in this year's breakthrough indie "Moonlight.") —JS
Molly Shannon, "Other People" (Vertical Entertainment)
Everyone knows "superstar" Shannon can bring the laughs, but how about the tears? As Joanne, an exuberant mother dying of cancer in Chris Kelly's "Other People," she exudes a heartbreaking stoicism while shaving her head, passing advice and love to her husband and children, losing her ability to speak, and looking death square in the eye. Her scenes with co-star Jesse Plemons, who plays her gay comedy writer son, have a universal purity and warmth that evoke any mother and son through good times and bad. Bring the tissues: Shannon, who was recognized with an Independent Spirit Award nomination alongside Plemons, surprises with nuance and grace through Joanne's swan song. —Benjamin Lindsay
READ: "9 of This Year's Overlooked Film Performances"
Hayley Squires, "I, Daniel Blake" (Sundance Selects)
"I, Daniel Blake" sneaks up on you and doesn't let go. The little-known British indie from acclaimed director Ken Loach took home this year's Palme d'Or at the Cannes Film Festival, and with good reason. A pressingly relevant depiction of the systematically downtrodden—particularly now, in a year of political upheaval—the film centers on impoverished widower Daniel (Dave Johns). But as Katie, a friend he meets in the welfare line, Squires plays an exhausted, desperate single mother of three unable to afford life in a gentrified London. The breakthrough actor rightly becomes the film's heartbreaking point of entry; showcasing life on the fringes in an impersonal bureaucracy, it's an unfettered, eye-opening performance from a superb talent on the rise. —BL
Ready to give an awards-worthy performance? Check out our film audition listings!