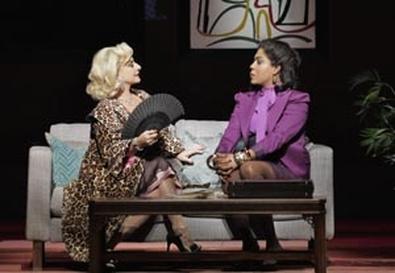 It took me a while to understand my disappointment in Lincoln Center Theater's musical adaptation of Pedro Almodóvar's 1988 film "Women on the Verge of a Nervous Breakdown," now at the spectacularly restored Belasco Theatre. There had been much to enjoy: Jeffrey Lane's frequently funny book, David Yazbek's perfectly professional Latin-infused songs, a stellar cast at the top of its game, and Bartlett Sher's fluid staging that combines with a highly imaginative physical production to capture Almodóvar's idiosyncratic visual style and editing rhythms. Yet the show hadn't jelled. Eventually, a light dawned. "Women" is what composer Mary Rodgers calls a "Why?" musical. It has no compelling reason to sing; it's just the original property with songs dropped in.
At least "Women" is free of the cynical soullessness that pervades other examples of the genre ("The Addams Family," "Young Frankenstein"). These artists clearly love Almodóvar's film and want to do right by him. But they've gotten caught up in the quest to put his unique sensibility on stage without bringing their own point of view to the material. The slight story is largely intact. In a newly invigorated democratic Spain, Pepa, a TV actor-singer, wakes up to discover that her lover, Ivan, has left her. Worse, he's done it on her answering machine. Her life spins out of control as she tries to track him down for an explanation. On her journey, she crosses paths with Ivan's nearly divorced wife, Lucia, recently released from a psychiatric hospital after 19 years; his pussy-whipped son, Carlos; the son's cold-fish fiancée, Marisa; Paulina, Lucia's tough-as-nails lawyer and Ivan's latest conquest; and a miraculously always-on-hand cabby. Also around is Pepa's friend Candela, a dizzy model who has just discovered that the man she's shacking up with is a Shiite terrorist. Farcical complications abound, but it all leads to a pretty standard feminist message of women's empowerment: Pepa learns that she's better off alone.
The starry cast couldn't be better. Sherie Rene Scott brings her trademark brand of slightly spacey charm to Pepa and sings powerfully. Unfortunately, Yazbek doesn't seem to know why Pepa should sing. Her solos meander and mark time. Only the insinuating "Lie to Me" is first-rank, and it's a real song Pepa is dubbing for a movie (though it has useful emotional resonance). Patti LuPone knows exactly what to do with the narcissistic, obsessive Lucia, and she's a hoot. She also gets one of the show's best numbers, "On the Verge," a wonderfully surreal first-act finale that Lucia shares with the other women in crisis. But her big second-act song, "Invisible," is too on-the-nose to lift off. As Candela, Laura Benanti virtually steals the show in a riotous turn, aided by the score's one showstopper, "Model Behavior," in which Candela leaves an increasingly desperate string of garrulous phone messages for Pepa. It's a tongue-twisting delight that also beautifully delineates character, and Benanti revels in it.
In smaller roles, Danny Burstein beguiles as the cheerfully helpful cabby-narrator; Nikka Graff Lanzarone's Marisa is suitably repressed; "American Idol" runner-up Justin Guarini demonstrates serious stage cred as the cowed Carlos; and de'Adre Aziza is a properly forceful Paulina. Brian Stokes Mitchell oozes macho seductiveness and sings silkily as Ivan, but the beefed-up role comes across as padding. Ivan's absence is what's important to the story, which is why in the film we barely see him.
Additional pleasures include the Act 2 ensemble ode to frustration, "Tangled," and the cabby's old-fashioned but effective scene-setting opening number, "Madrid." The material's resistance to musicalization is most evident in the pages of dialogue dominating the second half of Act 2 and the short, anticlimactic song that ends the show with a whimper. Ultimately, the lack of a defining purpose keeps "Women" perpetually on the verge of success.
Presented by Lincoln Center Theater in association with Bob Boyett at the Belasco Theatre, 111 W. 44th St., NYC. Nov. 4–Jan. 23. Tue., 7 p.m.; Wed.–Sat., 8 p.m.; Wed. and Sat., 2 p.m.; Sun., 3 p.m. (212) 239-6200, (800) 432-7250, or www.telecharge.com. Casting by Telsey + Company.