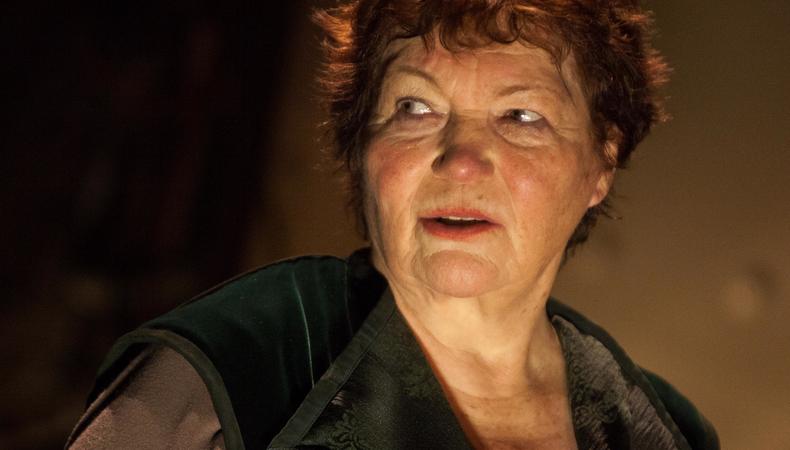 Part English-literature lecture, part performance piece, Tina Packer's "Women of Will" is a mostly enjoyable and enlightening overview of Shakespeare's female roles. Packer, the founding artistic director of Shakespeare & Company of Lenox, Mass., and a skilled and precise interpreter of the Bard's work as both an actor and a director, takes us on a chronological journey through the canon from the feminine perspective, with Nigel Gore playing all the male parts.
The production begins with excerpts from "The Taming of the Shrew," an early work demonstrating the portrayal of females as either cantankerous viragos or pretty virgins. In this opening section, Packer includes three fascinating figures from the "Henry VI" cycle—the warrior Joan of Arc, the bloodthirsty Queen Margaret, and the beguiling widow Elizabeth Woodbridge—as examples of women who use the limited means at their disposal to gain their ends. From there we progress to deeper and truer depictions of heroines as multidimensional beings, such as Juliet.
In the middle-plays segment there's an intriguing juxtaposition of Rosalind from "As You Like It" and Desdemona in "Othello." Here are two ladies who represent the truth. One is not believed and is killed for it (Desdemona), but because the other offers her insights while disguised as a man (Rosalind), she is listened to and saves the day. The highlight of "Women of Will" follows, with a condensed staging of the Scottish play as an example of the women of this phase: power-hungry predators such as Lady Macbeth. We conclude with healing daughters, such as Marina in "Pericles," who ravel up the loose ends of their stories and rescue their wayward fathers. In an enchanting coda, Packer and Gore recite the blessing of the baby Elizabeth I in one of the Bard's final works "Henry VIII."
The cuttings from these great works are all economically and powerfully staged by Eric Tucker, particularly the miniature "Macbeth," which manages to convey the complex mixture of ambition and madness infecting the desperate Thane and his fiendish wife. Packer weaves a rich and varied tapestry of roles, ranging from a nubile Juliet to a plucky Rosalind to a desperate Lady M. Gore is her equal, displaying a frighteningly intense Othello and Macbeth, a besotted Orlando, and a broken, pathetic Pericles.
My only problem is that Packer's setup narrations tend to go on too long and involve too many plot details. At one point she even jokes, "You'll all get your tests tomorrow." I could have done with more of the stage and less of the classroom.
Presented by Sarah Hancock/Rosalind LLC at the Gym at Judson, 243 Thompson St., NYC. Feb. 3–June 2. (212) 352-3101, (866) 811-4111, or www.womenofwill.com.
Critic's Score: B+