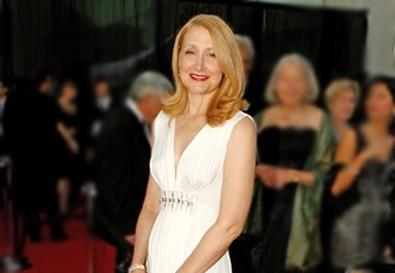 Maturity has been no obstacle to actor Patricia Clarkson, who keeps on getting cast—most recently as Marietta, an uptight Southern lady who undergoes a wild metamorphosis in Woody Allen's "Whatever Works." Clarkson previously worked with the director in last year's "Vicky Cristina Barcelona."
In a career spanning almost 25 years, Clarkson has tackled a spectrum of roles on Broadway, on television, and in film. She's played a grieving artist in "The Station Agent"; the benign psychotherapist in "Lars and the Real Girl"; the efficient, brittle, and seemingly guileless wife of an adulterous husband who is planning her murder in "Married Life"; and the terminally ill mother in "Pieces of April," for which she garnered a host of accolades, including Academy Award, Golden Globe, and Screen Actors Guild Award nominations.
As for the future, she has a number of projects in the hopper, including Martin Scorsese's high-profile film "Shutter Island," starring Leonardo DiCaprio. At the moment, however, she's enjoying the great reviews for her turn in "Whatever Works." Clarkson spoke with Back Stage about her experiences working with Allen and her favorite Allen heroines.
The Indelible Annie Hall
"Woody knows how to write for women. He makes them funny, sexy, and real. They're real players. Annie Hall, of course, is the most indelible to me. She has everything—from an actor's standpoint—everything you could wish for. She is deeply funny and romantic and fiercely intelligent and sexual and sensual. It's difficult to be both sexual and sensual. A character is usually one or the other, predatory and sexual or soft and sensual. Sometimes it's fun to do both. Annie Hall is one of the most complete female characters ever put on the screen. I also love Dianne Wiest's character in 'Bullets Over Broadway.' She's crazy great. I haven't seen it in a while, but it doesn't matter. That's the beautiful thing about Woody Allen's great female parts: They stay with you. His heroines have staying power like all the great parts and great performances."
Capturing Different Ethnicities and Ages
"Woody writes remarkable parts for women over 40. Look at the women in 'Hannah and Her Sisters.' If another writer had written that script, the sisters would have been 19, 22, and 24. He also does terrific work for younger women. In 'Vicky Cristina Barcelona,' he wrote two beautiful parts for girls in their 20s—truly complicated, vigorous parts. Penélope Cruz's role in that movie was also delicious and divine. And I don't think Woody is Spanish. He's not Southern either, and look at the part he wrote for me in 'Whatever Works.' He truly captured a Southern woman."
Creating Great Characters
"Woody Allen truly allows—he requires—an actor to rise to the occasion, and you do. He brings out the absolute best in the actor, and I think he does it particularly well with women. But in terms of directing, he does very little. You have to show up for Woody very, very prepared, so much more prepared than for other directors. When you work with Woody, there are big, long takes. You're not shooting a page or two with Woody. You're shooting eight to 10 pages without stopping. You have to know your character inside out, and sometimes you improv. And he trusts that you know what you're doing. He kind of lets you fly. And sometimes you're flying blind, and it doesn't matter. He loves your instincts because you've come to them organically. His work is deeply organic. He's not manipulating and shifting and discussing. He doesn't care what your character had for breakfast. He trusts all of what you've done will be there. He's like a dial: He just gives you one or two directions and shifts you ever so slightly."
Outtakes
- A New Orleans native, she earned an MFA from the Yale School of Drama and landed an agent by the time she graduated
- A year after graduation, she was a
replacement on Broadway in "The House of Blue Leaves"; two years after that, she was on Broadway originating a role in "Eastern Standard"
- Won two Emmy Awards for her guest-starring turns on "Six Feet Under"