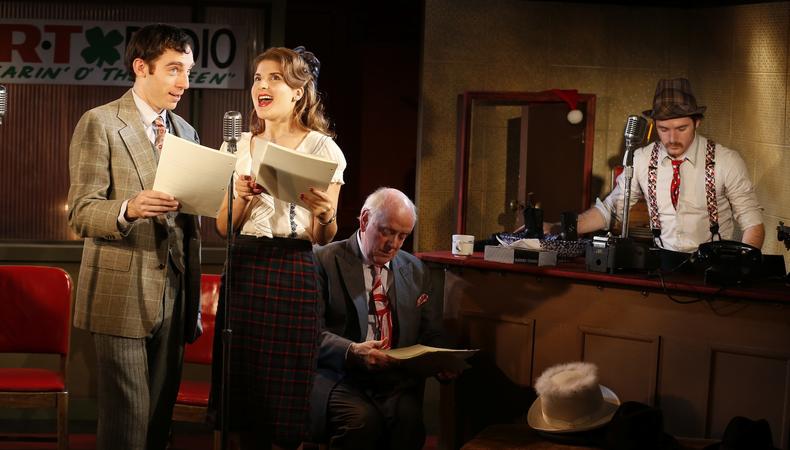 Every December New York swims—some would say drowns—in holiday entertainments that range from extravaganzas at Radio City Music Hall to full productions of "The Nutcracker" and one-man versions of "A Christmas Carol." The Irish Repertory Theatre has joined the mix with a six-actor adaptation of Frank Capra's classic 1946 film "It's a Wonderful Life"—and it's a keeper.
Anthony E. Palermo has adapted the movie as a live broadcast from a radio station. The set is configured to resemble a broadcasting studio, with five actors sitting in chairs facing the studio audience—us. They rise when they speak "on the air," changing hats and props as they shift among characters. A sound-effects artist mans a booth to one side, providing noises that fit the action being described and playing organ music during dramatic moments. Performed commercials are inserted as breaks in the action to enhance the illusion of our being part of a radio presentation.
The premise is purely structural; there is no story involving the radio actors or the broadcast. The entire point of the evening is to tell the tale of George Bailey, Clarence the Angel, and mean Mr. Potter. In that the radio-play device is designed to distance us from the cinematic source and force us to focus on the story, it is successful.
For the benefit of those 20 Americans who don't know the plot of "It's a Wonderful Life," George Bailey is the owner of a building and loan association in the small town of Bedford Falls, N.Y. Though he has harbored dreams of making noise in the world, circumstances have kept George tied to the family business. On Christmas Eve 1945, his uncle loses an $8,000 bank deposit just as an auditor is examining George's books, threatening ruin for the business. Believing himself to be a complete failure, George contemplates suicide. However, an angel named Clarence appears and stops him by using his powers to show George what the world would have been like if he'd never been born. George then realizes the value of his "wonderful" life, and Clarence "wins his wings" for helping to save George's soul.
There are only six performers in the show, and director Charlotte Moore makes sure that we're never confused as to who is playing whom. The actors—Peter Maloney, Max Gordon Moore, Katie Fabel, Ian Holcomb, Kristin Griffith, and Rory Duffy (the very hard-working SFX man)—wisely make these iconic roles their own rather than attempting to re-create the performances of their cinematic counterparts. Maloney deserves special commendation, because he breathes freshness into Clarence and Mr. Potter, a miracle for this particular show.
While there's no crying need for yet another seasonal show, there's always room for good theater. In boiling Capra's movie down to a crisp 60 minutes, shedding much of its cloying sentimentality while retaining its emotional potency, Irish Rep has created just that.
Presented by and at the Irish Repertory Theatre, 132 W. 22nd St., NYC. Dec. 10–30. (212) 727-2737 or www.irishrep.org.
Critic's Score: B+