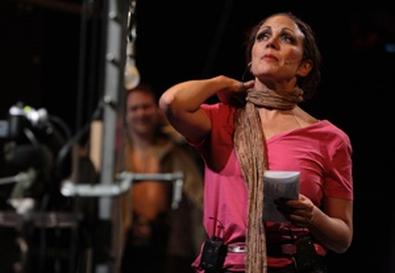 It's an explosion of Tennessee Williams. Or an exploitation—which, in the lift-the-veil world of Williams, is probably perfectly okay. In its newest multimedia extravaganza, the Wooster Group shakes up the venerated playwright's very personal "memory play"—which is set in a New Orleans boarding house—and throws a harshly avant-garde, high-tech light on the shadowy inhabitants and events. The result is a fascinating exploration that boldly rips open Williams' somewhat precious package. However, especially in this large venue, the result is an impressive barrage of words and images that distances us from the material and characters.
Elizabeth LeCompte directs a fantastic group of performers, who make the striking technical elements of the production almost organic. Ari Fliakos is the struggling young writer, new to town, who acts as our narrator. We travel with him through the strokes on his keyboard—and video images of his dreams—to meet his demented landlady (Kate Valk, who also assistant directs) and her cloying caretaker (Kaneza Schaal); the tubercular resident artist (Scott Shepherd), flamboyantly gay and hilariously ever-ready; misplaced society girl (Valk again), dying and desperate for love; her smarmy young stud (Shepherd again), a bouncer in a strip club; and a motley assortment of other interlopers, hangers-on, and pathetic souls. Video plays a wonderful role in the production (nods to Andrew Schneider, who is a marvelous onstage presence). The expressive lighting (Jennifer Tipton) and sound design (Matt Schloss and Omar Zubair) will knock your socks off.
Perhaps in a more intimate setting, the pieces here would powerfully coalesce. But this handling of "Vieux Carré" seems to strip everything to the bone, bypassing the heart and soul without revealing anything new in the process. So while we may admire the outcome and laudable energies behind the efforts here, we're never struck emotionally. And what's Tennessee Williams without exposed vulnerabilities and naked truths?

Presented by the Wooster Group at REDCAT, 631 W. 2nd St., L.A. Dec. 2–12. Tue.–Sat., 8:30 p.m.; Sun., 7 p.m. (213) 237-2800. www.redcat.org.