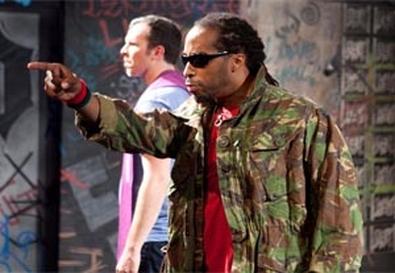 Art heals, and in writer-performers Steve Connell and Sekou Andrews' raucous hip-hop spoken-word performance piece, the healing begins the moment the wildly in-your-face pair hits the stage running. This nonstop assault to our senses, investigating the power of words and how they define who we've become, is a street-smart masterpiece, more often than not a thought-provoking look at our country's current set of cultural blemishes. As they long for the days before we started eating fiber on purpose, they observe that the greatest thing one can be today is famous and that "Sarah Palin is one sex tape away from being president."
Race is examined from the perspective of their individual childhoods, back when the Caucasian Connell's dream to become a superhero was fueled by his Batman Underoos, while the black, urban-raised Andrews wore only dashikis and learned to fist-bump. Religion, too, comes into discussion, presenting a God who once only wanted for us "not to make him regret our creation" but, because he can't find a publisher these days, now drives a bus and writes fortune cookie fortunes on the side.
Although Robert Egan is credited for directing and developing this project, it'd be nice to know how much of a contribution he made, as a lot of his staging is so by-the-book that these exceptionally talented guys could probably have gotten here on their own. With a more imaginative directorial eye, and more variety in the choice of material and how it's presented, Connell and Andrews could reach an even more surprising level of performance.
Thanks to the sincerity and passion of the pair, however, this is an often moving excursion, leaving one to hope the next stage in its development is a tad less predictable, that Connell and Andrews are working at keeping it fresh and continuously searching for new inspirations as our world implodes around us. Art certainly does heal, and, as Connell ponders his mother's wish for him to go into medicine rather than step into rush-hour career traffic to become a poet, he remembers deciding, "Why be the doctor when I can be the cure?"
Presented by Rogue Machine at Theatre/Theater, 5041 W. Pico Blvd., L.A. June 24–July 24. Thu.–Sun., 8 p.m. (855) 585-5185. www.roguemachinetheatre.com.