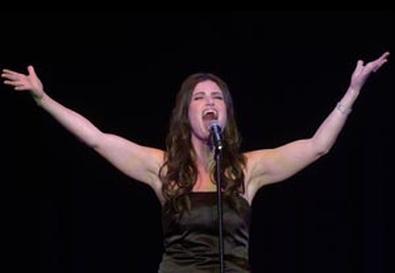 On Big Breaks...
"First big break—hard to say. Could be Mabel in 'The Pirates of Penzance,' 4th grade, Baylis Elementary School, where I discovered the warmth and exhilaration of the spotlight. Or perhaps getting hired as a professional wedding/bar mitzvah singer at the age of 15 for Tony Saitta and the Echoes, where I learned the true meaning of rejection, as a drunk audience ate their salads to the tune of 'I'm So Excited' by the Pointer Sisters. But I guess the most significant break was in December 1995, when I was cast in the Off-Broadway production of the musical 'Rent.' I met my husband; I learned the endurance and discipline it takes to do eight shows a week, the fragility of life, and the importance of being in the moment." – Idina Menzel
"'Big break' implies that it's done now, you've gotten it, and now you're in. We know you're never in. You're in, then you're not in. Then you're back in, then you're out again. You're always on some part of that scale. There are very few actors—you could probably count them on one hand—that you know aren't going anywhere." – Don Cheadle
"Waiting for a big break is a mistake. I knew I would go to seed waiting for a break, and I didn't go full time as an actor until I was 34. And after I did my first thing as a full-time actor, I realized I had nothing else lined up. So I did a one-man show. You can't sit around waiting for the phone to ring; you have to make your own work. Just do it, do it, do it." – Brendan Gleeson
On Auditioning...
"One of the things I've recently discovered is the way I get through the nerves of auditions is telling myself it's a workday. I know my lines, I know my character, and I'm going to work with the director. And sometimes it goes terribly, terribly wrong, but it frees me up a little bit." – Connie Britton
Michael McKean (Photo by Getty Images)
"I've met some wonderful actors who found the audition process just too terrifying, even painful, and gave up. That nerve-jangling stretch before the reading can seem downright flulike. Well-meaning efforts to convince you that 'It's just energy!' are pointless. It feels like fear, so it's fear. But what are we afraid of? What's the worst that can happen? They don't give you the job? Guess what: You already don't have the job. The worst has happened! Pressure's off, so have fun. The main reason we wanted to do this is that it looked like it would be fun, right?" – Michael McKean
"I was attending NYU. They have a strict absence policy: Three absences and you're kicked out. I was auditioning on the side and had about 10 absences and begged them to let me stay. I had been auditioning for almost a year and hadn't booked anything. At the start of my final semester, I booked a lead guest-starring role in a 'Law & Order' episode. I was going to have to miss a week of school. Crap. It was a new semester, so I'd already have five absences. Two over the limit. I figured I'd take the job and beg NYU to let me stay later. On the set, I met Dick Wolf and we got along well. I guess he liked what I was doing, because he asked me if I would be interested in doing another guest-starring role in a new show he had, a short-lived series named 'The Wright Verdicts.' I would have to take off another two weeks of school. I knew there was no way NYU would go for it, so I decided to take the semester off and finish up my last 15 credits the next semester. But I kept booking jobs, and I never went back. About 10 years later, I was up for outstanding performance by an ensemble in a drama series at the SAG Awards for 'Six Feet Under,' which I had guest-starred on that season. I saw Dick Wolf there and we started talking. I said, 'You know, Dick, I was 15 credits from graduating and dropped out of college to do your shows. So you're the reason I don't have my diploma. But...you're the reason I got my SAG card. So it's a good tradeoff." - Peter Facinelli
Robin Wright in "State of Play"
"One of the greatest I think was Tom Hanks [for 'Forrest Gump']. That screen test with him was—he was just so sweet and warm and I wasn't scared. I felt at ease. He was so loving, and that was a great experience, and I got the part. It all works out." – Robin Wright
"I remember going to one of those casting workshops, where you pay 50 bucks and go off and work on scenes. I came back and they evaluated me, and the guy was like, 'Conservatively speaking, you need three more years of work, probably working at our workshops.' I was like, 'Uh-huh, okay.' Not to say that he was wrong and I was really good, but it just felt creepy and weird. Also, in the limited amount of commercial auditions I used to do, I swear, every time I went in, the person in front of me would come out laughing with the casting director. They'd be hugging each other: 'Bye, Bob! Great to see you! Say hi to the wife!' Then they'd be like: 'Next! Phil Ferrell.' 'Uh, it's Will, actually.' 'Whatever.' " – Will Ferrell
"There are two of them. I won't name who they were. One was a producer, and one was a director. I went in and read for a director, and I was to read the role of a bad guy, and I read it and he looked at me and he said, 'Ooooh, scary,' but in such a cynical, awful way. How do you even react to that? I just kind of laughed or something and it was over, and I didn't get the part, thank God. The other one was, I was auditioning for something, and a producer sat there reading the New York Post while I was auditioning. So when I started directing, I vowed that I would maybe try to compensate for people like that." – Stanley Tucci
"I don't get starstruck. I'm fine. Especially Ben [Affleck]—he's a Boston guy; I should be fine. I walked in [to audition for 'Gone Baby Gone'], and I'm walking down the halls looking for this room, and as I passed a room I heard, 'There he is.' In my head I was like, 'That's Ben.' I turned around and it was, and for some reason I instantly was nervous. I went in and shook his hand, and the first thing I said was 'Hey, how ya doing? Am I gonna be okay where I parked?' And he said, 'Where'd you park?' And I said, 'At one of the meters.' And he said, 'Did you put money in it?' And I said, 'Yeah.' And he said, 'I think you'll be all right.' From that moment, I just wanted to get the f--k out of the room. I just wanted to be anywhere but there. I sat down with my heart beating out of my chest. I was so mortified that I started this meeting off that way. I started giving him one-word answers. They put me in a rocking chair, so I'm just rocking and twisting, just nervous. 'So, what was your last movie like?' 'Good.' 'What was it like to work with Danny Boyle?' 'Good.' I just wanted to get out of there. It was horrible, a complete disaster. So, obviously, I did not get that job." – Chris Evans
"I've had so many bad auditions. 'Dawson's Creek' was probably the worst. I had just gotten back from Toronto doing this Disney show, and I had a video camera, and I'd directed some plays and I really, really wanted to direct. For a birthday, I got one of those little viewfinders, and I was 15. I went to network for 'Dawson's Creek,' and on the last one I realized I was really going to knock it out of the park. I wanted this show more than anything, because it was a kid who loved movies and he had some problems with a girlfriend. And I could relate. I liked movies, and I had a problem with a girl.
"So I came in with a viewfinder around my neck, and I wanted to show them that I liked movies, and I wore my Sundance cap. This is for network. And they said, 'Okay, do these scenes.' And I did them pretty good. It was like a mix-and-match and then I did it again. And they said, 'Okay, thanks, Ben.' And I thanked them. 'So when do you think there's going to be a callback, because I may be going out of town or something.' And that's a huge no-no, but you don't know until you do that. And they said, 'Yeah, we'll get back to you. Thanks, it was a great read.' I was like, 'Okay, great. Do you want me to do it again in another way?' They said, 'No, no, that was fine, thank you.' And there were, like, 20 people in the room. So I then shook 20 people's hands. I refused to leave a single person without looking them in the eye. Then I knew something was building, but I thought it was my courage rather than these people really wanting me to get the f--k out of their room. So I leave the room and I wait two minutes outside the door, and I'm sweating. I'm like, 'I didn't do enough. I didn't give enough.' So I knocked on the door, and they're like, 'Yeah, come in.' And they were shocked to see that I came back in. I was like, 'I'm so sorry,' and I adjusted the chair that I was sitting on in the room, because I kind of left it askew. And then I said, 'Thanks so much. This was terrific, and I can't wait to hear back.' So I walked outside, and I couldn't drive at the time, and my dad was supposed to pick me up. I was like, 'You know what? Don't come. Don't pick me up yet.' And he was like, 'Why?' I was like, 'I'm going to really let them have it. Pick me up in two hours.' So I sit and I wait outside, because it's, like, 10 in the morning and I wait until, like, 12:30 for them to go to lunch. And I watch them all walk out of the office, and I'm there sitting with my viewfinder and a Sundance cap, and I just wave at them. So I get in the car—no, it wasn't my dad; it was my girlfriend at the time's mom, actually. She drove me back, and she's like, 'How'd it go?' And I was like, 'Really well. I really, like, committed.' And I get back to the Oakwood Apartments, where I was living. And I'm waiting by the phone. Five o'clock, 6 o'clock rolls around, and you're sweating by the phone, being like, 'I got it. I know I got this.' My manager calls up and I say, 'Hey!' and he says, 'Hey. What the f--k did you do in there?' I was like, 'It went great, right?' And he just said, 'Whatever you just did, don't ever do it again.'
"And I've heard that a few times in my life. I guess I haven't learned it. Maybe I've become a little less desperate or a lot less desperate in terms of trying to prove myself to other people, but that was a rough one. I learned that it doesn't matter what they think, as long as you give your performance and you can be pleasant, but you don't have to give your person to them. You just do that through the work. If I had left, maybe things would have been different. There are no regrets, of course, but as actors we have so much heart, and we just want to give pieces of ourselves away so badly: 'See? I feel, I feel, I feel so much. I want to feel for you. I want to feel for the world.' It's a city filled with people who want to give their hearts away, and sometimes like human beings we're not so calloused, and that's beautiful. It can work in the opposite way: 'I'm too callous, and I can't give anymore because you don't deserve my heart,' and that's bullshit, too." - Ben Foster
On Getting Their SAG Card...
"I got my SAG card with a T.J. Maxx commercial. 'You get the max for the minimum at T.J. Maxx.' It was a back-to-school ad. Ben [Affleck] and I were in it together, and our part got cut, but we still got the checks. It was 1986 when I got my SAG card, and they raised the rate from $600 to $800, and I only had $600, and I was on my way to get my SAG card and I found out that it was $200 more than I had, and my father gave me the money. And I've always been really grateful about that." – Matt Damon
"Oh, God…I did an episode of 'Spenser: For Hire.' I remember some controversy over doing 'Spenser: For Hire,' because I didn't have [the card]. But I got it in 1985." – Patricia Clarkson
"I got my SAG card as an extra on an ABC Afterschool Special where I had to play spin the bottle, and I got my first kiss and SAG card. They weren't going to give anyone lines, but then they gave me a line and a kiss, and so they gave me my SAG card." – Kyra Sedgwick
On Training...
"I took classes for technical reasons, like knowing how to count. I could not count for the life of me when I first started. I was like, 'Five and nine!' 'No, there's no nine.' " – Harry Shum, Jr.

On Acting...
"I'm so lucky to be doing what I'm doing. I will tell anyone that. Acting is no easy feat, though.... It truly requires more focus, dedication, tenacity, and perseverance than most paths. Telling stories allows you to truly see the power of the human spirit and mind, but also to understand that we can use humor as a medicine for pain. It's this simple: The only way to weave the thread of life into a character is to pull from your own life's past, present, and future. I tried with some success but never really got it until reading Ivana Chubbuck's book 'The Power of the Actor' and studying this type of acting, using real-to-me connective tissue between me and whomever I'm playing. Then it all made sense." – Ian Somerhalder
On Wanting to be an Actor...
"I'm one of those obnoxious, annoying people who will tell you there was never any question that's always what I was going to be. I didn't have a backup career." – Ginnifer Goodwin
"I still wake up some days thinking, 'What in the hell am I doing?' I often pass between anxiety and amusement at some of the situations my life as an actor has put me in. But when I think back to 10 or 11 years ago, I am amazed at how lost I really was. I showed up in New York knowing everything and absolutely nothing, all at the same time. I knew I wanted to be an actor. That was it. Fortunately for me, I came across a copy of Back Stage at a newsstand and it became my handbook. The first thing I would do every Thursday morning (after some Tylenol and a ton of water; I bartended Wednesday nights) was get my copy and open up to the submissions page. These were my first auditions. My first work experiences. The student films I booked out of there were my training. And I'm still trying to get copies of a couple of those!" – Jeff Hephner