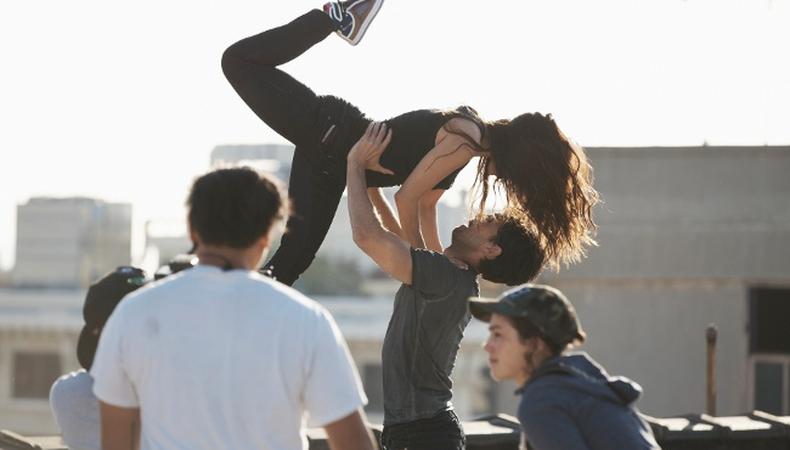 In 2011, a dancer from Memphis, Tenn., took the street style Memphis jookin and brought it to a new audience when he performed alongside renowned cellist Yo-Yo Ma. The YouTube video of the performance has garnered nearly 3 million views since its debut, and Charles "Lil Buck" Riley's 'Tube-fueled career has snowballed. The performer has gone on to tour with Madonna, appear in Gap commercials, and was recently cast in another successful commercial entitled "The A–Z of Dance," sponsored by Diesel Jeans and i-D magazine.
When the two companies approached U.K.-based fashion photographer-director Jacob Sutton to direct and cast the dance commercial, the online video platform was one of the first places Sutton turned to find dancers like Lil Buck.
Shot over two days in Los Angeles and condensed from almost 18 hours of footage to just over three minutes in under a week, "A–Z" features performers from the U.K. to Atlanta and California, each bringing their own style of jookin, jumping, twirling, or shaking to the table. The video, which stars 35 performers cast through YouTube and Facebook, word of mouth, and past working relationships, had over 2.7 million views at the time of publication.
The commercial required a mix of dancers able to execute everything from Indian bhangra to street dance styles like the Chicken Noodle Soup, the Harlem Shake, krumping, and breakdancing, as well as the rumba, moves like the death drop and vogueing, and classic ballet steps such as the arabesque and the grand jeté.
"[The dances] had to be something that felt different, something that captured my imagination and was genuine, like finger tutting and things like that that just felt totally different," Sutton says of his search for performers and the decisions behind which styles to include. "You can't exactly aim to be different, but there are people who can achieve a complexity [to their dance] through their videos, and that's what drew me."
With an increasing demand for such diversity, YouTube has proved itself time and time again an ideal place for casting directors, directors, and choreographers to seek out a variety of styles and backgrounds.
Ian Eastwood, a 22-year-old hip-hop dancer-choreographer from Chicago who has been posting videos of himself for almost a decade, has found work teaching dance and landed commercial and directing gigs directly and indirectly from his online exposure.
After posting videos that routinely get 1, 3, and even 7 million views and forming his own dance workshops called Young Lions, he's been hired as the lead choreographer on music videos for rappers Common and Childish Gambino, and acted as co-director-choreographer for Chance the Rapper's music video "Sunday Candy."
Eastwood, who says he skipped a lot of the traditional steps to becoming a successful choreographer by building a career via YouTube, echoes Sutton's call for genuineness in the age of total audience access.
"Too many people focus on social media presence and creating themselves instead of being themselves," he says. "[Audiences have to] sense something genuine about you, something they want to follow or be a part of, and the key is to be doing stuff that you like and that excites you."
Dozens of success stories have proven the power is in the hands of artists when it comes to building an audience around their passions. So dust off your cameras, download the right apps, and start shooting!
Inspired by this post? Check out our dance audition listings!