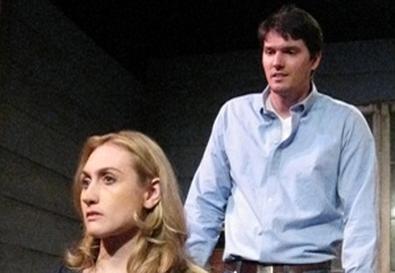 Teal Sherer is an actor. She also uses a wheelchair, on stage, on screen, and in real life. That fact "adds a layer of vulnerability" to a production of "Proof" at the NoHo Arts Center in Los Angeles "that brings the play to life," a reviewer wrote in LA Weekly. David Auburn's Tony Award–winning play doesn't specifically call for an actor in a wheelchair to play Catherine, the troubled daughter of a deceased mathematician.
"Nobody cares," Sherer said about audience response to her nontraditional embodiment of the role. Her acting is what they notice. "Make no mistake," the LA Weekly review continues, "Sherer's accomplished performance stands on its own; it's the material that's been enriched."
While Sherer's been on the boards out west, Abigail Breslin has been taking two hours of physical training daily in New York City to learn how to portray a deaf and blind person, in preparation for her Broadway debut as Helen Keller in the upcoming revival of William Gibson's "The Miracle Worker." When news of the "Little Miss Sunshine" star's casting broke, it sparked a backlash. "Why couldn't a blind or deaf actor play the role?" critics asked. Wasn't a chance at adding new depth to the play being lost?
The show's producers made it clear they wanted a star to play Keller, in keeping with the current Broadway trend of importing Hollywood names to boost ticket sales. Still, when "The Miracle Worker" begins previews this Friday at the Circle in the Square Theatre, it could well be the most accessible play ever mounted on Broadway. The show's website touts the availability at every performance of real-time audio description services and hand-held captioning devices for blind and deaf theatergoers. A visually impaired actor has been cast as Breslin's understudy. The play's promotional photos were shot by a blind photographer.
Breslin's casting, however, brings the uncommon casting of Sherer into sharper relief. Actors with disabilities have a hard enough time getting cast as characters who are blind or wheelchair-bound, let alone so-called "normal" characters. Myths and misunderstandings about the talents and capabilities of actors with disabilities continue to cloud their path to stage and screen: Can they keep up with the tempo of rehearsal? Will their disabilities get worse? Will audience members be confused? Are some roles just too dangerous?
"Talented people are being shut out for arbitrary reasons" that have nothing to do with an actor's "ability to sustain a character or carry a show," said Sharon Jensen, executive director of the Alliance for Inclusion in the Arts, an advocacy group that promotes more inclusive and diverse hiring practices in the theater, film, and television worlds.
Jensen would remind people that there are more than 50 million Americans currently living with disabilities—a community "that we can join at any second," she said—and that they are vastly underrepresented on the stage and screen. Her organization has been advising "The Miracle Worker" on how it can be more inclusive, from adding the captioning devices to the casting of Breslin's understudy. It's been a very positive experience, she said, noting that from the producers on down there's a desire to make the performance as accessible as possible to all patrons.
"Hopefully," Jensen said, "you can open up thinking that leads to change with hiring practices."

Discreet Discrimination
In 2005, the Screen Actors Guild published a report about the employment of its members with disabilities. It said that roughly one-third of the union's disabled members were able to find film or television work in 2003, and that they worked on average four days a year. It also said that despite contract language (found also in Actors' Equity Association and American Federation of Television and Radio Artists contracts) that bars discrimination based on disability, roughly 36 percent of respondents said they felt some form of discrimination in the workplace, "including not being cast or being refused an audition because of their disability." Disabled actors who auditioned frequently tended to work more, according to the report, but it added that many performers weren't candid about their abilities, for fear of "being viewed as an object of pity and incapable of doing the job."
SAG's report concluded that more advocacy and education were required, as was more-accurate data collection within the industry. Hired actors are not tracked with regard to disability as they are with respect to race, gender, and age.
Since the report was published, advocacy has increased. SAG, Equity, and AFTRA launched the "I Am PWD" campaign in 2008 to promote inclusion and accessibility for people with disabilities. That same year the National Endowment for the Arts held its first National Summit on Careers in the Arts for People With Disabilities. But despite those events, SAG's most recent casting data report, tracking 2007-08, shows that the industry still does not collect data on working actors with disabilities. In a written statement, the union added that these actors remain "virtually invisible" in entertainment media.
An Education
Casting director Liz Ortiz-Mackes, owner of Casting Solutions in New York and the author of "Ace Your Acting Audition," said she can count on one hand the number of "mixed ability" actors she's placed in productions. "I want to see on stage and on screen what I see out the window, expressions of all humanity," she said. But when she pushes for an actor with a disability to get an audition, she has often been met with "patronizing or annoyed" responses. A sampling of some of the worst: "What do you mean? Like, freaks?" "I understand, but the dude can't see, so it doesn't make sense." "Yeah, but what are we going to do about that walk?" (A stock-photography producer recently told Ortiz-Mackes to "always remind me about this; it may not be often, but we will have casting calls to include talent with disabilities," but this reaction is more the exception than the rule, she said.)
While Ortiz-Mackes stresses that all performers need to be on top of their game, "producers need to be educated about accommodation," she said, "and that it often is not the burden that they think it is."
That includes physically demanding roles. J. David Brimmer once choreographed a sword-fight sequence between a blind actor and a sighted one for a production of "Romeo and Juliet" by Theatre Without Borders, a New York City company that casts actors with disabilities.
The blind actor "knew where his hand was in space," Brimmer recalled, and where to throw his blade so the opposing actor could meet him. Molding on the stage, laid out like a Union Jack, helped the blind actor get his bearings: Rounded pieces represented the diagonals and flat pieces signified upstage, downstage, stage right, and stage left. "People say it was incredible he can do that," Brimmer said, but it wasn't. He just used a different set of references.
"At the end of the day, it's about the actor who's right for the part," said Sherer, who, in addition to "Proof," has a recurring role on the popular Web series "The Guild." She doesn't believe that any actor is entitled to any role, but she hopes that one day industry attitudes will evolve and mature enough so that she could be cast as, say, the woman at the computer who gives the characters on "CSI" the clue that cracks the case.
"There's a fear out there that it will be awkward or weird" to work with an actor with a disability, Sherer said. "It's so not true."