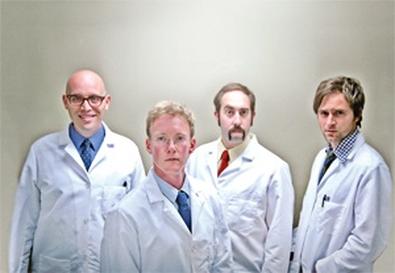 Social networking sites like Facebook and Twitter have given actors new ways to connect with possible employers and representatives, but there's a downside to these easy online interactions. As one agent's assistant put it, "It's hard to take you seriously when your profile picture shows you chugging a bottle of Patrón." Even with strict privacy settings in place, it's difficult to block access to every careless comment or awkward junior high school photo. But despite the pitfalls, some actors have found ways to successfully use social media to promote their careers—even getting the occasional break.
Actor Matt Gourley, one of the creators of the popular "Superego" podcast, which has been downloaded more than 500,000 times on iTunes, built a large fan base through Twitter. "We launched 'Superego' on Twitter solely for the purpose of getting the word out," he says. "It's how we met Paul F. Tompkins. I noticed he was following us, and we struck up a small Twitter conversation that eventually led to his regular appearances on our show. With his support and tweets from other heavy hitters like Drew Carey, we were able to achieve a nice following."
Gourley and "Superego" co-creator Jeremy Carter have turned their podcast success into other opportunities. "Last year," Gourley says, "Jeremy and I were spec writers on an ABC pilot, were guests on other podcasts, and were performers in the fantastic Paul F. Tompkins variety show at Largo" in Los Angeles, he says. "All of these connections were because of the exposure our show has had."
"You can definitely use social media" to your advantage, says L.A. talent manager Brett Carducci. "It just depends on what the nature of the relationship is—it's all relationship-based." While striking up a new relationship is possible, social networking may be more useful in developing already existing, if tentative, connections.
Actor Georgina Tolentino turned a Facebook interaction with an acquaintance into an audition. "Recently something on my news feed showed up regarding a blog that a casting director I know had written," she says. "I commented on it, and soon after, she sent me a Facebook message asking if I could submit footage to her for a role on one of the shows she was casting."
Similarly, actor Mari Mori was able to land an interview via Twitter. "I was following manager Phil Brock on Twitter because I had met with him at a showcase last summer," she says. "I wanted to get an interview with him, but I had no luck over the phone or through mailings. Late last year, Phil tweeted about doing one hour of generals that day. I got ready in a rush to get to Santa Monica in time. Phil was really friendly, and he and his staff were very encouraging and gave me great adjustments and suggestions."
Same thing for actor Harmony Rebecca Jupiter. "I started following a producer after I met him at a conference," she says. "When I direct-messaged him to ask for a meeting, he said yes."
And actor Susyn Elise Duris can boast major social media success: "I use Facebook, Twitter, and LinkedIn to promote myself as an actor, and I have obtained representation, a series-regular role in a popular Web series, an upcoming guest-star role in another popular Web series, and meetings with CDs." How did she do it? "Be the one viewed as willing to help," Duris suggests. "Once I shifted paradigms and saw myself as wanting to help and that obtaining auditions and bookings was secondary, I manifested much more in my acting career. In other words, if all you want to do is promote yourself, it won't work for you."
"Just like at a party you go to in real life, you have to have tact," explains Carducci. "You have to think, 'Whose party is this? What's my relationship to that person?' You can't just butt into a conversation. You need to use social etiquette."
L.A. casting director Matthew Barry, who has used social networking sites like MySpace and Facebook to fill hard-to-cast roles, agrees. "I have a personal Facebook, which I don't allow actors to befriend, and a work Facebook, to which I do allow actors to send materials," he says. "However, some are so obnoxious that I ban them permanently. Be careful about how much nonsense you send out. And do not send out your status on Mafia Wars or FarmVille—that's the quickest way to get blocked. Be professional."
Kevin E. West, an actor and the founder of the
Actors' Network
, puts it this way: "Just because something is possible doesn't make it a good idea. The thing I see that's a tragedy with actors using social media is that you can't control your audience—there's just no filter. You can easily come across on Facebook or Twitter as someone I wouldn't want on my set."
In an industry that in many ways remains a small community, a gossipy comment or unfortunate photo can easily make it into the wrong hands. Worse, perhaps, is the intentional posting of unprofessional material. Says West, "It's very easy now to shoot a moving picture—on a phone, whatever—and put it in front of people, but badly made stuff is just unprofessional. Do you really want to show that to everyone?"
While active on both Facebook and Twitter, actor CaroleAnne Johnson has her doubts about their efficiency for actors. "I think the danger is that it can make you feel like you're doing something to further your career, but so much of it can be a waste of time," she says. "I see actors who tweet a dozen or more times a day, and I have to wonder, who is reading all of that information? If it's not real news about their career, I don't see how it's helping them move forward. There's so much Web noise out there. Just like speaking, I think it's best to speak only when you have something to say."
Or when you have something to give. "Build a rapport with the people who 'like' your page or who follow you on Twitter," advises Mori. "People don't like one-way conversations."
Jupiter agrees: "Don't just post things all about yourself. Include links or quotes that would be useful to others. The number-one complaint about actors is that we're self-absorbed. Let's work against that stereotype."
"You really have to use social media with care," Duris sums up. "Be kind, be supportive, be helpful, and use common sense."

Back Stage would like to thank the Actors' Network and its members for their input on this article.