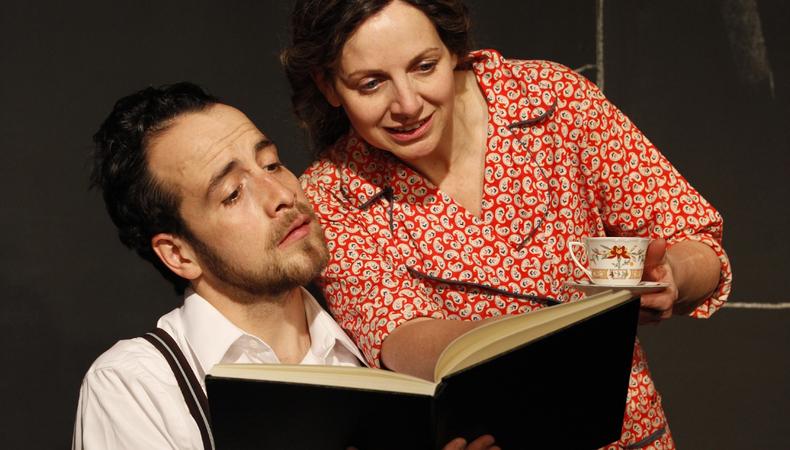 Watching an acting exercise can be mildly entertaining, but it's rarely dramatically satisfying. That's the takeaway from "Working on 'A Special Day'," the two-hander presented as a co-production of the Play Company and the Mexico City–based Por Piedad Teatro. Based on "A Special Day (Una Giornata Particolare)," Ettore Scola's 1977 Oscar-nominated Italian film starring Sophia Loren and Marcello Mastroianni, the adaptation by Gigliola Fantoni chronicles the unlikely meeting of a bored Roman housewife and a lonely gay man on May 8, 1938, the day Hitler and his top advisers visited the Italian capital to confer with Mussolini.
While her family and virtually all the neighbors are off to view the parade honoring the Nazi visitors, Antonietta spends the day with Gabriel, an unemployed radio announcer, after her pet bird flies out of the window and into Gabriel's apartment. As happens only in plays or films, the two strangers gradually reveal their innermost secrets. The frustrated Antonietta is ignored by her brutish husband; Gabriel was fired from his position when his sexuality became known.
They also argue about their country's oppressive political climate. Gabriel detests Il Duce's restrictions, while Antonietta keeps a scrapbook of the leader's every movement. In the most credulity-stretching moment of all, the two adjourn to the bedroom and consummate their strange courtship. When Antonietta's huge brood returns from the spectacle, she watches as her new friend is led away, presumably to prison, either for his anti-Fascist views or on a morals charge.
The basic story line is so flimsy that the play is essentially a vehicle for a pair of actors to create the illusion of an entire apartment building and several additional characters on a bare stage. Ana Graham and Antonio Vega, who also are listed as co-directors and co-translators (the latter in collaboration with Danya Taymor), certainly work hard at creating that magic. They effectively provide the voices for Antonietta's six children and husband, the nosy porter, and all the sound effects, from the errant bird to alarm clocks and doorbells. They also draw scenic elements on the walls with chalk. Graham and Vega are so busy setting the scene that they fail to establish a connection as characters. For most of the play's 70 minutes they are moving furniture, changing clothes, or scrawling chalk lines. Rarely do we see Antonietta's desperation or Gabriel's rage, and when we do, it's overplayed.
There is one heart-shattering moment that stayed with me. At the end of the play, Antonietta erases her drawing of an open window and replaces it with a closed one, indicating that her day of freedom is over. Graham made it a simple, telling action, and if the production contained more like it, this might truly have been a special "Day."
Presented by the Play Company and Por Piedad Teatro at 59E59 Theaters, 59 E. 59th St., NYC. Jan. 16–Feb. 17. (212) 279-4200, www.ticketcentral.com, or www.59e59.org.
Critic's Score: C