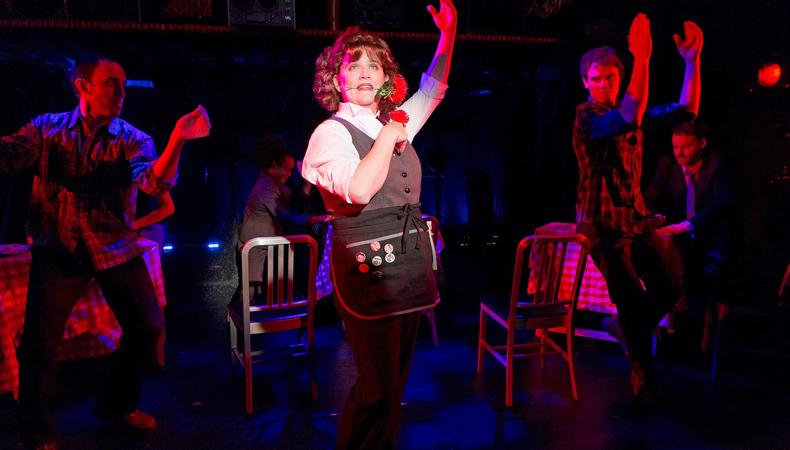 "Working" has always been a heartbreaker. Based on Studs Terkel's celebrated 1974 nonfiction book, the musical was the brainchild of composer-lyricist Stephen Schwartz, who co-adapted (with Nina Faso) the script, contributed four songs, and directed. The show arrived on Broadway in 1978 an overblown but tantalizing mess. It closed after 24 performances, and folks have been trying to fix it ever since. Prospect Theater Company is presenting the latest effort, by director Gordon Greenberg, which adds updated lyrics and script material, boils the show down to 100 intermissionless minutes, and cuts three songs and a skating ballet while adding two fine new tunes from Lin-Manuel Miranda. As in 1978, there is much to admire, especially the strong composite score by seven songwriters, but basic structural problems have not been resolved.
Terkel interviewed Americans from all walks of life about what they did for a living and how they felt about it. Thus "Working" the musical is a sort of "A Chorus Line" for everybody, a collage of personal monologues, both spoken and sung, in which characters come briefly but vividly to life. It is, in effect, a musical revue, devoid of narrative but still subject to Aristotelian principles. Revues don't have recourse to the exposition, complication, crisis, and climax that come out of plot and character, yet they still have to create a sense of journey and resolution. Though Greenberg has shuffled the deck a bit, the order of the songs and stories in "Working" remains random. There's still no clear rationale for why A was musicalized but not B, and the show never achieves sufficient dramatic thrust or a satisfying sense of completion.
Six first-rate actor-singers—Marie-France Arcilla, Joe Cassidy, Donna Lynne Champlin, Jay Armstrong Johnson, Nehal Joshi, and Kenita R. Miller—inhabit 26 people and serve collectively as a chorus. All the different ages, accents, physicalities, and temperaments emerge clearly, but the constant morphing begins to resemble a busy day of acting-class presentations. The performers are not helped by being in the confining Theater B at 59E59 Theaters. Too often you can sense them pulling back when they should be letting go. This afflicts even the redoubtable Champlin in Schwartz's snazzy waitress aria "It's an Art," which feels effortful, though she shines as a troubled schoolteacher in Mary Rodgers and Susan Birkenhead's "Nobody Tells Me How." Arcilla does a lovely job with James Taylor's "Millwork"; Johnson and Cassidy deliver affecting accounts of Craig Carnelia's "The Mason" and "Joe," respectively; Miller offers a well-judged if subdued take on Carnelia's "Just a Housewife"; and the engaging Joshi charms with Miranda's numbers, "Delivery" and "A Very Good Day," first as a McDonalds deliveryman and then as an elder-care worker.
Beowulf Borritt's simple unit set wastes too much space on an upstage dressing room in which the actors gather as the audience arrives. It's part of an extraneous directorial overlay pointing out that the actors are also "working," more evidence that Greenberg has overthought presentation while underthinking dramaturgy. Despite his laudable effort, "Working" still does not work.
Presented by Prospect Theater Company at 59E59 Theaters, 59 E. 59th St., NYC. Dec. 12–30. (212) 279-4200, www.ticketcentral.com, or www.59e59.org. Casting by Jason Najjoum.
Critic's Score: C+