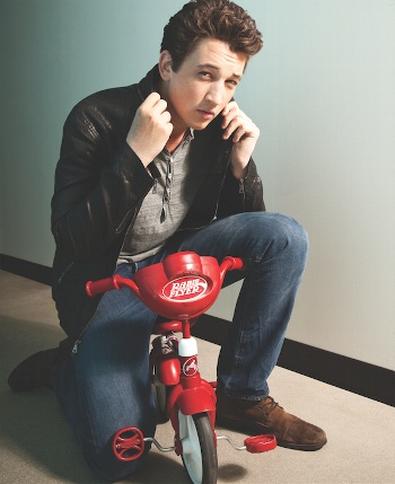 Sometime in the mid-2000s, the term "bromance" hit the mainstream. (Blame it on the 2004 premiere of "Entourage," with its band of joking, teasing buds.) Movies quickly got on board as well, with "Wedding Crashers," "I Love You, Man," and "The Hangover" proving that guys being guys together could translate to the big screen. But while those films featured a world of chest bumps and masculine chicanery, "That Awkward Moment," starring Miles Teller, Zac Efron, and Michael B. Jordan, introduces the enlightened brofessional, one that has absorbed "Girls" and "Sex and the City," and learned. Sort of.
"We dish," Teller says, relaxing after a photo shoot on a hot Los Angeles winter day, his raspy voice and chill attitude filling the room with good vibes. "When something happens, we're drinking coffee in our diner, just talking about the night before."
But boys will be boys, as they say, and "That Awkward Moment" tracks the three as they bumble through relationships, skirting the line between man-child bachelors of indiscriminate tastelessness (one scene finds Efron and Teller on the phone while simultaneously planking toilets to pee after having imbibed too much Viagra), and the men that respect and care for the women they love.
At one point, Teller's character, while lying in bed with the trio's tomboy friend with whom he has begun a serious romance, lies and tells her he's revealed their relationship to his besties. It's a story that's all too familiar to women, whom Teller hopes will see enough heart in the boys' escapades to recognize them as bros of empathy.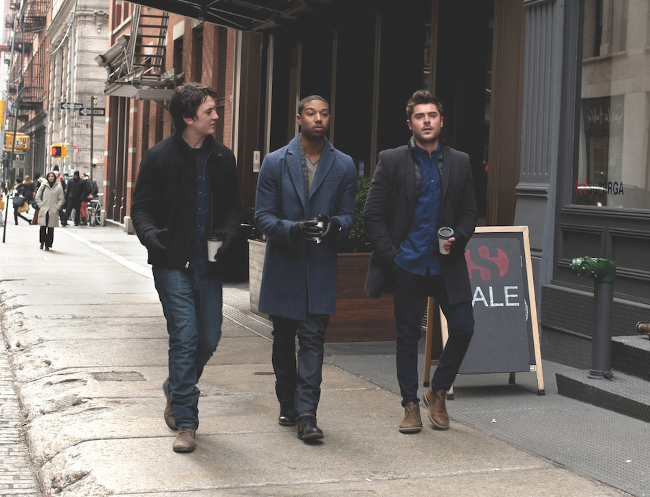 "I think it's hard to make a film that appeals to guys and girls in that way," says Teller. "It's pretty vulnerable, because we're showing the way [our characters] are with their girl one-on-one. If you're a guy with a lot of masculine pride, you're pretty opposed to showing all that. But I think we're pretty open to it."
As for appealing to romance-seeking audiences, Teller already boasts a strong résumé. His disarmingly frank and complex turn as an alcoholic teen in "The Spectacular Now" earned him and co-star Shailene Woodley an Alliance of Women Film Journalists' nomination for Best Depiction of Nudity, Sexuality, or Seduction. Which goes to show that Teller is quickly gaining recognition for being extremely adept at playing vulnerable male leads. His baby face gives him the defusing earnestness of a young Tom Hanks.
At 26, Teller's trusting good looks afford him versatility. He's often cast as a student—high school in "The Spectacular Now" and the 2012 party flick "Project X," and college in the upcoming "Whiplash." In the indie film, directed by Damien Chazelle, Teller smolders as Andrew, a freshman jazz drummer at a prestigious conservatory who is pushed to what Teller refers to as "inhumane" levels of training by a demanding teacher who sees something in him. The film was awarded the U.S. Grand Jury Prize and the Audience Award at this year's Sundance Film Festival, and Sony Pictures Classics snapped it up in the fest's first major acquisition.
"It's 'Full Metal Jacket' meets 'Black Swan,' " says Teller, whose experience drumming in rock bands allowed him to pull off about three-quarters of the drum-action sequences. " 'Whiplash' is the most dramatic thing I've done."
The one-two punch of the sex appeal of "That Awkward Moment" and the acting showcase afforded by "Whiplash" might be the perfect combination to launch Teller into stardom. If those two films don't, the young adult sci-fi adaptation "Divergent," in which Teller reteams with Woodley, could be the knockout punch. Set about a century into the future, "Divergent" is one of those films—like "Twilight" or "The Hunger Games"—that will probably make household names out of its stars. As much as that would please Teller, he admits to preferring the atmosphere on a smaller set.
"I enjoy doing scenes," he says about the pace on smaller versus bigger productions. "It's hard for me when you shoot a whole day for half a page of material. Anytime you're working with a $70 million budget, there's a lot of lighting. That's what brings a lot of people in—people watching the trailer say, 'This is going to be visually stunning.' [With] 'Divergent,' the world we shot was 100 years in the future, so you have to create all that."
But Teller does want to be a star. Raised in Florida, his first dream was to go to Syracuse and get a broadcast journalism degree. "At the end of my sophomore year in high school, we got a new drama teacher, and she was young and blond and very pretty," he says. "My buddy at the time said, 'We should audition for drama.' It was 'Footloose,' and I played Willard when I was 16. I remember getting onstage, and getting the first few laughs, and I said, 'This is great.' "
From there, Teller entered the Florida State Thespians annual theater competition, performing a monologue in front of 5,000 people that gave the young actor a rush like he'd never experienced. His performance got the attention of the New York School for Film and Television summer program, which he then parlayed into acceptance into the vaunted Tisch School of the Arts at NYU drama program.
He landed his first film role as a damaged teen in John Cameron Mitchell's acclaimed "Rabbit Hole" in 2010 (turning in emotional scenes with his mom's favorite actor, Nicole Kidman), and reprised his role as Willard in the hit film remake of "Footloose" a year later. It's been a steady rise ever since. His yearning to share his craft with bigger audiences is what drives him toward bigger roles in bigger films.
"It's hard for a small movie to play around the world," he says, referring to the give and take of doing indies. "I would love to have some work that can play internationally. I auditioned for 'Spider-Man.' The 'Fantastic Four' [script] is going around; that would be a great movie to be a part of."
Until the opportunity for a blockbuster arises, Teller will stick to the simple formula he's concocted for choosing roles. "Besides the script, the director is the most important part of the puzzle," he says. "Before 'That Awkward Moment,' I said, 'If I'm going to do a comedy, the director needs to be funnier than me. If they're not funnier than me, why is he giving me notes?' ['That Awkward Moment' director] Tom Gormican is way funnier. He's uglier than me, but he's funnier."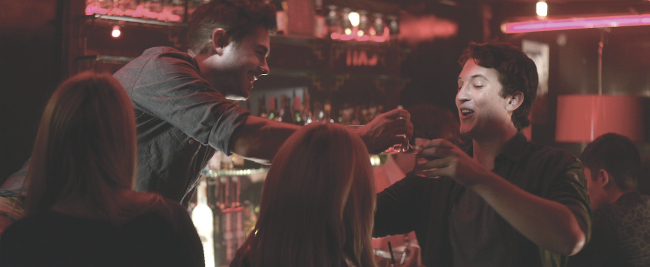 Teller lets out a hearty laugh at his director's expense—the kind of good-natured ribbing that bros often enact upon one another.
Asked about the truth of that over the phone, Gormican replies, "I don't know if I'm funnier than he is, but I do know that it's very hard to be uglier than he is." The director then recounts a story about Teller hamming it up on set. "It's my first movie, we're shooting in 24 days," Gormican says. "Miles comes in, and I'm like, 'Here's the thing, you're going to come this way, and this is how the block is going to work, and she's going to sit here, and you're going to do this,' running through my whole spiel that I'd been working on for hours that morning. And he's like, 'Yeah, great. I just have one quick question: Who are you?' "
Hearing of Teller's ability to diffuse a tense situation, his appeal to filmgoers succinctly defines itself. Miles Teller: He can be a bit of a screw-off, but you can't be mad at him. Miles Teller is your old friend. Your eternal bro.